County councillors across the country were warned last week against interfering in planning applications and discussing them at council meetings, as it could "undermine due process and exert undue influence" on planning authorities.
The warning came in a letter sent to local authorities from the Department of Housing, Planning and Local Government on 9 March.
The letter from Terry Sheridan, Principal of Planning Policy at the Department, states that he was directed to send it by Minister Eoghan Murphy.
The circular seen by RTÉ News states: "Discussion of the merits of individual planning applications at Municipal District/Area Committee and Council meetings does not form part of the statutory process for the consideration of such applications and should not be used by elected members to advocate that a particular decision be made on an individual application."
It continues: "Such a practice could be viewed as an attempt to undermine due process and exert undue influence on the planning authority and/or to make a decision that would not be in the interests of the proper planning and sustainable development of the area concerned.
"Furthermore, the practice could convey an erroneous impression to the public of the role of elected members in the statutory process for deciding on planning applications."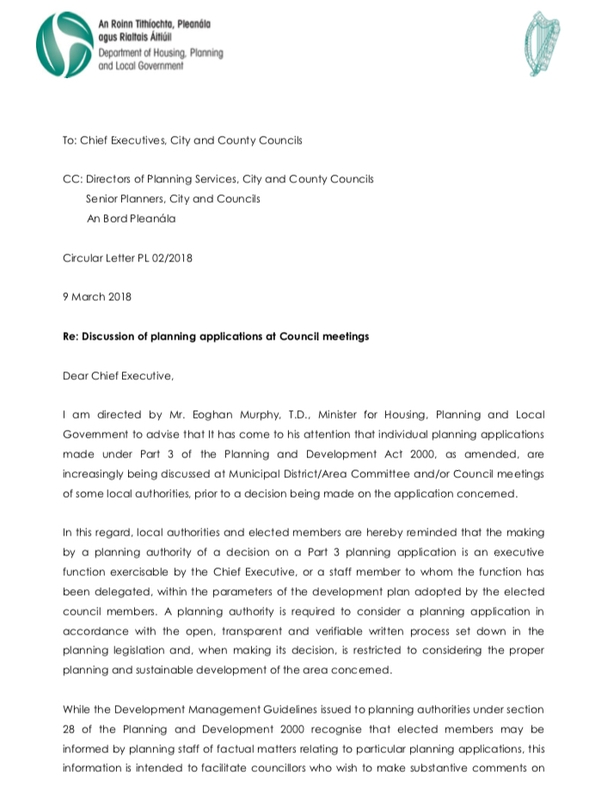 Addressed to the chief executives, directors of planning services, and senior planners in city and council councils, the letter notes that individual planning applications made under Part 3 of the Planning and Development Act 2000, are "increasingly being discussed" at meetings of "some local authorities prior to a decision being made on the application concerned".
Councils and elected members are reminded that planning decisions are an executive function of the council, which should be exercised by the chief executive or a staff member.
---
Read more
Taoiseach 'lost the run of himself' with Trump, says Howlin
Varadkar criticised over phone call to council on behalf of Trump
---
"A planning authority is required to consider a planning application in accordance with the open, transparent and verifiable written process set down in the planning legislation and, when making its decisions, is restricted to considering the proper planning and sustainable development in the area concerned."
Details of this letter come after Taoiseach Leo Varadkar revealed he had contacted Clare County Council seeking information about planning for a wind farm, which was close to US President Donald Trump's golf course at Doonbeg.
Mr Trump objected to the construction of a nine-turbine wind farm proposed by Clare Coastal Wind Power.
Mr Varadkar, who was minister for tourism at the time, said he approached the local authority after Mr Trump had phoned him directly.