Taoiseach Leo Varadkar has said that he did not contact Clare County Council about a wind farm development following a conversation with businessman Donald Trump over Doonbeg four years ago.
Yesterday while at a St Patrick's Day lunch on Capitol Hill, Mr Varadkar revealed he had contacted Clare County Council seeking information about planning for a wind farm, which was close to the then businessman Donald Trump's golf course at Doonbeg.
Mr Trump objected to the construction of a nine-turbine wind farm proposed by Clare Coastal Wind Power.
Mr Varadkar, who was minister for tourism at the time, said he approached the local authority after Mr Trump had phoned him directly.
Taoiseach says he did not call council over wind farm development pic.twitter.com/j5YKQVVaSl

— RTÉ News (@rtenews) March 16, 2018
With the US president looking on, Mr Varadkar told Speaker Paul Ryan's lunch event that upon taking the call he contacted the local county council and "endeavoured to do what I could do about it".
The planning permission was later declined, he added.
"I do think it probably would have been refused anyway but I am very happy to take credit for it if the president is going to offer it to me," said the Taoiseach.
Speaking to reporters in New York today, Mr Varadkar said he did contact Fáilte Ireland, the tourism authority, about the matter.
He said that following the controversy over his remarks yesterday he had gone back and checked with his staff and checked the record.
The Taoiseach explains how he got a surprise call from Donald Trump a few years ago pic.twitter.com/VBluzmdI2s

— RTÉ News (@rtenews) March 15, 2018
Mr Varadkar, said this showed that he had not contacted Clare County Council either verbally or in writing as Minister for Tourism.
Mr Varadkar said it was within the remit of Fáilte Ireland to look at planning applications to see if they would have a negative impact on tourism.
He said that when he contacted Fáilte Ireland they were already aware of the matter in Doonbeg and made their observations to the council.
Varadkar says he passed on Donald Trump's concerns to the 'relevant statutory agency' four years ago pic.twitter.com/h8vrQUOCXJ

— RTÉ News (@rtenews) March 16, 2018
Asked if it was an error of judgment to tell such an anecdote on the international stage, Mr Varadkar replied, "it was that sort of an occasion where people were telling stories and anecdotes and jokes".
Mr Varadkar said that in politics there were people who would try to make a controversy out of any remark. He added he would continue to be a straight talker.  
Breaking: Taoiseach @campaignforleo has released the email he sent to Fáilte Ireland after he received a call from @realDonaldTrump regarding Doonbeg. pic.twitter.com/F3rQIAL5Mr

— Brian O'Donovan (@BrianOD_News) March 16, 2018
When pressed on the matter, Mr Varadkar said what he had done was entirely appropriate in passing on the concerns of a businessman investing in tourism in Ireland. 
"I did what any tourism minister would do." he added.
---
Read more:
---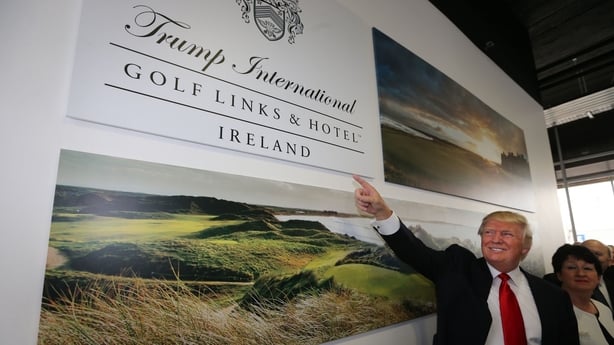 Opposition politicians had earlier criticised Mr Varadkar with Labour leader Brendan Howlin saying the Taoiseach's admission to being involved in a planning matter involving Mr Trump was a sign of "Leo losing the run of himself".
Clare Coastal Wind Power said it will be reviewing this situation over the coming days.