The Taoiseach has accused Gerry Adams of giving up on a deal to save Stormont and trying to push the blame for its failure on to others.
Leo Varadkar was responding after the Sinn Féin president accused the Government of engaging in "untruthful, malicious and shameful" press briefings to undermine his party colleague Michelle O'Neill.
The row on the floor of the Dáil was the latest in a series of spats involving Mr Varadkar and Sinn Féin leadership figures.
It unfolded during Leaders' Questions when Mr Adams challenged Mr Varadkar on recent press reports that claimed, quoting Government sources, that Ms O'Neill, Sinn Féin's Stormont leader, was prepared to strike a deal to restore power-sharing with the DUP but was overruled by senior figures within her own party.
Sinn Féin has vehemently rejected the claim.
During his remarks in the Dail, Mr Adams also criticised the UK government for "indulging" what he called "stubborn elements within political unionism", which he blamed for obstructing an agreement.
Mr Varadkar said he had no knowledge or interest in "disagreements or rivalries" that may exist within Sinn Féin.
---
NI parties unable to rebuild fragile power-sharing process
What if power-sharing morphs into direct rule?
---
He then accused Mr Adams of "setting the scene to ensure somebody else gets the blame for the failure to come to an agreement in Northern Ireland".
"You spoke about stubborn elements within political unionism - that's not a good way to talk about people you are trying to make an agreement with at the moment," the Fine Gael leader said.
"'Stubborn elements in political unionism', and then you attack the Irish government and then you attack the British government.
"This doesn't sound to me like the languages of somebody who is trying to lead their party into an agreement with unionists, into co-operation with the British and Irish governments.
"This sounds to me like somebody who has already given up and is already trying to spread the blame to others."
Mr Adams insisted he would "never give up". He accused the Taoiseach of offering "glib answers".
"These briefings on the part of your government were untruthful, malicious and shameful," he said.
The veteran republican added: "Why would you want to undermine Michelle O'Neill? Over 70% of nationalists in the north voted for the party she led, do you think these citizens don't read your remarks?"
Mr Varadkar said he was not going to "account for government briefings".
"I have no difficulty in speaking for myself," he said.
"I think anyone in this house knows that I am somebody who speaks my mind and I don't mince my words, so I don't need to operate through government briefings and I am not going to account for government briefings anymore than I would expect Deputy Adams to account for Sinn Féin briefings or unattributed sources in newspapers".
Senior figures rule out end to deadlock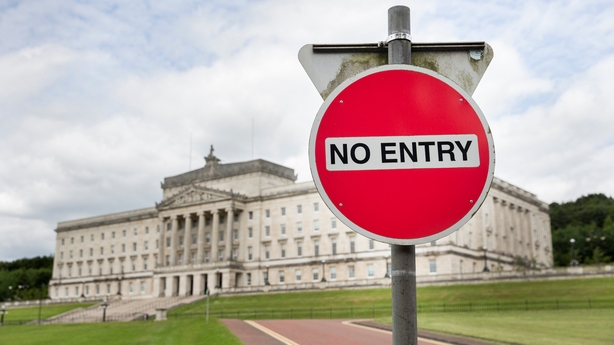 Senior figures in the DUP and Sinn Féin have confirmed that their efforts to end the deadlock that has left Northern Ireland without a government since January have so far failed to achieve a breakthrough.
Northern Ireland's Secretary of State James Brokenshire has warned that if the two main parties cannot resolve their row, then the British government will move to introduce a budget early next month.
Power-sharing imploded in January when the late Sinn Féin deputy first minister Martin McGuinness resigned amid a row over the DUP's handling of a botched renewable heat energy scheme.
The falling out subsequently exposed deeper rifts in power-sharing.
Four British government deadlines have been and gone in the last ten months.
Senior DUP and Sinn Fein members were again involved in lengthy private talks yesterday.
However, there was no sign of a breakthrough and the possibility of a return of power-sharing at Stormont is diminishing.
A number of issues continues to divide them, but one sums up the deadlock.
Sinn Féin said its requirements include a stand-alone Irish Language Act. The DUP team has talked about introducing Irish language legislation for the first time.
There have been discussions about the kind of legislative scaffolding that might accompany such an initiative.
But so far the two parties have been unable to find a formula. They are both reluctant to go beyond what might be rejected by sections of their own support base.
The two blocs have party conferences next month. Unless there is a dramatic change, they will go to their supporters against the backdrop of a closed Stormont.