There are almost 10,000 people who are officially listed as homeless by the Department of Housing. RTÉ Investigates - Land of Hope & Homeless examines the growing number of people who describe themselves as Ireland's 'hidden homeless'.
Some are in overcrowded situations in other family members' homes, others are living with great instability with the threat of eviction and others are living in social isolation. However, they are not counted in the official headline homeless figures.
One such family is Charlene Davis and Wayne Kirwin and their six year old son. Five months ago they moved back in with Charlene's parents in their three bedroom house in Shankill, County Dublin. Charlene's sister Sharon also lives there with her son, because she too can no longer afford to rent.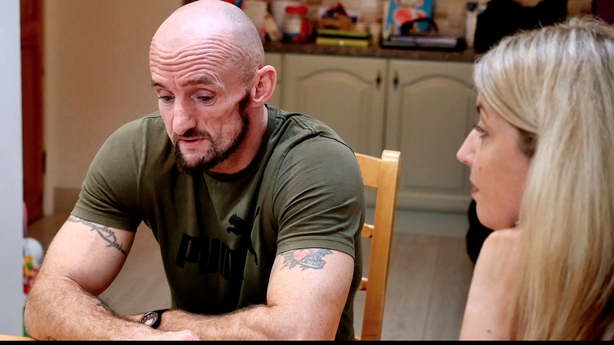 It's overcrowded and they lack privacy but Charlene says they have no other choice but to live with her parents. "We are literally homeless. We have nowhere to go. We cannot afford to rent, the banks are saying, you do have jobs but you don't have a deposit so you don't have a mortgage. So we are like, what can we do?"
Wayne has a permanent pensionable job and Charlene has been in the same job for over 10 years, so they are eligible for a mortgage. But they can't afford current house prices. So they moved back to Charlene's parents in order to try and save for a deposit. The lack of privacy and cramped living conditions makes Charlene feel like they made a mistake in their lives. "I am 38 years of age. I feel like such a failure. Sitting up in my parents' attic with my husband… where did we go wrong?"
Another family is Stephen Byrne and his wife Sonya from Blanchardstown in North Dublin.
Stephen's wages and Sonya's social welfare payment from a CE scheme put them over the threshold for social housing and also for any government rental supplement known as the Housing Assistance Payment. They have two small children and left their last home because the rent went up.
Stephen believes they are stuck living in his parents' house indefinitely. "I can't see any way out of here, we're stuck here for the foreseeable future. I can't rent because I am not earning enough money. I can't see anyway out here to be honest."
---
Watch on RTÉ Player:
RTÉ Investigates: Land of Hope and Homeless
---

Recently, after many months of appeals to Fingal County Council Housing Department, despite being over the council threshold, Stephen managed to get the family onto Fingal's housing list. Now they await housing with over 7,200 families on that list.
Another family who see themselves as the hidden homeless and as living without the stability of a home is Eileen Kinch and her two adult children who are living in Dundrum, South Dublin. They are facing homelessness and the threat of living in emergency accommodation when they are legally evicted on January 7th.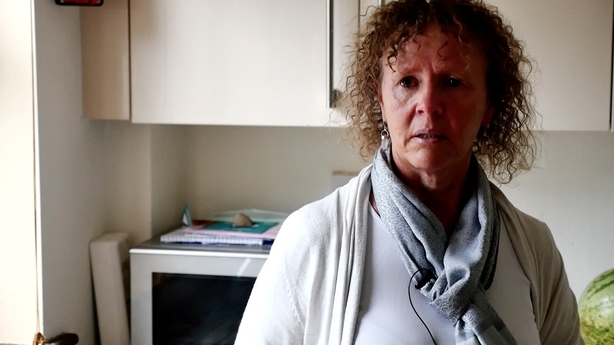 Eileen works in a small business and earns modest low wages, but has always been able to pay her way. She has worked and rented all her adult life. Now after looking for months, the only place Eileen can afford rent is outside of Dublin. But her job and both her children's education is in the capital so they cannot move. They now face going into emergency accommodation. Her daughter, who is in third level education, spoke to RTÉ Investigates but did not want to be identified.
She dreads the idea of going into emergency accommodation in the New Year. "It would terrify me if I would have to go to a hotel because I've heard so many things, read so much news about people living in hotels, that would be horrible. I would feel so ashamed, like I have completely lost my dignity."
Yet another family living compromised lives because of their housing circumstances is Eva and teenager Sean Leahy from Glanmire in North Cork. Coming up to Christmas two years ago, they faced homelessness. Until then they lived in a rented flat in Glanmire to be close to Eva's parents & support network because of Sean's special needs, which include Asperger's syndrome. But when they had to move, they couldn't find anywhere within Housing Assistance Payment levels, so they moved to a holiday home in the countryside outside of Midleton, County Cork. They have found the social isolation extremely difficult.
In addition, Eva suffers from a chronic pain condition and has a tendency to have falls, after an accident three years ago left her unable to work. For this reason she sees herself as the 'accidental homeless'. She previously worked as a carer for the HSE for almost 14 years and was able to pay her rent. Despite her constant pain, now Eva has an hour and half round trip to drop Sean to school each morning and evening.
It was because of this and his concern for his mum's health, that Sean wrote an email to Cork County Council Housing Department asking them to help him get a home.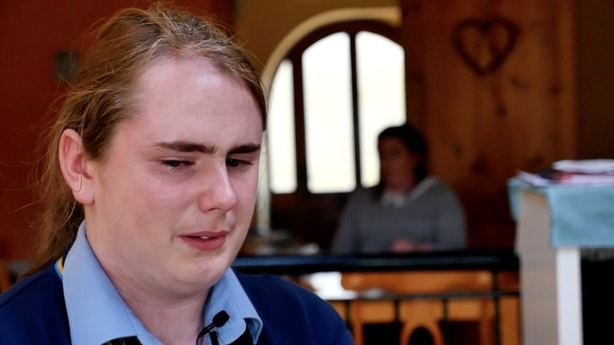 However, on foot of this email, Cork County Council referred them to TUSLA to have a Child Protection investigation carried out. Within weeks the investigation was completed. It concluded that Eva and Sean's issue was a housing issue and not a child protection one. The unintended consequence of Sean's email caused both Eva and Sean great distress. Sean believed that they might remove him from his mother. "It was a bit of a shock to find out they had reported me to TUSLA. I did not want to be taken away from my mum."
RTÉ Investigates also examined the government's policy to address housing need and homelessness called 'Rebuilding Ireland'.
One of its key targets is that the government will add 50,000 new social houses to its stock by 2021. So far until June this year, according to the Department of Housing's own figures, they have added 15,700 through building, leasing, purchasing and the refurbishment of existing social housing stock.
While Minister Eoghan Murphy states that the government is progressing well and will meet this target, RTÉ Investigates examined a number of social housing schemes which suggests that some projects will not come within the Rebuilding Ireland timeframe of completion by 2021.
For example three out of four mixed tenure developments which are underway in Dublin and were designated sites of "immediate priority" for development in 2017 are not projected to be completed until 2022 or 2023.
RTÉ Investigates also examined a second Rebuilding Ireland target which is that the government would incentivise the building of 25,000 homes a year.
Last year's CSO figures show that new dwellings completed were approximately 14,400. However Minister Eoghan Murphy told RTÉ Investigates: "When we look at the supply indicators, the supply of new homes, being built, up and down the country, they are going in the right direction. We will probably get there next year."
One government measure which was supposed to increase supply is what is known as the Vacant Site Levy. This levy which is due to be introduced in January next year, is a penalty of 3% of the land value - rising to 7% in 2020 - on all land identified by local authorities as not being in use for one year.
However, RTÉ Investigates has learned only 10 out of 31 local authorities will be able to apply the levy next month. This means that the government can only raise €9 million from the levy, much less than initial estimates.
Emails received under Freedom of Information suggest that officials in the Department of Housing had doubts about the levy working for some time and the ability of local authorities to implement it.
In an email dated March 13th 2018 a Senior Adviser says: "My sense is that some LAs [Local Authorities] will go soft on VSL [Vacant Site Levy] because they don't want the blowback from their councillors."