Tucked in the corner of a tiny housing estate in Tallaght is a compact community centre.
Set up 20 years ago, the Tallaght Traveller Community Development project is a conduit for members of the Traveller community that seek advice and support about issues such as accommodation, education, health or mental health.
On the day we visit, a public health nurse is taking blood pressure and in another room a representative of Clinical Reflexology Ireland is giving massages.
In the main meeting room where people gather for coffee there are cheese, crackers, fruit, juices for the children and biscuits for those popping in and out.
A statue of the Virgin Mary surrounded by tea lights sits proudly on display.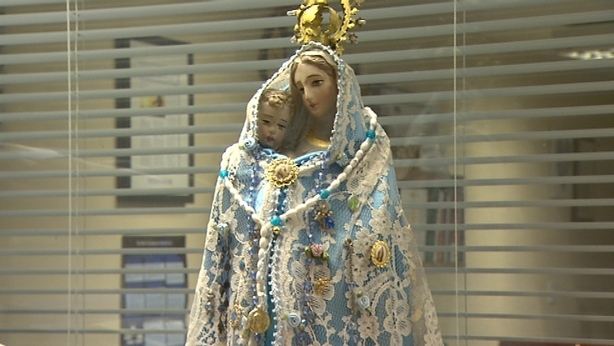 "A lot of the Traveller families and members of the community who engage with us seeking our advice and support, particularly if it's in relation to accessing services or state services or issues of accommodation", says Co-Ordinator Patrick Nevin.
Mr Nevin is busy preparing to address today's self-harm conference at St Patrick's University Hospital ahead of Self-Injury Awareness Day on Sunday.
Now in its fifth year, the conference is a joint collaboration between St Patrick's Mental Health Services and Pieta House, which gives free one-to-one counselling to people engaging in self harm or suicidal ideation.
This year's conference is focusing on high-risk or marginalised groups like members of the Traveller community.
In the last six months, Traveller representatives highlighted to TDs and senators in the Oireachtas, the unprecedented rates of self-harm in the community.
Patrick Nevin believes the conference is an opportunity to highlight "the issue of mental health and confusion" among travellers, the basis of which he believes can be tracked through Irish history.
"The level of mental health issues in the traveller community was created by the State in 1922 which has consistently denied and recognised it's history and the traveller people as part of the Irish state, so that has had a major impact in terms of our resilience and our inner selves".
Mr Nevin, who studied History and Archaeology in Trinity, says he is lucky to have accessed education because he can "grasp what is happening".
He points to research that was published a number of years ago which showed that 87% of people interviewed didn't want travellers epart of their families or their communities.
"That has an impact on all of us", he says.
The Government's acknowledgement of Traveller ethnicity in the Dáil three years ago was a fantastic day, but it was not life-changing for the Traveller community, according to Mr Nevin.
He's calling for a formal apology by the State over the damage inflicted - similar to an apology that is currently being sought by the community in Scotland.
Known as the 'Tinker Experiment', between the 1940s and the 1960s, families in Scotland were forced to leave their lives on the road for settlements, after they were threatened with having their children taken from them and into care.
It was backed by the Scottish and UK Governments.
Mr Nevin says the State needs to recognise its role in "othering", which he says encompassed legislative cleansing and assimilation policies.
"The othering process created the 'us and them', the valued or the not valued, and in this case Tinker Travellers were not valued by the State. Our way, our existence, our life, our language and our nomadism was not valued and that was borne out of the colonialism".
Pieta House, which is one of the organisers of today's conference, is working with Patrick Nevin and the Tallaght Traveller Community Centre to tease out how barriers can be broken down.
Only 90 members of the traveller community accessed the free counselling service last year, yet Leigh Kenny points out that the rate of people in the community taking their own lives is six times higher than the general population.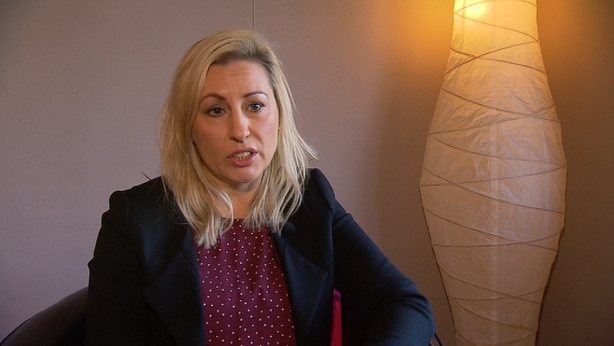 "We'd like to see better access for the traveller community so they can come to our service and understand that they will not be judged, that we're here to support and help them", she says.
Given the increasing numbers of young people presenting with self-harm, Leigh Kenny will also be outlining a guide to parents and teachers at the conference.
Over the last 10-15 years there has been a 25% increase in the number of presentations to hospitals aged between 10 and 20.
"One example I give is if it's summertime and the sun is splitting the rocks and the child is covering up. There are also subtle signs like pulling out hair. People might not necessarily see it straight away and should not blame themselves if they don't pick up on it. It's about being tentative, exploring and not demanding about what's going on".
The CEO of St Patrick's University Hospital which is hosting the conference says the conference is about awareness.
But it's clear from Paul Gilligan that Ireland's mental health services are in a grave situation.
He notes the recent report by the Mental Health Commission, which concludes that there is "an almost total absence" of community mental health services across the State.
It highlights lack of supports like crisis houses, intensive high-support hostels, rehabilitation high support hostels, specialist rehabilitative units and psychiatric intensive care units, is impeding access to acute mental health beds across the country.
Despite 'A Vision for Change' in 2006, it appears little support has been provided in the intervening 14 years.
"We at St Patrick's believe five centres of excellence that provide the full range of mental health care would be a key foundation on which to start rebuilding a service that is in crisis effectively".
He says it's about primary and secondary prevention; educating people about trauma or emotional discomfort and giving them the skills to deal with issues when they arise and then ensuring we've primary care interventions that people can access quickly.
Resources are key to combating the problem of mental health in the traveller community according to Patrick Nevin, who says the centre was "decimated" by cuts in 2011.
"Firstly, we need recognition at a state level that there's an issue of self-harm and mental health in the travelling community. Secondly, traveller organisations are not able to respond to the need out there in the community; resources are needed imminently and the cuts of 2011 need to be reversed as soon as the next government is formed". 
---
Anyone who may be affected by these issues should contact:
Tallaght Traveller Community Development project: 01 461 0562
St Patrick's Mental Health Services: 01 249 3200
Pieta House: 1800 247 247 or Text HELP to 51444
---