The Department of Health was informed on 25 June that the CervicalCheck IT problem at a laboratory affected more than one woman and that others were being written to, new documents obtained by RTÉ News have revealed.
In its 25 June letter, the Health Service Executive's National Screening Service told the department that it was "addressing the issue with the laboratory in question and are writing to all the women who have been affected."
The number of other women affected was not outlined at that point.
The significance of the new HSE correspondence to the department is that it showed that more than one woman was affected by the IT problem, which delayed test results being issued.
The department said previously that it only became aware on 25 June of the existence of an IT issue in relation to one individual's results and that it immediately engaged with the HSE to seek clarity about what the issue was.
The one individual case referenced is the 'Sharon' case, which helped uncover the scale of the original problem at the Quest laboratory in the US, affecting over 850 women.
After it received the 25 June letter, the department wrote back the same day to the screening service, asking about the other women affected, seeking more clarity on the impact of the issue and how it was being resolved.
---
Read more:
800 women did not receive CervicalCheck results after IT issue at US laboratory
CervicalCheck controversy - A timeline of key events
---
The department has said it was only made aware of the full scale of the problem in a full HSE report supplied to it on 10 July.
That same day, Minister for Health Simon Harris has said he was briefed on the issue for the first time.
That full HSE report has not been published.
The names of department officials have been redacted from the newly released documents.
These documents were released last Thursday evening, following a personal data information request to the department by 'Sharon'.
They show that her smear sample was taken in early December and that it was processed by the Quest laboratory and reported on 17 June 2019.
This was about 114 days after the sample was taken and it was within days of expiring.
"However due to an IT issue in the laboratory (Sharon) was not issued with a result letter from CervicalCheck.
"However we understand that (Sharon's) GP has received her result.
"We would like to apologise to (Sharon) that this occurred and for any concern it has understandably caused", the National Screening Service said in a letter to her issued last Friday.
A 'Rapid Review' of the IT controversy, being conducted by Professor Brian MacCraith, President of Dublin City University, is due to be completed by next Friday 2 August.
It will be submitted to HSE Chief Executive Paul Reid, who commissioned the independent review after the IT problem was first revealed by RTÉ News on 11 July.
Meanwhile, the backlog of smear test results is reducing and health authorities hope to have all of the tests cleared by the autumn.
At the start of the year, the backlog was just under 80,000.
It has now reduced to under 40,000.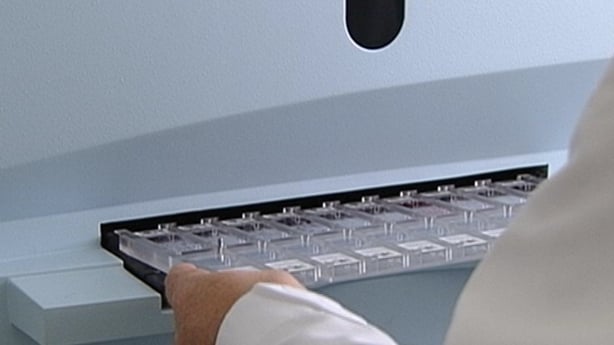 Speaking on RTÉ's This Week, 'Sharon' said she only received a letter about her results last Friday and it raises further concerns for her.
She said the letter referred to the test she had in December and it lacked "any sense of urgency" that she should speak to her doctor.
"I had a concern with that and have since written to CervicalCheck with my concerns.
"I have a history, dating back 10 years, so I would have attended CervicalCheck for the last nine years.
"The fact that there was then an anomaly in my test again, I feel the letter should have contained that information so I was aware of it.
"There didn't seem to be any sense of urgency that I should speak to my doctor."
She fears that there may be other women who will get similar letters and not contact their doctor "so they could have abnormalities and not necessarily know."
Sharon said her doctor shared the lab report with her on June 27, so that is when she knew there was an abnormality.
She also found out her test was just days from expiring when it was looked at by the lab the US.
"As a result of the correspondence with CervicalCheck I received a letter on Thursdsay the 25th and that confirmed it was sent to Quest on the 26th of March, my test was carried out on the 27th of March and then they explained that because of the backlog it wasnt reported until the 17th of June and my doctor never received that until the 19th of June."
She said as a result her doctor never made contact with her because he presumed she would have received a letter from CervicalCheck.
"It was only when I received a call from CervicalCheck on the 26th (of June) I realised there was a problem and contacted my doctor directly."
She said because of her latest test showing an abnormality, and also all the ongoing controversy surrounding Cervical Check, it was a worry for her and she went back to have a private test done.
Sharon said she is an advocate of screening and it saves life.
"I would say to any women don't stop getting tested."
She also said she has full confidence in the review being carried out by Professor MacCraith into the IT glitch and she believes it will be a thorough report and "bring out the truth".
Today, the Department of Health said it had set out its timeline of events at the last CervicalCheck Steering Group meeting on 18 July.
It said that this timeline referenced the department being told by the HSE, on 25 June, that all women affected were being written to.