A patient's chance of dying from a heart attack or stroke can vary depending on the hospital they are being treated in, according to the National Healthcare Quality Report.
Professor of Health Systems at DCU's School of Nursing Anthony Staines said that while the outcome for heart attacks varied depending on hospital, that does not mean certain hospitals are worse than others.
Speaking on RTÉ's Morning Ireland, he said: "If you see a hospital where the death rate from heart attacks is consistently high, you need to look at it and ask what's going on.
"It could be as simple as a very elderly population, it could be down to the facilities and resources within the hospital, it could be down to travelling time to the hospital, it could be how people are presenting.
"But it's saying there's a question you need to ask."
We need your consent to load this rte-player contentWe use rte-player to manage extra content that can set cookies on your device and collect data about your activity. Please review their details and accept them to load the content.Manage Preferences
The report, published today, gives an overview of quality in our health service and outcomes for patients.
Prof Staines said that in the UK the NHS reports readmission dates, which he said is a good measure of performance for a hospital. He said that data exists in Ireland, but it is not reported.
He also said Ireland is not looking at data outside of hospitals.
"We don't really know what the quality of care in primary care is like. We believe it's quite short of resources. We know the Irish health system is very hospital centred, so we're treating a lot of stuff in hospitals that other countries treat outside hospitals."
The report also shows the use of Benzodiazepines in people aged over 65 is high compared to internationally reported averages.
Prof Staines said the uptake of the measles, mumps, and rubella (MMR) vaccine is quite high, but there is still an epidemic of measles.
The report also shows that antibiotic consumption in the community has decreased for the last three years.
It also suggests that more than 90% of hospital patients report that they feel they are involved in the decision making regarding their care in 2018.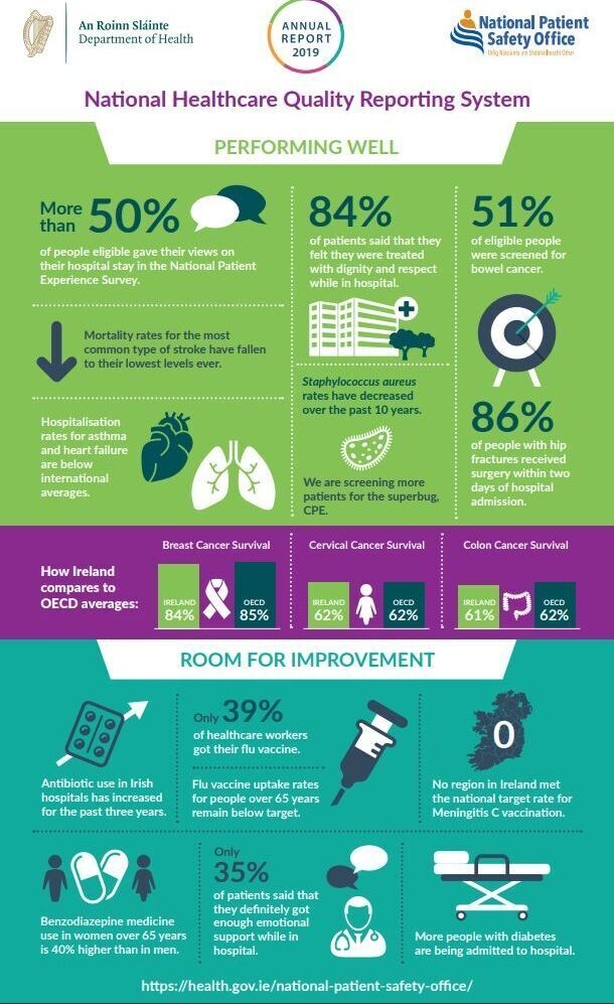 The Irish Heart Foundation said it was concerned by the findings of the report.
Head of Advocacy, Chris Macey said while there were limitations to the data, "at the very least the possibility is being raised of significant variations in standards of care."
The foundation welcomed the overall downward trend in the mortality of heart and stroke patients, but said there were still big issues which needed to be solved.
"Whenever you see a variation like this you have to ask yourself are there too many hospitals trying to achieve a high standard of expertise?" Chris Macey asked.
"The evidence shows regional centers of excellence are the best way to achieve improved outcomes and deliver world class standards of care."
HSE changes are needed, says new DG
Meanwhile, the new Director General of the Health Service Executive has said that one of his biggest challenges is to deliver better services within the community, and to ease the pressure on acute hospitals.
Paul Reid took up the role in May and will serve a five-year term.
Speaking on RTÉ's Today with Sean O'Rourke, he said the HSE needs to change the way it delivers services, and build trust and confidence in both the public and the Government.
"How do we bring a level of predictability and stability in terms of the budgets and the finances for the services that we deliver? We are, and have been every year, under very significant pressure."
This year's budget is €16 billion, and Mr Reid said that it needs to be spent in a different way in order to yield different results.
He said that some of the immediate challenges facing the HSE are access to care, and dealing with the pressures on the service within budget.
He said the capacity of community facilities needs to be improved, so that patients can access services at a local level.
"Right now, the primary entry into our services is through the acute hospital system, which is under significant pressure. The challenge for me over the coming five years is to deliver more services locally within the community, and to have a better integrated system between the acute system, the community system and the primary care system."
The capital plan is about €640 million for 2019, and Mr Reid said they have been working over the last few weeks to mitigate the impact of extra funding that had to be found for the new National Children's Hospital.
He said that the Government's Summer Economic Statement gave extra potential relief, which gave the HSE better predictability for 2019.
He is confident the plan can be delivered exactly as it is set out until 2021, and that projects will not have to be curtailed, Mr Reid added.
The new HSE head also said that private rooms will be included in the National Children's Hospital but that he wants to maximise capacity in the public health system.
Mr Reid said he valued the role of private healthcare and wanted to work closely with providers.
He said the decision to include private facilities in the children's hospital was a matter for the Minister for Health.
He added that the issue of private care in public hospitals was the subject of a review by Dr Donal de Buitléir, which would give a better understanding of the issue.
"From my perspective I hugely value the role that private care providers provide for the health care system in Ireland. It is a very significant element of our healthcare and I want to work very closely with them."
Mr Reid also addressed criticism of the absence of a financial contingency fund in the HSE for strikes, patient surges or the impact of weather events.
Fianna Fáil has said not having such a fund was a "mistake".
"I'm not aware that any Government department has a contingency fund. They budget for the services that they are setting out to deliver," Mr Reid said.
He accepted that acute services were under significant pressure but said: "We are looking at what funds are needed for our services and how can we move to delivering those services in a very different way."