Problems with measuring the duration of pregnancies and the three-day wait for terminations are among the issues being raised by healthcare professionals in relation to the new abortion laws.
Medics are due to meet this week to discuss how abortion services have been operating here in the first four months.
While overall they say they are satisfied the service is up and running, they are encountering some issues.
The majority of abortions that have taken place so far are thought to be medical abortions, which are facilitated by GPs.
They involve a series of pills being taken in the clinic and at home. Women are also issued with a pregnancy test and instructions on how to take a subsequent pill and what to do if the medication does not work.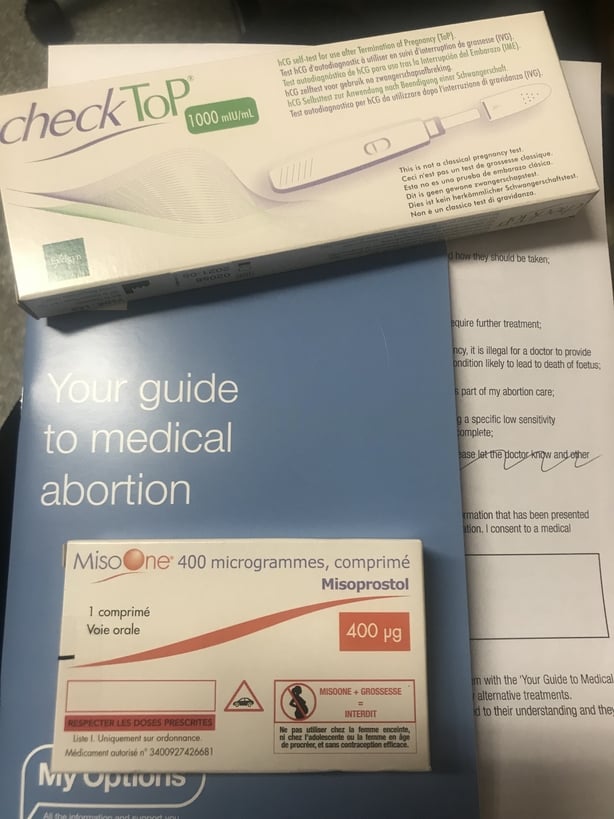 So far, 317 GPs have signed up to provide the service.
The Health Service Executive said there is a "good geographic spread", but it is understood that not every county has a provider.
GPs offer medical abortions up to nine weeks, but some say that calculating the duration of pregnancies has, in some cases, been problematic.
Dr Caitriona Henchion, Medical Director of the Irish Family Planning Association, said that some modern pregnancy tests and people's belief in a particular conception date means that some women are not clear on their gestation.
Under the new laws, pregnancy is calculated from the date of the last period.
After nine weeks, terminations are carried out in hospital and Dr Henchion says this can mean additional appointments and planning for some women.
"I don't think I could have predicted how much time pressure that could sometimes put. So sometimes, somebody who maybe hasn't realised they're pregnant until eight or nine weeks feels like they really are pressured into making a decision very quickly, or somebody who thought they were seven weeks and was still thinking about it and and suddenly they're 10 weeks and it's now or never - that can be very difficult," said Dr Henchion.
"The other thing is if there's a failure - and there's a 1-2% failure rate with medical abortion - if we don't find out it has failed until after 12 weeks, we can't offer any second treatment for that person. So that's a big concern."
We need your consent to load this rte-player contentWe use rte-player to manage extra content that can set cookies on your device and collect data about your activity. Please review their details and accept them to load the content.Manage Preferences
There are no official figures as to how many abortions have taken place in Ireland but there are some key indicators about the demand for services.
The START group, which represents about 250 medical professionals, involved in abortion provision says its members estimate they are carrying out between 800-900 terminations a month.
The private company Affidea, which is providing ultrasounds as part of abortion services, say it has carried out around 500 since the start of the year.
And the British Pregnancy Advisory Service, which runs more than 70 clinics in the UK, says the number of women with Irish addresses accessing abortion services between January and March has fallen from 257 last year to 64 this year, a reduction of 75%.
Pregnancies between nine and 12 weeks are terminated in hospitals, but just 10 of the country's 19 maternity units are offering abortions, which has raised concerns about access to services.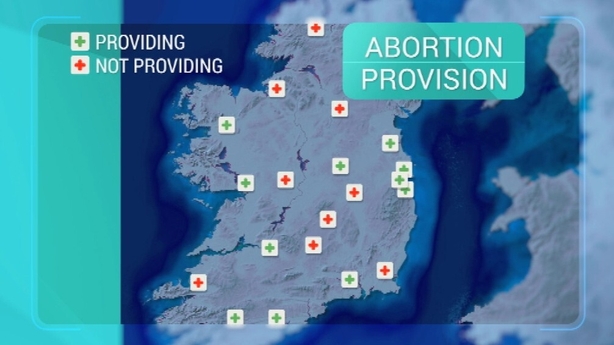 The hospitals that are providing terminations say demand has been less than expected, but some say that the compulsory three day wait is problematic.
Dr Cliona Murphy, the Chair of Institute of Obstetric and Gynecologists, said many hospitals have a small number of staff and limited services that may only be available once or twice a week, so this can be an issue when it comes to the three-day wait.
"In the medical research there wasn't huge evidence for that three-day wait, and what we sometimes see is women who were referred from the community, they've seen their GP, they may have a scan, the certification is done in hospital and then you've a three-day wait, so in many cases it is longer than three days for a woman to be looked at, so I think maybe in future that will be looked at."
Fixed times are also an issue for those seeking terminations in the case of a fatal foetal diagnosis.
Over 12 weeks, abortions are permitted if a baby will not survive more than 28 days outside the womb.
But Dr Siobhan Donohue of the group Terminations for Medical Reasons says it is difficult to predict how long a baby with such a diagnosis will live, and that it may have a chilling effect on doctors in diagnosing these cases.
She said for those who fall outside these conditions, there appears to be inconsistencies in how hospitals are referring people to the UK for abortion.
Some are offering advice in this regard but others are referring patients back to the TFMR group which acts as a support group and doesn't provide these services.
Dr Donohue said she would like to see more consistency in providing these pathways to the UK as the services here evolve.
Overall providers say they are satisfied abortion is now available, but that provision will continue to evolve, as medical personnel and patients learn to navigate this new service.