The daughter of a 70-year-old woman who was left for 26 hours on a trolley in a Dublin hospital has said her mother was forced to wait in appalling conditions with no dignity and no privacy.
Rhoda Judge from Celbridge in Co Kildare described as "heartbreaking" the lines of trolleys with older people in them along the hallways of the Emergency Department in St James's Hospital between Thursday and Friday of last week, with no curtains dividing them and no pillows or blankets for patients. 
She described the health system as a "shambles" and "broken" and said the standards in the sector need to be raised. 
Ms Judge said she was asked to leave her mother Gretta, who could not breath because she was suffering with asthma and a chest infection, so that staff could put another trolley where she had been sitting. 
She praised the staff working in the hospital but said the conditions they are working in must change. 
St James's Hospital said it has been dealing with "exceptional pressures and congestion" in recent days. 
In a statement, the hospital said that "at busy times, limiting visitors is required for infection control reasons and for patient and staff comfort and safety, particularly when the department has high volumes of patients awaiting inpatient admission". 
The hospital said it apologises for any distress this may have caused.
Gretta Judge got a bed in the hospital on Friday and remains there being treated for her illness.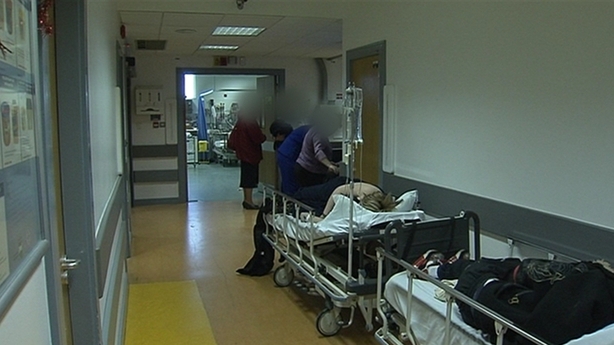 Extra €5m for HSE as record 714 patients wait for a bed
Minister for Health Simon Harris said he has allocated an extra €5m to the HSE to ease hospital overcrowding, as levels reached a new record with 714 patients on trolleys or on wards waiting for admission to a bed, according to figures from the Irish Nurses and Midwives Organisation.
The money will go towards more home care packages, home help hours and transitional care beds.
Mr Harris said that the health service was already congested before Storm Emma and a backlog, built up by the storm, has not been cleared.
The minister attended a meeting of the Emergency Department Task Force today.
The HSE also said that it had taken the decision to cancel all non-urgent operations to help hospitals cope.
It has said that 621 extra beds are open today under what it calls "surge capacity" measures.
The executive said that hospitals will contact patients to let them know if their procedures are going ahead.
Hospitals are continuing to focus on discharging patients.
The HSE said that the €5m being provided will help 13 hospitals to support home care packages for the next four weeks.
It comes as INMO figures showed 714 patients waiting for admission to a bed. INMO figures from last week showed that overcrowding exceeded 600 patients each day.
The worst affected hospital was University Hospital Limerick with 80 patients waiting.
There were 45 patients waiting at University Hospital Galway, 43 at Cork University Hospital and 40 at Tallaght Hospital.
Fifteen patients at two children's hospitals - Temple Street and Crumlin - were also waiting admission to a bed.
Other hospitals badly affected included the Midland Regional Hospital, Tullamore, with 37 patients waiting; 35 at Sligo University Hospital; 34 at South Tipperary General Hospital and Dublin's Mater hospital with 32 patients waiting.
Figures by the Health Service Executive taken this morning showed there were 534 patients on trolleys in hospital emergency departments.
Under the HSE figures, the hospital worst affected was Galway University Hospital with 46 patients waiting.
Other hospitals badly affected were Limerick with 44 patients and Tallaght with 40.
The highest trolley figure reported by the INMO was 677 in January.
Unlike the INMO figures, the HSE/TrolleyGar figures do not give the number of patients placed on wards, who are waiting for admission for a bed, having already been admitted from an emergency department. 
The General Secretary of the Irish Nurses and Midwives Organisation said the circumstances in which people are being cared for now is "absolutely unsafe". 
Speaking on RTÉ's News At One, Phil Ni Sheaghdha said the volume of patients is too high to give proper, correct and humane care. 
Ms Ni Sheaghdha said the INMO wrote to the HSE last Monday to ask them to declare a national emergency in hospital services for two weeks as a result of Storm Emma, adding that the crisis was entirely predictable. 
She said the HSE is not planning on a national basis, saying if it was any other industry, there would be a national inquiry into the "predictable surge" in patients. 
She said the HSE should declare a national emergency. 
Additional reporting Fergal Bowers