The Emergency Department Task Force has agreed that more beds in private hospitals would be used to help ease the overcrowding crisis.
Extra beds are also to be opened in a number of hospitals including St James', the Mater and Beaumont.
The Irish Nurses and Midwives Organisation, which jointly chairs the task force, said HSE officials had confirmed that all acute hospitals have been advised to make every acute bed available, particularly isolation beds and intensive care beds, if needed.
It was also confirmed that the previously agreed escalation policy will see planned operations or procedures cancelled, if required, to free up beds.
This morning, there were 555 patients on trolleys in emergency departments or on wards waiting admission to a hospital bed, according to figures from the INMO.
The hospitals worst affected were University Hospital Limerick with 55 patients waiting, Cork University Hospital with 45, Letterkenny General Hospital with 40 and Midland Regional Hospital, Mullingar with 32.
The Health Service Executive said 425 patients were on trolleys in emergency departments around the country, an increase of 10% on this day last year.
Inside Ireland's emergency departments: RTÉ cameras capture the reality of waiting for a hospital bed pic.twitter.com/ngWOnHnufV

— RTÉ News (@rtenews) January 8, 2018
Minister for Health Simon Harris has said he expects between 2,000-2,500 beds will be needed over the next ten years.
Speaking on RTÉ's Six One, Minister Harris said a capacity report on how many exact beds will be completed in the next two weeks.
Mr Harris said it will take a number of years to fix all of the challenges and more nurses and doctors will be required.
He said everything that can possibly be done now is being done, but that he would like to break the cycle of overcrowding.
Today's HSE TrolleyGar figures also show there were 96 patients who waited for admission to a bed for over 24 hours. By this evening, that number decreased to 63.
The HSE figures show that the hospital worst affected was University Hospital Galway, with 40 patients waiting.
There were 28 patients waiting at Cork University Hospital, 24 at University Hospital Waterford and 22 waiting at University Hospital Kerry.
Eight children were waiting at the Dublin children's hospitals and four of these were waiting for more than nine hours.
The figures were collected at 8am and only include patients in emergency departments.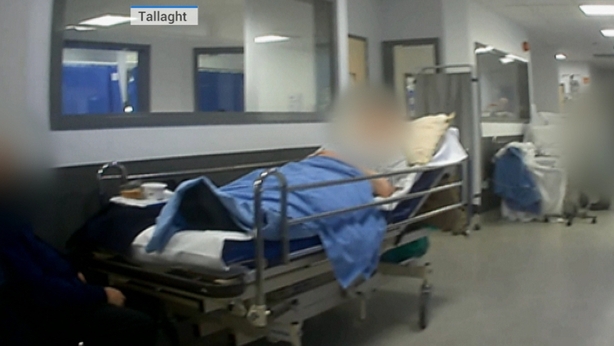 The General Secretary of the INMO has said the issue surrounding the trolley crisis relates to capacity.
Speaking on RTÉ's Drivetime, Phil Ni Sheaghdha, who is the co-chair of the task force, said the capacity report, due to be delivered to Cabinet in two weeks, is central to this.
She said the Government needs to invest in nursing posts, but also invest heavily in primary care, saying the focus should not solely be on acute hospitals.
Ms Ni Sheaghdha said the task force looked closely  at potential problems over the next two weeks, saying hospitals will be advised to curtail elective work to ensure beds are available.
---
Read More
HSE figures show 330 patients waiting on trolleys
Review recommends up to 2,500 extra hospital beds by 2030
---
Elsewhere, elective surgery has resumed at CUH after being deferred for a two-week period over Christmas.
Speaking on RTÉ's Morning Ireland, Mike O'Connor said the plan was to resume surgery depending on capacity, but it would be determined on a case-by-case basis.
He said if these surgeries had gone ahead as scheduled, between 80-90 patients would have had operations last week.
The hospital confirmed that it had begun transferring patients to other hospitals in a bid to free up beds for new patients to be admitted from the emergency department.
Mr O'Connor said this was not unusual for CUH, but the transfer of patients to a private hospital, the Mater Private in Cork, was a new development.
Minister of State John Halligan has said it is deeply distressing that so many people are on trolleys in hospitals or on waiting lists for operations.
The Minister of State with responsibility for Mental Health and Older People said the trolley crisis was an "enormous challenge for the healthcare sector and will not be solved this year or the year after".