The Bed Capacity Review Report is to be brought to Government within weeks, it has been confirmed.
The report recommends between 2,000 to 2,500 extra beds by 2030, if health reforms contained in the all-party SláinteCare Report are implemented.
The estimated capital and annual running costs for 2,500 new acute hospital beds is more than €3.2 billion, according to previous HSE figures.
The capital cost would be €2.5bn plus an annual running cost of €766m.
We need your consent to load this rte-player contentWe use rte-player to manage extra content that can set cookies on your device and collect data about your activity. Please review their details and accept them to load the content.Manage Preferences
Details of the unpublished Bed Capacity Review Report were published in The Irish Times yesterday.
The Review says that if the health reforms are not implemented and if the status quo remains, then up to 9,000 extra beds would be needed.
The cost of the proposed extra beds has not been revealed.
There are currently around 12,000 acute hospital beds in the health service.
The system has been under intense strain this week with record overcrowding.
The HSE's TrolleyGar figures show there were 262 patients on trolleys in hospitals yesterday.
It is a 22% increase on this day last year.
The proposed extra beds would be put in place in hospitals and in the community.
The report also suggests that some hospitals would only deal with non-urgent cases or planned procedures, to ease overcrowding and cut waiting lists.
A spokesperson for the Minister for Health said that the report will go to Cabinet in a few weeks and will be published.
The report has not yet been submitted formally to Minister Simon Harris.
This morning the Department of Health said Minister Harris has been clear that the Bed Capacity Review and plans to increase capacity are vital building blocks to break the cycle of hospital overcrowding.
The Review will be brought to Government and published in the coming weeks.
The National Association of General Practitioners (NAGP) has said comments made by Dr James Reilly, the former Minister for Health, calling for greater investment in the primary care sector is political grandstanding.
The doctors' union said Dr Reilly must be held accountable for what they claim are his huge failures in office, which have directly contributed to the current trolley crisis.
The NAGP said it was deeply upset over the inhumanity of having vulnerable adults and children waiting for long periods in emergency departments.
Speaking on RTÉ Radio's Drivetime on Friday, Dr Reilly called for a "seismic shift to primary care" in his contribution to the debate about the trolley crisis.
The NAGP said he makes such pronouncements on primary care, even though he singularly failed to deliver any such reform when he had the power to do so.
Dr Andy Jordan, Chairman of the National Association of GPs, said that: "During Dr Reilly's time, GPs were forced to endure savage cuts, which continue to affect the delivery of care to patients."
The union said more funding is needed to allow GPs cope with increased workload, arising from overcrowding and the spread of influenza and to provide long-term chronic care and avoid some patients having to use emergency departments or attend other hospital facilities.
---
Analysis: Fergal Bowers, Health Correspondent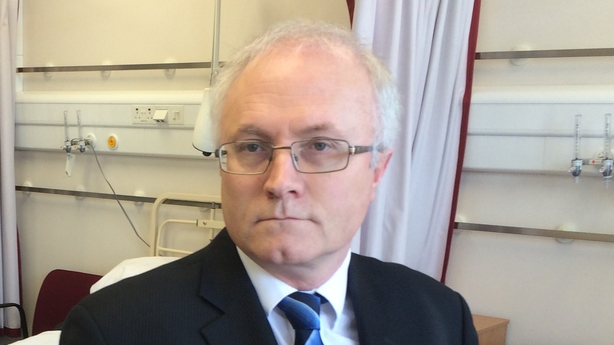 Before the Minister for Health brings this Review to Cabinet, he will need to discuss the significant costs with his colleague, the Minister for Public Expenditure and Reform.
Around 2,500 more beds would be very expensive, however delivering them over ten years is entirely achievable.
The Minister for Health will probably want to 'front load' some of the new beds to take pressure off the health system as soon as possible.
The events of the last week have shown that the service is effectively currently at full capacity and cannot cope.
So instead of looking to open, say, an extra 250 beds a year, over ten years, around 500 would be opened in year one or so, to make an impact faster.
Where would the beds go? Well some hospitals have space for them, others don't.
So for those with space issues, you could see some 'modular builds' at some hospital sites, about four or five.
The Government is finalising its Capital Plan, so the money for the extra beds will be fed into that process.
The events of the past week, with shocking record overcrowding and the public reaction will have strengthened the hand of Mr Harris when he brings this report to Cabinet.
The other big question is - will the Government start to consider building a new hospital for Ireland soon, given the population growth and pressure on the system.
No new acute adult hospital (apart from merged existing hospitals) has been built for over 30 years.
Also, it would probably take about five to ten years at a minimum to get a new one built and open here, given the ghastly experience with the new as yet unbuilt National Children's Hospital.
There would be many arguments about the best location for a new Irish hospital but Cork would have to come into the equation.
The Bed Capacity Report also suggests having some hospitals do planned procedures only, to cut waiting lists.
It would leave other hospitals to manage emergency cases.
This has been done in Scotland with an elective-only hospital built.
The suggestion that 7,000 to 9,000 extra beds would be needed is only relevant if the SláinteCare reforms did not proceed and we stayed with the status quo.
There is absolutely no way 9,000 extra beds will be opened, so reform is the only road ahead.
For patients and their families, it cannot come fast enough.