A Slovak border crossing with Ukraine has been partially blocked, police and media reported, in support of a similar protest in Poland.
However, Slovakia's hauliers' union has distanced itself from the move and called it the action of a single truck.
A protest by Polish truck drivers at three border crossings with Ukraine is causing delays of at least four days for truck drivers waiting to cross the border.
Polish truckers have blocked roads at crossings to protest against Ukrainian imports which, they argue, have reduced the competitiveness of their transported goods.
Slovak truckers have supported Polish truckers' efforts and staged a symbolic brief blockage of the main crossing last week to show support but have said they will wait for talks before taking further steps.
Miloslav Tokar, from Slovakia's Border and Foreign police unit, said truckers had blocked the crossing - the only between the two countries for heavy vehicles - at midday and were allowing a limited number of Ukrainian trucks through.
Slovak news agency TASR reported one truck had blocked the border crossing at Vysne Nemecke, citing Slovak hauliers' union UNAS chief Stanislav Skala.
Mr Skala said the group would wait until talks between EU, Polish and Ukrainian officials before officially joining blockades with Polish peers.
Ukraine's vice prime minister Oleksandr Kubrakov wrote on social media site X yesterday that his government had provided food, water and fuel to thousands of people waiting in line to cross the border from Poland.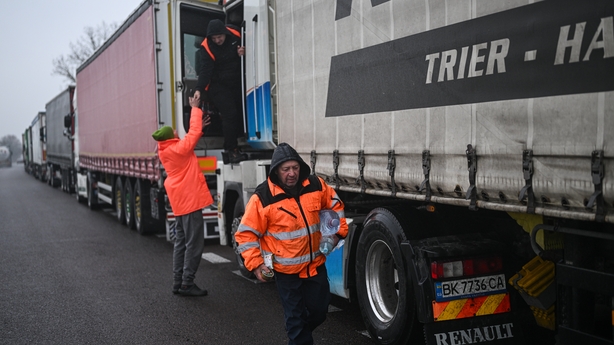 Up to 3,000 trucks are waiting to cross back into Ukraine from Poland, reported Polish newspaper Gazeta Wyborcza.
Polish independent broadcaster TVN reported over the weekend that truck drivers were waiting more than 190 hours at the Dorohusk-Yahodin crossing.
Long wait times have also been reported at two other border crossings.
That has caused waiting times at Medyka, the largest border crossing, to increase to four days, according to PAP, the Polish Press Agency.
Though Medyka is currently not blockaded by Polish truck drivers, PAP reported that a protest may be mounted at that crossing this week.
The protesting truckers are only permitting a few vehicles to pass their blockade each hour.
However, they are not preventing trucks carrying humanitarian aid from continuing their journey to Ukraine.
Ukrainian imports have benefitted from access to the EU's common market since Russia's invasion last year.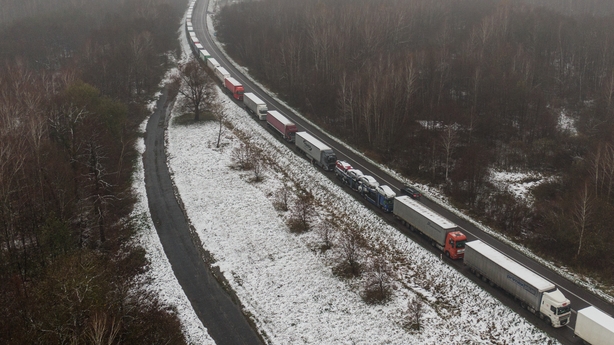 The protesting Polish truckers want commercial permits to be introduced for Ukrainian firms in order to limit the number of Ukrainian trucks that can transport goods into Poland.
They also want the suspension of licences for companies that were established after Russia's invasion in February 2022.
Up to 50,000 trucks cross the Polish-Ukrainian border each month, according to Ukraine's ministry of infrastructure, and the border is the main route for transporting military and humanitarian aid to Ukraine.
The protest, which began last week, is the latest spat between Warsaw and Kyiv over Ukrainian imports.
Similar protests were mounted earlier this year by Polish farmer unions which opposed imports of cheaper Ukrainian grain to Poland.
In September, the Polish government extended its own unilateral ban on Ukrainian grain imports, along with three other central and eastern EU member states.
In late September, the standoff over grain imports escalated when Polish Prime Minister Mateusz Morawiecki said, just weeks before a general election in Poland, that his government would not supply new deliveries of weapons to Ukraine.
Leader of the centrist-left opposition bloc, Donald Tusk, has said that he will seek to resolve the dispute with Kyiv over grain imports, if he leads the next government.
The opposition bloc holds a majority of seats in the Polish parliament and Mr Tusk's nomination for prime minister is likely to occur in early December.
Additional reporting: Reuters