For almost 16 years, German Chancellor Angela Merkel has been at the helm of the world's biggest economy and a key figure in steering European policy. She has seen five taoisigh, four French presidents, five British prime ministers and eight Italian premiers come and go during this time.
Now in Brussels for what is probably her final EU summit, Europe is preparing to say goodbye to the 66-year-old, who is retiring from politics this autumn. German federal elections will be held on 26 September and will decide her successor.
"Nobody remains in office for 16 years, not least in a country as big and as powerful as Germany without certain qualities," says Michael Collins, Director General of the Institute of International and European Affairs (IIEA) and Ireland's ambassador to Germany from 2013 to 2019.
"Throughout the financial crisis and during other crises, if there hadn't been a steady, cool hand in Germany, I'm not so sure where the ship of Europe would have ended up," he says, adding: "I've seen her first hand. She's a very astute politician."
First summit
Back in December 2005, after becoming the first female chancellor to be elected in Germany, Angela Merkel quickly showed she was a woman who wanted to get down to business, when she attended her first European summit.
Arriving for talks with the then leaders of France and Britain, Jacques Chirac and Tony Blair, who were locked in intense negotiations about the EU budget, she told reporters: "We want to start the negotiations now, and I think we will make every effort to find an agreement."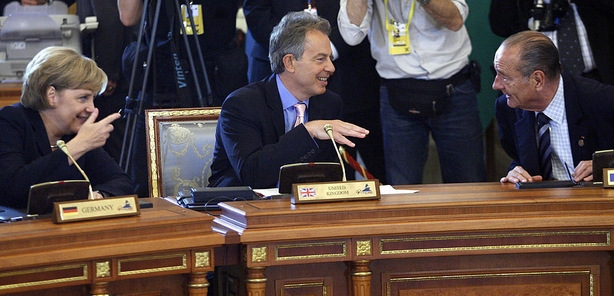 "What's going to be missing is her enormous experience," says Sophie Pornschlegel of the European Policy Centre think tank.
She says Angela Merkel is a skilled practitioner in what is known as "corridor diplomacy", seeking vital compromises in a bid to retain the unanimous backing of EU's leaders.
"She's known to be a relatively pragmatic and, to be fair, a very funny person as well, so I think her style definitely has a role to play and will surely be missed after her leaving."
Speaking to the Reuters news agency, Ms Pornschlegel said: "She has an incredible experience in negotiating and being a leader. And the second thing is that she's very famous for her crisis management skills, so I think that's also going to be missing from the Council meetings in the future."
Dialogue with Russia
The ongoing Covid-19 crisis and the looming rise of the Delta variant are close to the top of the agenda for today's summit.
However, in what was also her last major speech to Germany's parliament - the Bundestag - today, Angela Merkel focused on another growing crisis.
Referencing tensions with Russia, she called for Europe to stand up to what she called that country's "provocations".
She urged the EU to seek a direct dialogue with Russian President Vladimir Putin in a bid to improve relations, adding: "It is not enough for the US President, Joe Biden, to talk to the Russian president. I very much welcome that, but the EU must also create forums for dialogue. There won't be any other way to solve the conflicts."
The proposal immediately met firm resistance from Poland and Baltic countries who distrust the Kremlin. There was a nervous reaction from Ukraine, whose Foreign Minister Dmytro Kuleba blasted it as "dangerous".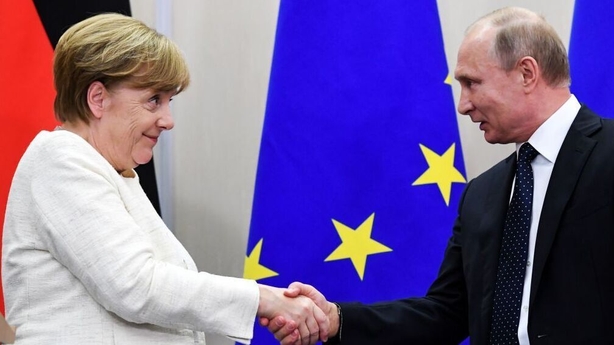 The last EU-Russia summit was in January 2014, shortly before Russia annexed Ukraine's Crimea peninsula and, since then, EU policy has teetered between imposing sanctions and reluctant cooperation to allow a new gas pipeline from Russia to Germany to reach completion.
Whilst Michael Collins says this suggestion by Ms Merkel is controversial and sensitive, particularly for Eastern European countries, he adds: "I'm not surprised ... The Europeans would be in a rather strange situation if the Americans had an open dialogue with the Russians and the Europeans, their closest neighbours did not."
"It's only when you live in Berlin that you realise just how close Russia is and the absolute inevitability of needing to have a dialogue."
An association with austerity
The financial crash in Ireland and the EU/IMF bailout that followed would completely change Ireland's relationship with Germany and, in some eyes, Angela Merkel became an unpopular figurehead for German austerity.
Sophie Pornschlegel argues that many countries on the receiving end of such bailouts lost a lot of trust towards the EU, as Germany was seen as pushing through austerity policies and hardship, instead of offering help.
"One of the biggest criticisms one can make is of her handling of the eurozone crisis," she says: "I think there she underestimated the reaction."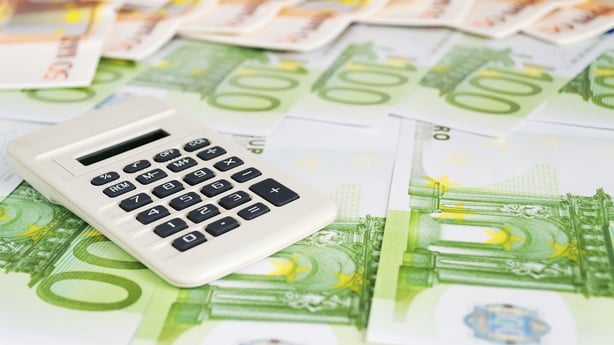 Professor Christian Kastrop, former advisor to Wolfgang Schauble, who became Germany's finance minister under Chancellor Merkel in 2009, has said that Ireland was hit with too much austerity following the financial crash and forced to swallow too much of the same medicine as southern countries, including Greece and Italy.
However, Michael Collins says: "I don't think that's how she'll be remembered at all. There was a tendency and there still is for some, a very convenient narrative that the Germans were the source of Ireland's austerity and the insistence on European austerity towards Ireland. Of course, the truth is that the situation was somewhat more complex than that and the narrative is not quite as simple."
"To identify Angela Merkel as being the source of our woes and difficult several years that we had during austerity, would be very unfair on her and not a fair representation of her legacy."
Michael Collins became the Irish ambassador in Berlin as Ireland began to climb out of the financial crisis towards the end of 2013. The following year in March 2014, Angela Merkel described Ireland's exit from the bailout as "a tremendous success story," after travelling to Dublin to meet with the then Taoiseach Enda Kenny.
Michael Collins says: "Ireland exited the bail out unaided, very much with the support of Germany," adding that it may surprise some to know that Angela Merkel has excellent English, although she rarely speaks the language in public. "The conversation was of a very complex nature, at the time, and Merkel conducted the whole thing through English, and that was extraordinary to me."
Migration
The need for a deal on migration to the EU was another key policy area mentioned in Angela Merkel's final Bundestag speech today.
Michael Collins describes her decision to open Germany's door to arrivals at the peak of migrant arrivals into the bloc in 2015 as "heroic".
However, her decision to bring 1.2 million asylum seekers, mainly from Syria, Afghanistan and Iraq, to Germany sparked fury amongst some of her opponents.
She said at the time: "Faced with a great challenge, Europe cannot say 'we can't handle this', that would be quite wrong."
But the crisis is unresolved to this day, with many refugees and asylum seekers still trapped in camps in southern Europe or unable to make their way to Europe at all due to stricter border controls. There has also been a simultaneous growth in far-right parties and populist leaders, opposed to further arrivals.
Tributes and criticism
Dutch Prime Minister Mark Rutte said today that he would not take part in any meeting with Russian President Vladimir Putin if it included national leaders of the bloc's 27 member states.
But earlier he praised the German Chancellor's ability to command a room with her ideas.
"When she starts to speak at the European Council, a lot of people are often still looking at their iPhones," he said. "But then they all put their iPhones away. Pens are put down. And we listen to her."
Her Green political rival and a key figure vying to become Germany's next female chancellor, Annalena Baerbock, also paid tribute to her leadership skills.
"Many people in this country are thankful that you in the last 16 years, held Europe together in crisis situations."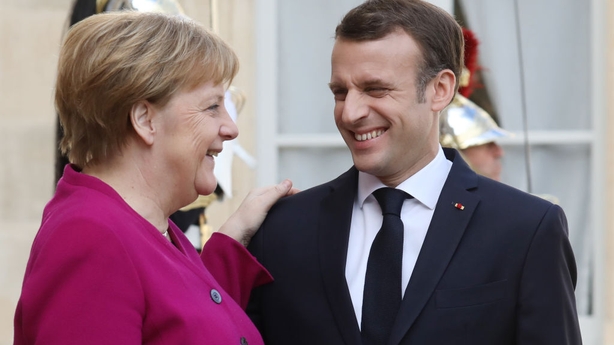 However, German news weekly Der Spiegel was less flattering in an editorial to mark her final EU summit, arguing that "the EU is in worse shape today than at the beginning of her chancellorship in 2005".
It said issues including Brexit, the rise of "illiberal democracies" such as Poland and Hungary and the failure to forge a "humane plan" for the EU's external borders would stain her record.
It was five years ago today that the results of Britain's Brexit referendum on membership of the European Union first became clear.
Michael Collins says that Germany was the first port of call for then taoiseach Enda Kenny. "Ireland's situation and the complications that we could see at the time in relation to the border, they were well understood by the Germans," he says.
"German support was unwavering and unquestioned from the beginning, right to this day and the solidarity of our German partners and our European partners has made a huge difference to Ireland."
He says of her legacy: "Merkel's style has been obviously steady, when elsewhere in Europe politics was fraught, including in France and in the UK and Italy and elsewhere.
"I think she has been an extraordinarily steady, incrementalist. She can be criticised for some of this, but I think her style is one, where when cool heads were required in Europe, she was able to offer that in a most undramatic way."
If coalition talks about who will fill Ms Merkel's substantial shoes as chancellor drag on into the autumn then she might have to make yet another appearance around the summit table in the autumn.
Either way, when she does leave politics, Michael Collins said she will be greatly missed. "If you just imagine had we not got steady-handed German politics, then clearly Europe would be in a very difficult situation. Overall, the score card is dramatically in her favour."
Additional reporting Reuters & AFP