The Taoiseach joined other EU leaders for a two-day summit in Brussels, where they are due to discuss the latest Covid-19 situation as well as migration issues and relations with Turkey and Russia.
Micheál Martin is also expected to update leaders on the Northern Ireland Protocol and political sensitivities in Northern Ireland.
EU leaders had been expecting to map out an exit from the Covid-19 pandemic and to focus on travel and tourism opening up across the continent.
However, the spread of the Delta variant has injected a dose of sobriety into the agenda.
They are expected to urge vigilance and caution as the vaccine roll-out continues, while the European Commission will update leaders on the lessons learned so far, both on how Europe responded to the pandemic and how it approached the vaccine situation.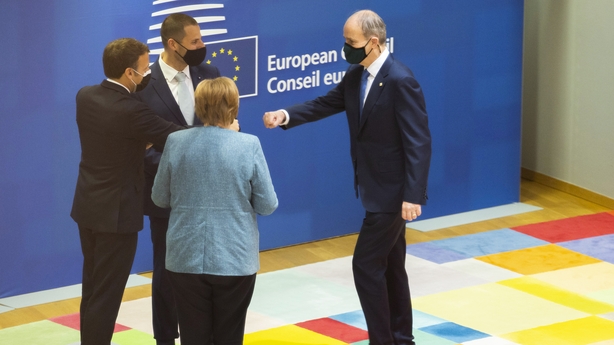 The commission is expected to recommend a number of measures to prepare for future pandemics and fresh surges of Covid-19.
They will also recommend an EU chief epidemiologist and the stockpiling of Personal Protective Equipment.
Leaders will also discuss over €2 billion in fresh funding for Turkey, Lebanon and Jordan in their management of Syrian refugees.
On Russia, leaders will discuss a last minute proposal from France and Germany for deeper engagement with Vladimir Putin, even to arrange a leaders' summit, so as to maximise Europe's ability to speak with one voice.
The Franco-German proposal also includes the possibility for the EU of triggering deeper economic sanctions if Russia continues to, as the EU would put it, threaten their neighbours and continue to undermine western democracies and elections.
There is still no clarity over how Irish people vaccinated in the UK will be able to get their vaccine status on an Irish travel App, which would make them eligible for travel within the EU.
The UK wants to get agreement with the EU and US in particular to on vaccination status to ease travel restrictions brought in to deal with the Covid-19 pandemic.
Downing Street said it is in talks with European partners and others to see what the requirements are "once it is safe for the UK public to travel overseas".
While the UK wants to lift restrictions on travel by UK citizens and residents to other countries, particularly popular holiday destinations in Europe - European Countries may not want UK based visitors coming in unchecked.
German Chancellor Angela Merkel is concerned about the very high level of infections in the UK, driven by the rapid spread of the Delta variant. UK infections are currently 15 times higher than infections in Germany.
But EU states are further behind the UK in vaccinating adults against the Coronavirus, and fear unleashing the Delta variant before a significant majority of the adult population is double vaccinated.