As European countries mull over how to ease restrictions, there is one country that is slowly lifting what has been described as the strictest lockdown in the EU.
With 5.5 million people, Slovakia has a population size similar to Ireland but it has a different pandemic story.
The landlocked country stands out as keeping its Covid-19 death toll low with 18 fatalities and more than 1,300 cases.
Before it even confirmed a coronavirus case, it took tough measures earlier than any other country after Italy.
With a new crisis team at the healthy ministry established, temperature screenings at airports were introduced at the end of February.
A week later, when the first coronavirus patient was discovered, schools and non-essential businesses were shut. While at the border, the temperature of everyone coming in and out of Slovakia was checked.
A group of skiers returning from Austria were put into supervised quarantine and 60 later tested positive for the virus.
New laws were also passed to track the movements of those with Covid-19 through telecoms data to make sure they did not violate isolation rules.
Face coverings became compulsory outside of homes, even if out on the streets.
It resulted in the new parliament, only elected the month previous, starting the first session with their mouths covered.
As numbers continued to rise, further aggressive actions were taken and borders and airports were closed.
Anyone who had come into the country had to quarantine for two weeks with a €1,600 fine for breaking it.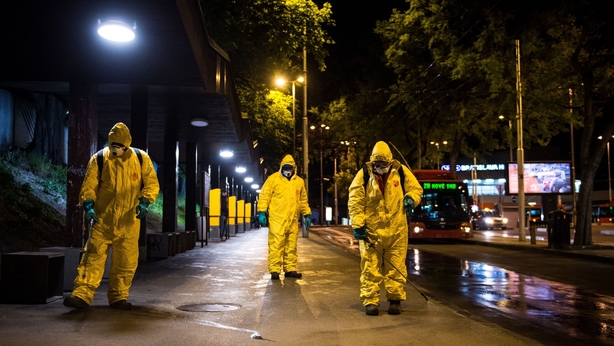 Massive employers such as the Volkswagen Group and Kia also closed their plants in Slovakia amid the coronavirus outbreak.
Roma settlements were also targeted as five were quarantined in early April to stop the spread after reports of a cluster of cases in them.
Measures intensified further over the Easter holidays with most movement banned for six days.
These tough directions seem to have been worthwhile for Slovakia with the virus statistics to prove it. Last week, the government proposed a four-phase plan to ease the restrictions.
Shops and services, measuring up to 300 square metres, were allowed to open. Some car factory workers were also able to go back to work.
Authorities have also lifted a quarantine on one of the Roma settlements locked down in early April.
Moving to the next phase of the plan will be determined on people's behaviour and the number of new cases every two weeks.
That means if less than 100 people are infected every day, a new phase may be adopted. However, if it exceeds 150, it will be reversed by a phase. It could be a case of one step forward and two steps back.
But like everywhere else, there is still a long way to go.