Nobody seriously doubts anymore that the world is warming, and that consequently climate everywhere is changing.
But what might not be so well known is that global warming has caused something quite remarkable to occur in the middle of the North Atlantic.
It has resulted in a huge area of cooling in the ocean to the south and east of Greenland, and off to the west of Ireland.
Since the Atlantic Ocean and what happens there is the key determinant of the weather in Ireland, there is no question that this cooling phenomenon is already having a big influence on climate change here and will continue to do so.
Many climate scientists say that the impact of this cooling patch is already protecting Ireland from the extreme summer heatwaves that have caused havoc on the continent.
This relative cooling patch in the Atlantic shows up as a cold or blue "blob" on the otherwise "red" warmings maps that climate scientists, such as those at NASA, regularly publish to highlight how the world is warming.
We need your consent to load this YouTube contentWe use YouTube to manage extra content that can set cookies on your device and collect data about your activity. Please review their details and accept them to load the content.Manage Preferences
Dr Gerard McCarthy is an Associate Professor at the ICARUS Climate Centre at Maynooth University and is an expert on how the ocean influences our weather.
He said this remarkable cold patch is being caused by a significant slowdown in the Gulf Stream. That is the flow of warm water that travels in a northeastward direction across the Atlantic Ocean from coast of Florida.
It operates like a central heating system, warming the waters to the west of Ireland and ensuring the country's climate remains temperate.
Dr McCarthy said every place in the world, except this patch of the Atlantic, has been getting warmer.
He said the Gulf Stream is projected to decline as a result of climate change and the 'cold blob' in the Atlantic is one of the biggest pieces of evidence that this cooling has already been occurring throughout the 21st century.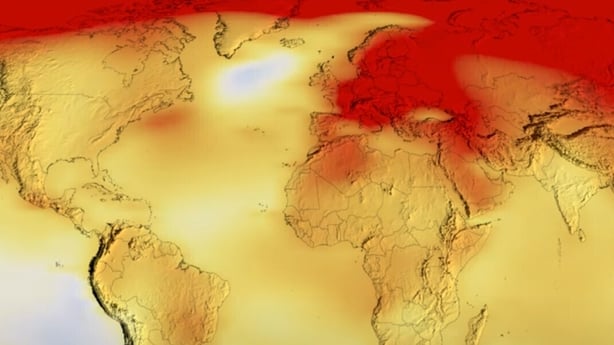 "Even under a moderate warning scenario, we still expect there will be about a 30% decline in the strength of the Gulf Stream system. It will have a knock-on effect for Ireland, depending on how big the slowdown is," he said.
The Environmental Protection Agency invited Professor Stefan Rahmstorf, a leading world expert on oceanography and climate change based at Potsdam University in Germany, to Dublin in April to deliver a public lecture at the Mansion House about what is causing the cooling in the Atlantic and impact it is going to have.
He explained that all the international peer-reviewed studies about this matter suggest that the flow of warm waters in the Gulf Stream has already declined by 15% and that the Gulf Stream is slowing.
He said that the slowdown is being caused by a decline in the salinity of the sea water in the region to the south and east of Greenland.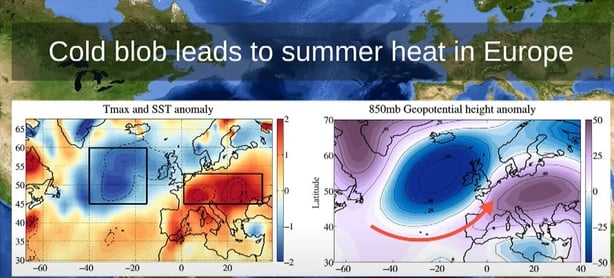 Basically, the saltiness of the water in this area is being diluted by much higher levels of rainfall (caused by a warmer atmosphere) and by the addition of much more freshwater from Greenland's melting icesheet, as well as other melting glaciers and melting sea ice in the Arctic region.
When sea water becomes less salty it gets lighter. The lighter it gets, the longer it takes to sink to the deep ocean when it cools. The causes the entire flow of water in the Gulf Stream – which is the conveyor belt of warm water on which the climate of Ireland is so dependent – to slow down.
Professor Rahmstorf showed lots of colourful slides to depict what was happening. Most interesting of all was the slide he produced outlining what the inevitable consequence of this slowdown in the Gulf Stream would be.
We need your consent to load this YouTube contentWe use YouTube to manage extra content that can set cookies on your device and collect data about your activity. Please review their details and accept them to load the content.Manage Preferences
The "cold blob" he said would lead to a big increase in extreme summer heat in Europe, but that because of where Ireland is positioned, he showed how it would escape the worst of Europe's extreme heat.
In short, he said that the cold patch of water in the Atlantic Ocean cools the air above it, creating a low-pressure zone. This low-pressure zone then operates a bit like a roundabout, causing the air to flow anticlockwise around it, driving it further south where it gets far warmer. It then travels onwards around the low-pressure "roundabout" and heads straight for continental Europe and the southeast of England.
The description of the likely consequences as outlined by Professor Rahmstorf, was a pen picture of last summer's scorching heatwaves in Europe and the southeast of England while Ireland enjoyed far milder, yet warm enough weather.
Keith Lambkin is the Senior Climatologist at Met Éireann. He said that although Ireland's climate is clearly warming in line with the global average, all the evidence is showing that the rate of warming in continental Europe is running twice as fast as in Ireland.
He said this pattern of relative warming is expected to continue into the future, with adverse knock-on consequences particularly for summers in Europe, including extreme heat-related events and a much higher risk of forest fires.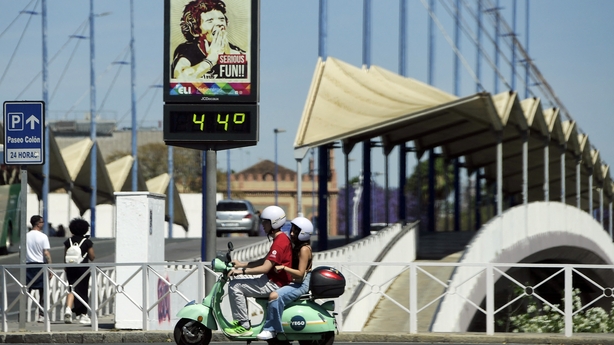 Mr Lambkin said climate is essentially the odds of getting a particular type of weather. If you change the climate, you change the odds.
The scientific models that showing how climate change is impacting on Ireland suggest that it too will see more extreme heat-related events and longer dryer summers. But just not anywhere near the extremes predicted for continental Europe.
Ireland will also see a little bit more rain, especially more heavy rain in the winter and surrounding months.
At the ICARUS Climate Centre at Maynooth University, Dr McCarthy is clear that the 'cold blob' in the Atlantic Ocean and its consequences are for real.
"This is serious stuff. Sea surface temperatures are very reliable. They go back a very long period of time. The North Atlantic is the best observed ocean in the world because of the number of ships that have been passing through it for so many centuries. We know for sure that cooling has been happening there and the slowdown of the Gulf Stream is the most likely explanation for it," he said.
Mr Lambkin said the new knowledge now being gained from climate modelling can be used to position Ireland to make better decisions, and even to spot and maximise opportunities in some sectors.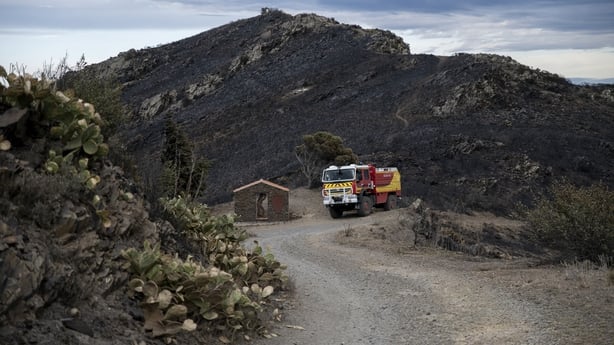 One such sector where opportunities will arise is tourism. The fact that Europe is warming twice as fast as Ireland means that the risk of extreme weather events in Europe - during the summer months in particular - are growing twice as fast as in Ireland.
That means far greater risks of a family summer to Europe being ruined by extreme heat, forest fires, flash flooding, and other climate disasters. It also means that many European holiday makers will be on the lookout for some relatively cool weather during the peak summer months. Where better to come then, than Ireland?
Fáilte Ireland, which is responsible for promoting Ireland as a tourist destination for domestic and international holidaymakers, has its eyes firmly on this prize and is beginning to recognise that climate change could have some positive benefits for its sector.
Chief Executive Paul Kelly said the climate in Ireland is something that overseas visitors have always been very positive about. They like the temperate nature of the climate, how it is never too hot and never too cold.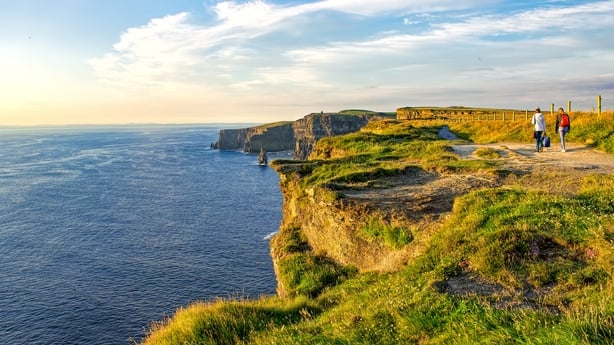 The domestic holiday scene is going through a period of transformation right now with a major focus on developing new activities for holiday makers here.
Mr Kelly said: "We are working on over 120 outdoor enhancement projects all around the country. We are talking about Greenways, Walkways, Forest Parks, Blue Ways, and other activities that will allow people to get out and enjoy our wonderful trails.
"This year we are building over 300km of mountain bike trails, we are working on 20 different locations around the country where we are building world-class changing facilities for water sport users. So, whether you are sea swimming or paddle boarding we are transforming our outdoor offerings. That is so important for both domestic and international visitors."