Brazilian president-elect Luiz Inacio Lula da Silva has joined calls at COP27 for the creation of a fund to compensate developing countries, while Eamon Ryan has been asked to be the EU Ministerial Representative on crucial talks on Loss and Damage at the summit.
"We very urgently need financial mechanisms to remedy losses and damages caused by climate change," Mr Lula told the UN's COP27 climate conference in Egypt, where the topic has divided rich and developing nations.
Mr Lula also vowed to fight deforestation in his country, saying "there is no climate security for the world without a protected Amazon".
United Nations Secretary-General Antonio Guterres said last week that the progress COP27 makes related to 'Loss and Damage' funding will be the litmus test for the success or failure of this COP meeting.
Meanwhile, the Minister for the Environment has been asked to represent the European Council in the final days of the negotiations at the COP27 summit on the critical issue of funding for climate related damage for disadvantaged countries.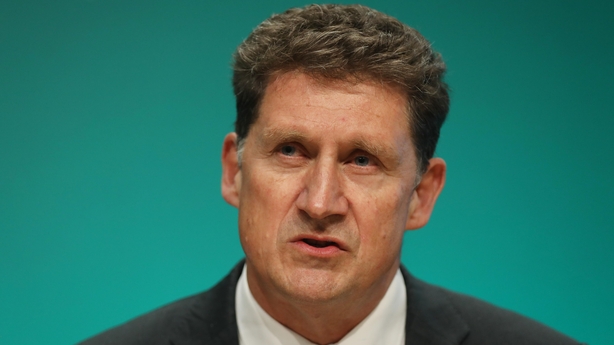 He will be working closely with the EU Vice President for the Green Deal and Commissioner for Climate Action Frans Timmermans, as well as an EU team and other EU colleagues through the final and critical days at the UN Climate Conference in Sharm el-Sheikh.
The minister said that from this point on during COP27 he would be speaking on behalf of the European Union and not Ireland on this key issue.
Also at the conference, Mr Ryan announced funding support of €2.5 million to United Nations Development Programme (UNDP) climate finance activities including the Financial Centres for Sustainability (FC4S) network.
"A UNDP Sustainable Finance Hub flagship initiative, today FC4S members collectively represent US$84 trillion equity market capitalisation, with members based in Africa, Asia, the Americas, the Gulf and Europe," said Stephen Nolan, Managing Director, UNDP FC4S network.
"Minister Ryan's support will allow FC4S turbocharge its support to our members, particularly those in emerging market and developing economies, with a particular emphasis on mobilising greater amounts of capital required to meet the Paris Agreement and SDGs."
Loss and damage controversy
The concept of funding for loss and damage to be provided by richer developed countries for poorer and developing nations has been highly controversial at COP27 from the start.
It was only put on the formal agenda for discussion at the eleventh hour.
Developing and poorer countries had been demanding that richer and more developed countries should provide financial compensation to them for the loss and damages they have, and will continue to suffer, due to extreme weather events and the impacts of climate change, for which they claim they have had the least amount of responsibility.
Developed countries strongly resisted the inclusion of the notion of "compensation" associated with the loss and damage as that would be an open-ended and potentially unmanageable financial commitment.
Now instead of "compensation" the issue at the heart of the heart of these negotiations is funding, and on that front several proposals have been touted.
However, Minister Ryan explained that the EU has become concerned that draft and preliminary final COP27 texts are implying that any loss and damage funding arrangements would not be targeted enough.
Fears over swallowed-up funds
The EU fear is that funds that could be provided that will be available to all developing countries in such a fashion that they could be swallowed up by large countries like China which is not considered to be a poor country.
Mr Timmermans stated very clearly in his address to COP27 yesterday that the EU is strongly in favour of providing funds for loss and damage for poorer countries and wants to see significant progress on this issue over the coming days.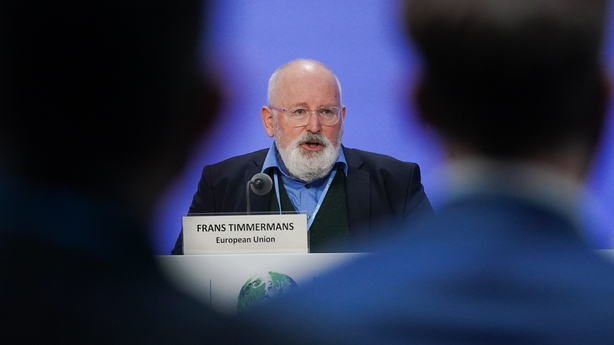 However, it is clear the battle lines on the use of any such funds have now been drawn, and Minister Eamon Ryan will be Europe's key negotiator in the discussions ahead.
Talks being held up - Robinson
Former President Mary Robinson said she was concerned at the state of talks on planned measures to address loss and damage suffered by poorer countries as a result of climate change.
"There does seem to be a bit of a block in loss and damage. There isn't an agreement, it would appear, across the board, on a fund here and now," Mrs Robinson, who heads a group of prominent former world leaders known as the Elders.
She said China and Saudi Arabia were holding up talks.
"I'm also very worried about the fact that the Santiago Network negotiations last night came up with a real problem because China and Saudi Arabia - and I'm naming names... are trying to block technical assistance for loss and damage going to the most vulnerable countries," she said.
---
---
A spokesperson for the Saudi delegation to the talks declined to comment on Mrs Robinson's remarks
Meanwhile, leaders at the G20 meeting in Bali agreed to pursue efforts to limit the rise in global temperatures to 1.5 degrees Celsius and recognised the need to speed up efforts to phase down coal use, in a potential boost to the COP27 climate talks.
Egypt's COP27 presidency special representative welcomed the commitments made by G20 nations, saying their final declaration contained many promising aspects.
"There are very strong elements and commitments, and reiterations of previous commitments," ambassador Wael Aboulmagd told a news conference.
"We welcome it, obviously."
Additional reporting Reuters, AFP