Former president Mary Robinson took aim at G20 industrialised nations as she arrived at the COP27 climate summit in Egypt today.
Mrs Robinson, Chair of the UN Elders, said things are not improving and it is really important that governments start to take seriously their responsibility to halve carbon emissions by 2030.
The Chair of the UN Elders said she is worried that there appears to be an attempt by some countries at the summit to say that limiting the rise in global temperatures to 1.5 degrees Celsius is not achievable any more, and are arguing to have it dropped as a target.
World governments agreed in 2015 during a UN summit in France to try to limit the average global temperature increase to 1.5C, a deal dubbed the Paris Agreement that was seen as a breakthrough in international climate ambition.
US Special Climate Envoy, John Kerry confirmed Mrs Robinson's fears.
He said at a briefing in Sharm El Sheikh that a few countries had raised issues about leaving certain "wording" out of the official document that is being worked on for the end of COP27.
He said however, that it is a very small number, and because 1.5 degrees is included in the document that came out of the Glasgow COP Summit meeting last year he felt sure the Egyptian Presidency of this COP meeting would not want to retreat from it.
Most countries, he said, have no intention of going backwards.
Mrs Robinson said: "One point five is not a target. Rather it is the limit of a liveable world.
"Let us absolutely not abandon one point five. We must keep it to chart our course. Every fraction of a degree matters."
She said she found some of the leaders' statements at COP27 earlier in the week to be very visionary, but that they just so happened to be from developing countries.
"I didn't hear much leadership from the G20 countries. Indeed, half of the G20 leaders weren't here", she said.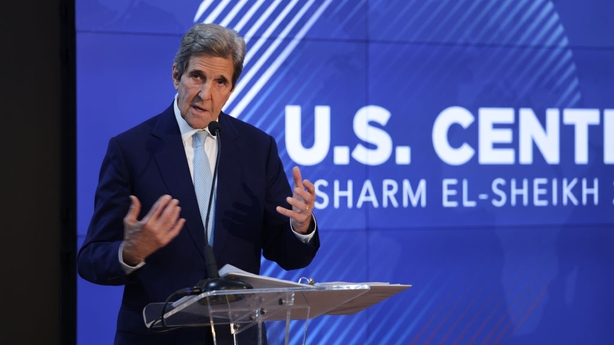 Many developing countries have demanded the establishment of a "loss and damage" fund that could disperse cash to countries struggling to recover from disasters.
Mr Kerry said the United States would not support establishing such a fund, and instead believed existing platforms should be used.
"It's a well known fact that the United States and many other countries will not establish ... some sort of legal structure that is tied to compensation or liability. That's just not happening," he said.
"We will find a way, I am confident, to be able to have financial arrangements that reflect the reality of how we are all going to deal with the climate crisis."
Mrs Robinson said it is alarming that there are so many representatives of the fossil fuel lobby at this COP, far more than in Glasgow last year, and that governments are not changing course because of the pressure they are applying and because of the short-term horizon of politicians.
She said it is ridiculous that "we spend €1.8 trillion per year subsidising what is killing us - the fossil fuel industry".
Meanwhile the IFA has been here representing Irish farmers for several days and have heard what they said are alarming stories about climate-related food insecurity especially in Africa.
With additional reporting by Reuters