The Grey Partridge, one of Ireland's most iconic native game birds was on the verge of extinction in the late 1990's when its population fell to just twenty birds nationwide.
Now following twenty years of conservation effort by the National Parks and Wildlife Service and local farmers the number of Grey Partridges has increased to about 900 in Boora in County Offaly.
Minster for Culture, Heritage, and the Gaeltacht, Josepha Madigan has hailed the programme as one of the country's most significant nature conservation successes and said the Government would like to replicate the programme techniques across the country to help other endangered bird species including the Red Grouse and the Corncrake.
The plight of Ireland's Grey Partridge's was desperate in 2006 when the National Parks and Wildlife Service purchased 600 acres of cutaway bog land from Bord na Móna at Boora in County Offaly to embark on a monumental rescue mission.
One of only two native Irish game birds (the other being the Red Grouse) the iconic Grey Partridge was virtually extinct.
Their numbers had dwindled to just twenty birds nationwide and all of that remaining population was located in the midlands Boora region.

The partridge is quite a peculiar bird. It has a reddish head and a grey and brown body.
They are well able to fly yet they spend an awful lot of time scooting around on the ground.
They have slightly fattish pear-shaped bellies that appear to afford them great stability so they are good little runners.
At this time of year they generally run around in groups of up to 20 looking out for each and foraging for insects and food in suitable habitats.
They form very strong family bonds and it is a joy to come across a family of them called a covey.
But providing a suitable habitat for these endangered birds was far from easy.
The National Parks and Wildlife Service has been working on it for twenty years along with a range of other groups, including the Irish Grey Partridge Conservation Trust, along with local farmers. It has not been straight forward job.
They have been working on exhausted industrial peat land that had been denuded of its nutrients and in many places had been cut back to a very shallow layer of peat barely above the glacial till or marl.
The restoration started with a tedious and very careful annual process of replenishing soil nutrients including potassium, prosperous and lime so that crops and plants could grow.
Walking around the nature reserve these days one might think of how farmland in Ireland must have appeared about a hundred years ago.
There is a lovely mix of barley, linseed, wild flowers, and a range of cover crops all carefully planned with the Grey Partridge in mind.
The wildflower and cover crops are planted in three metre margins bordering the barley fields.
This provides a nesting area, a place for brood rearing, and protection for young partridges from certain birds or prey and other predators.
Michael Martin, the agriculture adviser on the project explains that the cover crops are essential for when the young partridges are hatched out because of protection they provide as well as lots of insects and invertebrates that the young chicks to feed on.
There is much more to it than that of course.
The NPWS breeding centre for these birds is located deep in the heart of this 600 acre site.
It is surrounded by a small white electrified fence about hip height.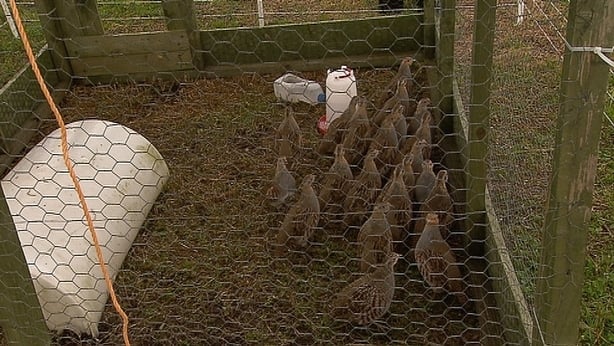 The fence doesn't look the sturdiest contraption at all, but it's more than enough to deliver a jolt of electricity to the snout of any fox or similar predator that comes snooping around.
Loses to other predators like mink or the odd stoat do occur but that's just nature in action.
The National Parks and Wildlife Service Regional Manager over this project, Padraig O'Donnell, explained that they are learning every year and getting better all the time.
For instance they discovered that partridge chicks bred from two captivate parents are very poor at protecting themselves from predators.
The solution was to capture wild partridges to breed with captive parents.
The wild parent would then ensure the chicks could learn the survival skills needed to avoid predators and survive in the wild.
But where to go to get the wild grey partridges to breed with the captive Irish birds in the first place?
This was a big issue for the conservation project. The NPWS wanted to ensure that any partridges imported from abroad for breeding purposes would be genetically as close as possible to our own indigenous grey partridge population.
They examined the DNA of partridges in the UK, France and elsewhere in Europe to find the closest match.
There was total surprise when it transpired that the wild partridge population of Estonia - so far away Eastern Europe - rather than in the UK or France was genetically the closest match to the Irish birds.
And so that is where some of the wild parent birds for breeding have come to Ireland from, Estonia.
When I met up with Padraig O'Donnell in Boora he was bursting with pride about the success of this conservation project and the work of the Irish Grey Partridge Conservation trust.
He said that this year they have bred 580 chicks from 60 parent partridges and all except about 40 are being let out off the wild.
The 40 birds being held back are required for next year's breeding program.
And just as Padraig is speaking, a hen harrier, one of Ireland's most endangered raptors, flies over head scanning for his next meal, a large flock of lapwing birds takes flight in the next field, and three curlews fly across the sky nearby.
Saving the Irish grey partridge in the midlands has clearly been enormously positive for other species there too.
"We are very proud of what the team has achieved here" says Pádraic. The core area at 600 acres is one of our largest actively farmed properties. It is a recognised area of exceptionally high levels of biodiversity. Many species - whose populations are in significant decline elsewhere - occur here in high numbers, including the Skylark , White Throat and Meadow pipit and the project area hosts the highest concentration of breeding Lapwing in Ireland."
He is particularly grateful to the efforts of the local farmers who have rowed in behind the conservation efforts through participation in the GLAS Agri-Environment scheme.
These farmers have been managing their lands with a view to restoring the habitat for grey partridges.
Padraig said that the Boora conservation site is just 600 acres, but that an area of about 2,500 acres is actually required ensure the partridge have a sufficiently large habitat to be successful.
It could be successful he says without the co-operation of local farmers.
The Minister for Culture, Heritage and the Gaeltacht, Josepha Madigan, has commended the Boora project.
She said the pioneering new techniques in captive breeding and land management that have been developed and used here and are now being used in conservation projects across Ireland and that the conservation effort has also resulted in successful breeding for many other species that have been in decline such as Lapwing, Snipe, Woodcock, Sky Lark and Meadow Pipit.
This she said is a wonderful example of how a strong working partnership between our National Parks and Wildlife Service and the local farming community can lead to the reversal of biodiversity loss and species recovery.