Sinn Féin's Matt Carthy said he would like to see a coalition formed as quickly as possible but any new government must be robust.
The newly elected TD for Cavan-Monaghan said there has been no contact between Sinn Féin with either Fianna Fáil or Fine Gael.
Speaking on the RTÉ's Morning Ireland, he added that all parties should be open to talking to Sinn Féin but repeated that his party's preference is a coalition without Fianna Fáil or Fine Gael.
Fianna Fáil TD for Sligo-Leitrim Marc MacSharry said talks between Sinn Féin and Fianna Fáil "may well take place" but this does not mean coalition, adding, "talks mean consideration."
Mr MacSharry said the coming days would show if people are prepared to change positions in line with what is actually deliverable and real.
"Talks mean people moving their positions substantially on policy and other issues so we can have a realistic and deliverable programme for government for people, consistent with the sort of resources that are going to be available.
"The coming days will see if people are prepared to change positions in line with what is actually doable but it's going to take some time and considerable effort. 
"And Fianna Fáil won't be found wanting in terms of the effort," he said.
---
Read More:
Fianna Fáil edges Sinn Féin in race to win most Dáil seats
After the counts, the coalition conundrum
The A-Z of Election 2020
Election 2020 outcome - What happens next?
---
He said that his party, and the country, is in a difficult position following the election and the emergence of three individual blocs and different manifestos.
Mr MacSharry said that Fianna Fáil will meet in the coming days and all these matters will be considered.
When asked about Micheál Martin's leadership, he said Mr Martin's position "is as safe as the day he was elected".
Fine Gael's Helen McEntee has also backed Leo Varadkar's leadership and said onus is on Sinn Féin leader Mary Lou McDonald to deliver "what they clearly say they wanted".
Ms McEntee said that Fine Gael cannot offer to go into government as the third-largest party, but added it "will be there and ready and willing to talk to all political parties except Sinn Féin".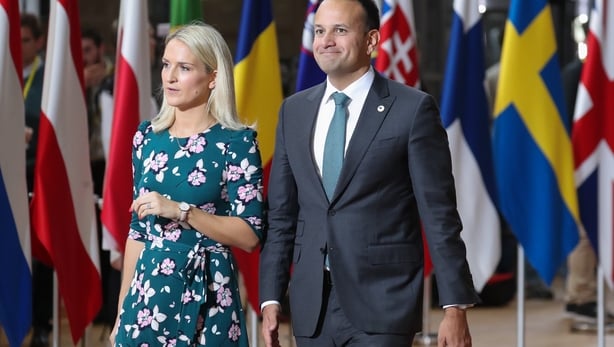 She said Fianna Fáil, as the largest political party, needs to be able to talk.
Ms McEntee added she felt her party would be willing to talk to Fianna Fáil, but would not be drawn further on any possible coalition formulations.
She said it was not a good election for Fine Gael or Fianna Fáil, but she believes Mr Varadkar can lead Fine Gael back into government in the future, saying his record on the economy, on Brexit and on social change and stability was a good one.
Aontú Peadar Tóibín has accused Fianna Fáil "of putting party before country" and said it should step up to the plate and enter talks on forming a government.
Speaking on RTÉ's Today with Sean O'Rourke, Mr Toibin said it is very interesting to hear political parties who were "chomping at the bit" a few days ago to get into government now saying "no, it's not up to us to form a government."
Mr Tóibín said he is delighted his party got 50,000 votes just one year into its existence saying it is "a great basis to build for the future."
Meanwhile, the Green Party is are holding a parliamentary party meeting in Dublin to map out their strategy following the election. 
The party secured a record 12 Dail seats - a four fold increase.
Party leader Eamon Ryan said the Greens will engage with other progressive parties with a view to possibly participating in the next government.