Fianna Fáil's Jim O'Callaghan has described the General Election as a difficult one for the party and said there are major issues that people feel are not being addressed.
Mr O'Callaghan, who was re-elected in the Dublin Bay South constituency, said: "In particular, health, homelessness, housing, no matter who you talk to, those are the issues that are raised.
"That to a large extent explains the very large vote that Sinn Féin got."
He said he is disappointed with the outcome for Fianna Fáil, adding: "I think everyone involved Fianna Fáil is a bit disappointed, we would have hoped to be up in the 50s.
"We in Fianna Fáil need to recognise that when it came to the electorate making their decision, they didn't really support as much as we would like the option of change that we put before them." 
He also said the party had given an assurance before the election that it would not go into coalition with Sinn Féin.
"That's what I said on the doorstep when people raised it with me. I don't think it's tenable now to change our policy in respect of that.
"We need to recognise we gave a commitment and when you look at the policy differences between Sinn Féin and Fianna Fáil, I don't think it's tenable to suggest that we should be in coalition with them."
---
Read More:
Live: Election results for Sinn Féin 'remarkable'
Election 2020 so far in 200-ish words 
A day of high political drama and today likely to be no different
Live updates from your constituency 
---
Earlier, Fianna Fáil's Director of Elections Dara Calleary has said it was premature to talk about whether it might go into government with Sinn Féin.
He said Fianna Fáil would not refuse to talk to Sinn Féin, but there are "difficult hurdles" to cooperation. He said Fianna Fáil had policy difficulties with Sinn Féin, but the door was not closed in terms of engagement between the two parties.
Mr Calleary said it was far too early to open the door to going into government with Sinn Féin or even to "put it ajar".
He said that there is "a long way to go in a lot of counts" and it is impossible to put a final tally on the number of seats Fianna Fáil might take, but believed it may be higher than 42.
Sinn Féin leader Mary Lou McDonald said she has begun examining the possibility of forming a new government, but her preferred option is a government without Fianna Fáil or Fine Gael.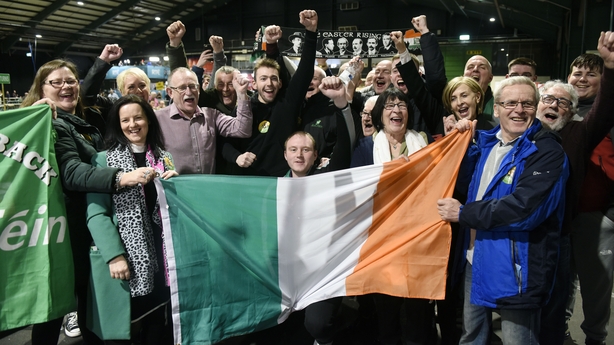 She said contact was being made with other parties and independents.
Ms McDonald said Sinn Féin had "won the election and won the popular vote", but said she will speak to Fianna Fáil leader Micheál Martin and Fine Gael leader Leo Varadkar because "that's what grown ups do".
She added she was glad it appears that Mr Martin has begun to "come to his senses" and consider including Sinn Féin in the formation of a government.
She said she has already spoken to the Greens, Social Democrats, Solidarity-People Before Profit, and she plans to approach independents and the Labour Party depending on how it gets on.
Ms McDonald said the election has been historic and that the old two-party system was now gone and a thing of the past.
She said that "with the benefit of hindsight" the party should have run more candidates and if she were a political clairvoyant she would have run more candidates, because there is no doubt that there are constituencies where candidates have been left behind.
She said that Sinn Féin wants a good government, a people's government and the chance to implement many of its policies.
Sinn Féin leader Mary Lou McDonald tells Morning Ireland that she is "very glad Micheál Martin has come to his senses" and that she "has known for a long time that the dominance of Fianna Fáil and Fine Gael is over" #GE2020 | https://t.co/ezmPTYouNx pic.twitter.com/1vvTtDdg8b

— RTÉ News (@rtenews) February 10, 2020
Fine Gael's Director of Elections Paschal Donohoe said his party's position on Sinn Féin has not changed, and while it is likely that some form of engagement will happen, Fine Gael will not go into government with Sinn Féin.
He acknowledged that Sinn Fein's election results were remarkable, but it must be remembered that Fine Gael also shared a large portion of the popular vote and that hundreds of thousands of people voted for Fine Gael.
Mr Donohoe said many voters saw Fine Gael as a party of the status quo, which is the last thing it is about.
Paschal Donohoe tells Morning Ireland Fine Gael "will not be going into Government with Sinn Féin" and that Fine Gael "have had a difficult election" #GE2020 | https://t.co/ezmPTYouNx pic.twitter.com/6vsx1y7zzn

— RTÉ News (@rtenews) February 10, 2020
He said that the party was ambitious and wanted to lead the next government and the coming weeks will be complex. He also acknowledged that the people of Ireland had said they want change.
Green Party leader Eamon Ryan said it is hard to see, based on the numbers, how Ms McDonald could form a stable coalition of the left.
He said the Green Party would talk to all parties, but believes it would take time for a government to be formed.
He added that a lot of parties have blocked themselves in and we will have to wait a few days to see who exactly is elected. 
When asked if the Social Democrats, Green Party and Labour could form a negotiating block, he said this makes sense and the three parties would have a similar approach to a number of different issues.
The Social Democrats Communications Director Anne-Marie McNally said that it is looking very good for the party who are "in contention for six seats" which is "quite a strong mandate for a small party".
Ms McNally said that the Social Democrats will speak to "all and everybody" in relation to trying to put together a socially democratic programme for government.
She said today looks like being a huge achievement for the party and it is "onwards and upwards".