So far 78 out of 160 Dáil seats have been filled in one of the most dramatic elections in the history of the State.
There are 13 counts fully complete and 26 counts were adjourned late last night. Counting is due to resume in most count centres at 10am.
Set to win over 30 seats, yesterday belonged to Sinn Féin, with 17 of the top 20 first preference vote winners being Sinn Féin candidates.
The top three of them, Denise Mitchell in Dublin Bay North, Pearse Doherty in Donegal and David Cullinane in Waterford, have all been returned with over 20,000 votes.
Many of the party's poll toppers were elected with huge surpluses. One of the most common refrains from the day was that the party ran too few candidates in an election where it did not expect to do so well.
Fianna Fáil is on course to become the largest party in the next Dáil. Elected shortly before 1am, John McGuinnness was the 12th Fianna Fáil TD to win a seat.
The party's Brexit spokesperson, Lisa Chambers, lost her fight to retain her Dáil seat. She lost out to former Mayo footballer and Fine Gael candidate Alan Dillon.
Fine Gael's Michael Ring, Sinn Féin's Rose Conway Walsh and Fianna Fáil's Dara Calleary filled the first three seats in Mayo. 
Fine Gael had won 12 seats by 1.30am and the party has had some casualties. Regina Doherty lost her seat in Meath East, becoming the second Cabinet minister to lose their seat after Shane Ross earlier in the count.
Outgoing Government Chief Whip Sean Kyne looks set to lose his seat.
Two former Cabinet ministers have also lost their seats - Fine Gael's Mary Mitchell O'Connor in Dún Laoghaire and Labour's Joan Burton in Dublin West.
In a poor day for the Labour party, former education minister Jan O'Sullivan's seat is in grave danger.
There was some good news for the party shortly before 2am when Sean Sherlock was re-elected in Cork East.
Others elected in Cork East were Sinn Féin's Pat Buckley, Fine Gael's David Stanton and Fianna Fáil's James O'Connor (the youngest TD elected in this election at age 22).
Fianna Fáil's Kevin O'Keeffe joined Margaret Murphy O'Mahony in losing their seats.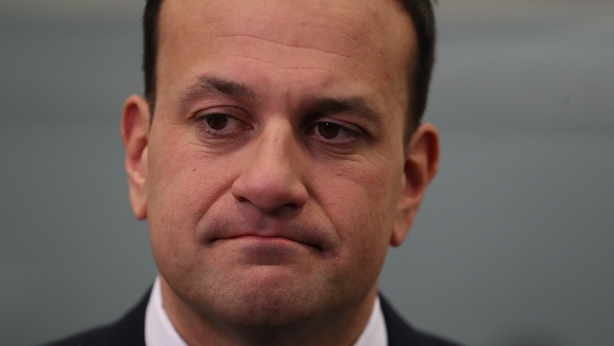 Elected in Dublin West, Leo Varadkar becomes the first Taoiseach not to top the poll in his own constituency. He is also the first Taoiseach since Garret FitzGerald not to bring in a running mate.
In a day of mixed fortunes for Fine Gael, the party bucked the national trend in Dublin Rathdown where it made a seat gain - Josepha Madigan and Neale Richmond were elected there.
In another remarkable result it now looks like Roscommon-Galway will return no TD from either Fine Gael or Fianna Fáil.
Independent TD Michael Fitzmaurice topped the poll there with over 13,000 votes. Former cabinet minister Denis Naughten also held his seat here.
Fianna Fáil's Eugene Murphy said Claire Kerrane of Sinn Féin will likely beat him to the final seat.
"I don't think it's possible for me to pull back the amount," Mr Murphy said.
"There's 2,200 votes there. It'd be great if I could, yes it might be tight in the end, but I still would call it for Claire Kerrane. I think she will get over the line."
---
Read more:
Live: Developments as they happen nationwide
Live: Updates from your constituency
Results as they happen in each constituency
Winners and losers on Day One of Election 2020
From 2 to 21,344 - day one of the count in numbers
---
Yesterday's count was a successful one for other independent candidates from rural Ireland.
Michael Collins in Cork South West, Michael Lowry in Tipperary and Sean Canney in Galway East were all re-elected in poll topping performances.
In an unexpected development, outgoing Minister of State Kevin 'Boxer' Moran conceded that he had lost his seat in Longford-Westmeath.
The Green Party made seat gains with newcomers Ossian Smyth, Roderic O'Gorman and Marc Ó Cathasaigh winning seats, along with outgoing TDs Eamon Ryan and Catherine Martin.
Outgoing Solidarity/People Before Profit TDs Bríd Smith and Richard Boyd Barrett were re-elected in Dublin.
Aontú leader Peadar Tóibín was re-elected in Meath West, with Sinn Féin's Johnny Guirke and Fine Gael's Damien English.
Fianna Fáil's Shane Cassells who was expected to top the poll, ended up losing his seat in one of the day's big surprises.
With more than 90 seats yet to be filled, attention has already turned to the intricate and difficult task of forming the next government.
Fianna Fáil's Pat the Cope Gallagher said "all parties should enter into discussions" and that "pragmatism is vitally important".
Responding to a suggestion that a National Government could be formed, newly elected Fine Gael TD Jennifer Carroll MacNeill said she is "worried about the practicality" of such a proposal.
Under such an arrangement there would be a rotating Taoiseach between the three major parties. The new Dún Laoghaire TD said it would be extremely difficult to agree a budget between three parties with such different economic policies. 
Count centres will reopen at 10am and as more seats are filled, the picture on the overall make-up of the 33rd Dáil will become clearer.
We might expect more news on the contact between various party leaders today as coalition options are explored.
Also watch out for the nuanced language used by politicians in interviews at count centres as political dog whistles are sent between parties.
If yesterday was a day of high political drama, today is likely to be no different.