Almost two third of voters said they do not believe they have benefited from any economic recovery.
The figure is detailed in the official general election 2020 exit poll, which was conducted by Ipsos/MRBI on behalf of RTÉ, The Irish Times, TG4 and UCD.
The poll is based on the responses of more than 5,000 people at 250 polling stations across the country immediately after they voted yesterday.
Questions on who someone voted for, their age, gender and what region they are from were asked of all respondents, and have a margin of error of 1.3%.
However, in order to give an insight into the reasons why people voted certain ways, 15 additional questions were also asked of respondents, who were split into five different groups of 1,000 people and asked three questions each.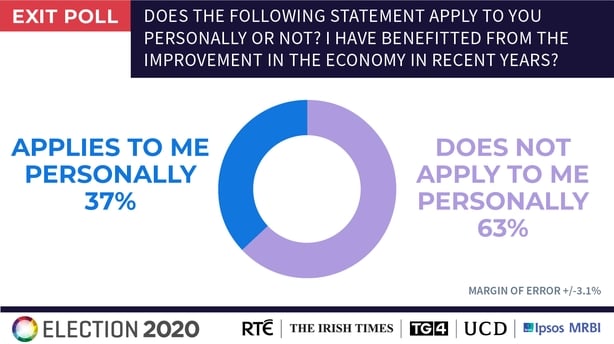 Among these 15 topics was a specific question on whether the economic recovery championed by the government has in their view had little impact on their daily lives.
Asked if they have benefited from an economic recovery and given three options on how to respond, 63% of those who took part in the exit poll said "this does not apply to me personally" while 37% said it did.
On a separate question, two thirds of exit poll respondents (65%) also said they were in favour of increasing spending on public services instead of tax cuts, compared to 35% who favoured a reduction in taxes.
This indicates that people are more concerned about improving public services with well-spent tax intake than repeatedly promised tax reductions.
In terms of the economy itself, 82% of exit poll respondents also said a party's ability to manage the economy was key to how they voted, suggesting a keen interest in the finer details of the economy.
---
Read More:
Election results threaten to cause political havoc
Poll indicates FG/FF stance over SF divided voters
Just 1% of voters concerned about Brexit, poll suggests
---