The Government is extending restrictions to the rest of the country that have already been introduced for third-level and higher education colleges in Dublin.
For the next two weeks, all third level and higher education institutions are being asked to deliver the bulk of tuition remotely.
Under the enhanced protection measures face-to-face teaching will be limited to practical classes, such as lab activity, where online teaching is not possible, with all other tuition taking place online. 
The measures are being introduced as universities prepare to reopen to students next week. Institutes of technology and colleges of further education have already reopened. 
The Irish Universities Association has said the move is about trying to limit the cross-country movement of students, and avoiding the congregation of large groups on campus. 
Announcing the new measures, Minister for Further and Higher Education Simon Harris said: "The next two to three weeks represent a critical juncture. The higher education sector has put in place robust plans and protective measures.
"However, at the request of the Department of Health, it has been agreed to introduce enhanced protective measures across the country to ensure safe continuation or beginning of the academic term."
We need your consent to load this rte-player contentWe use rte-player to manage extra content that can set cookies on your device and collect data about your activity. Please review their details and accept them to load the content.Manage Preferences
Mr Harris said on Twitter that 2020 had been a "rotten year so far for everyone including students and we must, and will, work together.
The #Covid19 pandemic involves moving quickly & decisively. Today our Chief Medical Officer asked us to take more measures in higher education & we will act immediately. Not to do so would be irresponsible & something we'd regret. I know it's tough but staying safe must come 1st

— Simon Harris TD (@SimonHarrisTD) September 25, 2020
"Colleges are not shutting but using common sense to prioritise what needs to happen on site and what can happen online for a few weeks. We will get there, together."
Earlier this week universities in Dublin announced their plans to deliver education online.
While many of the country's Institutes of Technology have already reopened, students are due to return to universities from this coming Monday. 
It is hoped that many students - faced with remote learning for at least the next two weeks - will decide to remain at home, and not travel to accommodation in the cities and towns where their colleges are located.  
The universities say that at the request of Government, on-campus provision will be minimised with priority given to teaching and learning that can only take place on-site.
However university libraries will remain open, with strict social distancing protocols and entry registration. All research activities will continue as normal but on-campus student social and club activities are suspended until further notice.
The universities said the additional measures will be reviewed after an initial period, in view of evolving public health advice.
Minister Harris said while the decision was disappointing, it was "absolutely necessary if we are to stop the spread of this virus". 
"We are also asking students to minimise travel and to minimise the number of social contacts on and off campus.
"We must do everything possible over the next few weeks to stop its spread and give students the best chance of resuming on site activity. Please stay safe and hold firm." 
USI calls on Govt to protect students financially
The Union of Students in Ireland has called on the Government to act immediately to ensure students are not left out of pocket as a result of the new measures.
It is "extremely concerned" at the last-minute nature of the announcement, and said students should now consider whether or not to travel to rented accommodation, given that they are facing little or no on-campus activity.  
USI President Lorna Fitzpatrick said: "If you are a student due to start college next week and have secured accommodation, it's important to consider whether you really have to travel.
"If you have no on-campus activities, would you be better off staying at home and not moving outside of your region. We are being asked to minimise travel as much as possible to help limit the spread of the virus."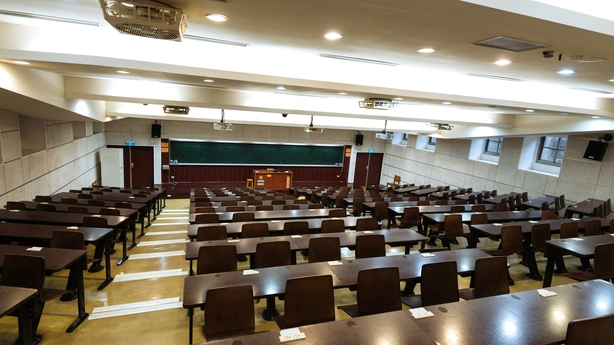 She said the decision had come late in the day for students and that the Government should act immediately to protect and support student renters.  
"Exactly one month ago today, USI called on Government to introduce six emergency provisions to ensure student renters were not hit by a repeat of what happened in March when colleges and universities closed and deposits and prepaid rent were not returned and students had to fight for on-campus accommodation to be refunded," she said.
"Now we are just three days before many colleges are due to start back and we are already looking at this becoming an issue again for students." 
The union has urged students to take care of their mental health by reaching out to friends and staying in touch. It has also highlighted the new Government-funded student helpline.
Students can text 'Hello' to 50808 any time, day or night, to speak with a trained volunteer. The Psychological Counsellors in Higher Education Ireland helpline is an anonymous and free service.