The new Minister for Education says she is "very keen" to reopen schools at the end of August or start of September.
Newly-elected TD Norma Foley from Kerry was appointed to the role yesterday.
She said that one of the particular challenges facing her in this job is reopening schools amid Covid-19.
"I'm very keen that would happen. But I'm very keen that would happen as a consequence of engagement with all stakeholders and also acting on the very best public health advice available to us", she said.
Ms Foley said that as a teacher herself, she "values the expertise and talent" of teachers, SNAs, principals and deputy principals.
"I see them as very valuable", she said, adding "but equally so I see the parents as valuable and important stakeholders. They too must be engaged with".
Ms Foley said that her goal as minister will be to make decisions that have the best possible outcome for the children and young adults that she serves.
On criticism that the Government is ignoring the west of the country when it comes to ministerial appointments, Ms Foley said there is a geographical spread there as things stand.
We need your consent to load this rte-player contentWe use rte-player to manage extra content that can set cookies on your device and collect data about your activity. Please review their details and accept them to load the content.Manage Preferences

She said she recognised from the Taoiseach's point of view that it is "impossible to place a minister in every county or every region".
She said she was mindful that next Wednesday there would be an announcement on ministers of state, which would "enhance representation on a geographical basis".
On the gender breakdown of the cabinet, Ms Foley said there are four women at the cabinet table, with another two in junior minister positions, and nine out of 11 Seanad appointments being women.
She said there is absolutely a need for more women, and that more women need to be encouraged to enter politics, starting at local authority level.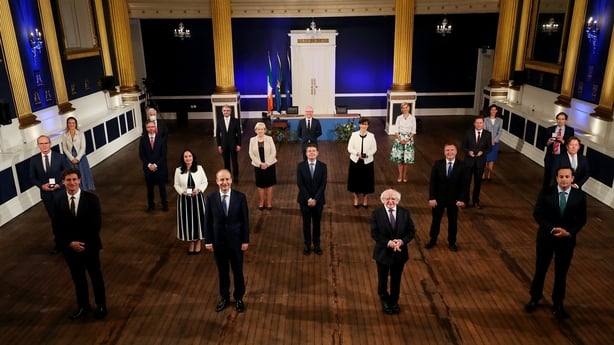 "I think women who get involved in local authority level build up confidence and experience; I come from that background myself also," she said.
"Women are very proactive already in the political system, they are very engaged and involved, are huge contributors, but they don't necessarily always take the next step to seek political election, whether its local authority or national.
"Much has been done but certainly much more needs to be done, but I think we're making progress and we're moving in the right direction," she said.