There is no end to the questions that need answering when it comes to education under Covid-19.
Opposition TDs did their best in the limited time available to them during today's Dáil session to ask as many as they could, but there are no definitive answers to many of those queries.
The answer coming from the Minister for Education on so many issues was that he was "open", and that officials in his department were examining the issue.
That's no surprise.
In relation to one Leaving Certificate issue – the difficulties facing students who have been studying subjects independently of teachers, meaning they have no teacher who can give them a calculated grade – Joe McHugh said those students were being looked at "on a case by case basis". He added that his "has to be done quickly, but it also has to be right".
This answer could apply to so many of the other issues in education. Students, parents, teachers and others are desperate for answers, but the Government and the Department of Education will be mindful of making any more decisions or pronouncements that will later unravel, as happened with the Junior Certificate, and of course the Leaving Certificate.
Opposition TDs asked about children with disabilities and their families, for whom being out of school is even more difficult.
"They are hanging on by their finger nails and feeling ignored", said Sinn Féin's Sorca Clarke.
She asked for the amending of a scheme called July Provision, which employs teachers to work with children with special educational needs over the month of July to provide continuity and support to them. Can this scheme be amended to run later in the year, she asked, to run in the weeks before children are to return to school?
"I am open to the idea of expanding July Provision", Joe McHugh replied. "We are looking at potential expansion".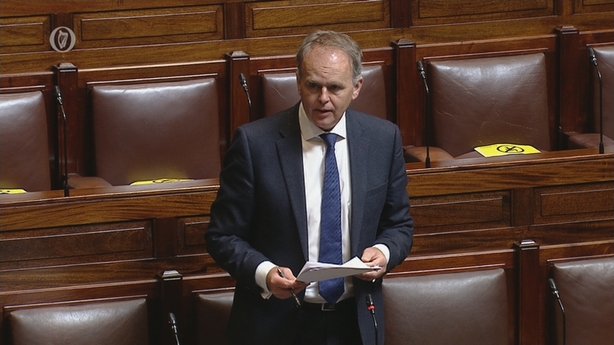 The issue of children with special needs was raised by others too.
"The letters [from parents], we have all received them", said Independent TD Catherine Connolly. "I don't see any voice in relation to these children, to look at their needs. They have just been forgotten". The minister disagreed.
The vital social function that schools facilitate was also raised. Green Party TD Catherine Martin spoke of 6th class children who have been deprived of the opportunity to "say goodbye". This may seem like a small thing, but every parent will know that it is not. TDs asked about school graduations, debs, the rites of passage that lifetime memories are made of, all lost for the class of 2020.
And what about this year's 5th years? With the focus so much on the exam years, this is another group that feels forgotten. They have lost out on a huge amount of class time.
Labour's Aodhán O'Riordáin asked about the issue of school profiling. Student marks and rankings will be decided upon in the first instance by their teachers, but then a school's profile will be applied to align those marks with the performance of their school in previous years.
"We will not accept school profiling", he said. "It is fundamentally unfair". He added that assessing a student "by the history of your school" would benefit students attending fee-paying schools and others that have a tradition of strong Leaving Certificate performance, while disadvantaging those attending schools without that same tradition.
"Let every assessed grade stand on its own merits" Deputy O'Riordáin said.
Mick Barry of Solidarity/People Before Profit argued the same point, saying it will "discriminate in particular against students based in working class communities and should not be part of Leaving Cert 2020".
But the Minister for Education robustly defended this part of the calculated grades plan. He said account would be taken of progression in disadvantaged or DEIS schools. He accused Aodhán O'Riordáin of doing a disservice to students and of "peddling" wrong information.
"We are all going to need help here and guidance", he said. "But nobody will be disadvantaged by where they are from or what school they go to".
---
Read more:
Leaving Cert exams could not be held in reliable or valid manner says McHugh
Varadkar: Reopening schools, childcare facilities 'among safest things' to do
Evidence suggests children not contributing significantly to spread of Covid-19 - HIQA
---
Fianna Fáil's Education Spokesperson Thomas Byrne also called for an assurance that "nobody is disadvantaged and nobody is advantaged" by the new system. He called for consultation with outside experts on the issue of adjusting grades, and for independent advice on the methodology being used. He was among a number of TDs that also raised concern around potential "legal vulnerabilities".
Regarding the reopening of schools, Minister McHugh said his officials are working on a plan. He will meet remotely with his EU Minister for Education counterparts on Monday to learn from their experience, adding that it is "not just about social distancing".
Flagging the enormity of the task ahead, he said it's about how we plan learning, staff our schools, transport pupils, utilise facilities, and protect those who are vulnerable to the virus.
Like so many issues under Covid-19, every individual question seems to lead to so many others. Continually evolving public health advice, including the role of children in spreading the virus, will be vital here.
"You have a very difficult job to do", said Independent TD Danny Healy-Rae to the minister as he got to his feet.