The Taoiseach has said that the emerging evidence suggests that reopening schools and childcare facilities over the next couple of months is "among the safest things" to do.
However, he said that it needed to be done so safely.
Chief medical officer Dr Tony Holohan said he was not anticipating any changes to the planned return to school for children and that no consideration had, as yet, been given to the wearing of face coverings in classrooms.
Speaking at a contact tracing centre in Dublin city centre, Leo Varadkar said there is growing evidence that children are the least at risk from the virus and that they do not appear to be super spreaders.
"I think there is a lot to learn about the virus and we are learning more about the virus all the time.
"But if you take for example what HIQA has said today and what Mike Ryan of the World Health Organization said to me and the Minister for Health today... the emerging evidence is that among the safest things that we can do over the next couple of months is to reopen our schools and childcare facilities to allow children to return to education and to return to normal life."
Mr Varadkar said that everyone wanted grandparents to be able to hug their grandchildren and said that "assuming everything went in the right direction it will be one of the actions that will be possible over the course of the summer".
However, Dr Holohan said only a small number of studies had looked at transmission patterns among children.
No significant pattern of children transmitting the virus has been identified in these studies but it was "an entirely different thing to conclude in policy terms that we have enough evidence to say that transmission from children does not occur".
The General Secretary of the Irish National Teachers Organisation (INTO) has said safety is the main focus when schools reopen.
Speaking on RTÉ's Drivetime, John Boyle said one of the biggest concerns is how to implement physical distancing when dealing with young infants, children with special needs, large groups of children in playgrounds, and parents dropping children to school.
"We have the largest class sizes in Europe", he said. "Those are the issues that we need to be looking at and discussing with other stakeholders".
Mr Boyle said children will need to be "weaned back into school" and that many things need to be in place before they return.
"It seems to me that we are going to have to have a phased, orderly, slow, steady and safe return," he said.
---
Read more:
Leaving Cert exams could not be held in reliable or valid manner - McHugh
Face coverings 'very likely' on public transport, says Minister Shane Ross
---
Responding to the HIQA report, the Minster for Health said that "any report that helps us is welcome" but he added that we were still dealing with a virus that we are learning more about every day and therefore "evidence is inconclusive".
Simon Harris said that while he understood that grandparents miss their grandchildren and children miss their friends, the public health advice had not changed, and the advice is still to stay at home except in exceptional circumstances.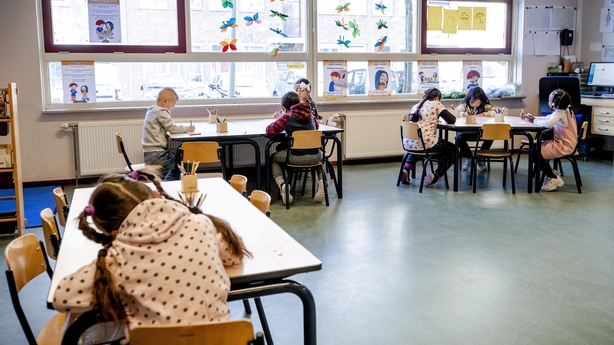 However, he said he hoped this could be revised in the coming days.
In relation to the possible easing of restrictions on Monday, Mr Varadkar said that "everything was going in the right direction" but that a decision will be made at a Cabinet meeting on Friday.
He said that the speeding up of testing and contact tracing times would be crucial if restrictions are to be eased, and that the HSE would publish its plan for testing and contact tracing tomorrow.
The Taoiseach said that the target is "absolutely" to deliver test results in 72 hours.
However, he added that this would not be possible 100% of the time, but they wanted to be in a position where this was the turn around time in the "vast majority of cases".
Mr Varadkar said they are now in a position to do 100,000 tests a week and that he "absolutely accepts" criticisms that this should have happened sooner. However, he said "all the stops" had been pulled out to get to this point.
Special educational needs schools will not reopen early
There are no plans to open schools for children with special educational needs before September, Minister of Education, Joe McHugh, has told the Dáil.
He was responding to the Galway West Independent TD, Catherine Connolly, who said children attending special schools require routine and structure more than others and there is no rationale to set aside their education for months.
Minister McHugh said that any decision would be subject to public health advice and, at the moment, that advice is that all schools should reopen in September.
Deputy Connolly said she was not happy with this response. "I don't see any voice at the top level committee in relation to that group of people," she said.
"What voice is there for those children to look at their needs? Who is doing that? It seems no one is doing that and they seem to be forgotten."
Minister has confirmed there will be July Provision, though details yet to be confirmed.

I welcome that and look forward to detail. I urge him to ensure that the delays in vetting and the confusion around redployments around SNAs are resolved @SNAsSpeakOut #julyprovision

— Donnchadh Ó Laoghaire (@Donnchadhol) May 13, 2020
Minister McHugh said his Department has started work to see how further supports can be provided to people with special needs.
He also stated his commitment to deliver the July Provision programme. This provides 40 extra hours of school or home based learning for children with a severe or profound general learning disability or children with autism.