The Minister for Transport Shane Ross has said because of public health guidelines around social distancing, NCT tests will not be resuming any time soon.
He said the situation was similar for driving tests and that it would "probably be fairly late in the day" when they can resume.
Testing of cars under the National Car Testing programme was suspended on 28 March. Driving tests were suspended on 17 April under measures to stop the spread of Covid-19.
In response to questions from Independent TDs Danny and Michael Healy-Rae in the Dáil, the minister said driving tests would be very difficult to carry out because of the closeness of people when in cars together.
Minister Ross said it would be reasonable to speculate that it "will probably be fairly late in the day. The reality is that driving tests will be very, very difficult to introduce under social distancing, and it would be because the distance between people when they're in cars together is so close…similar with NCT tests."
The minister said his department would be guided by advice from the National Public Health Emergency Team on both matters.
Earlier, Mr Ross told the Dáil that it's "very likely" commuters will be asked to wear face coverings from next week due to Covid-19.
Mr Ross said the issue was addressed by the Chief Medical Officer Dr Tony Holohan yesterday and a recommendation would be made by the end of the week.
He said it looked very likely that "coverings" would be required in places like public transport and supermarkets.

The Minister said we don't know what the demand will be like next week or whether people will be reluctant to go on buses.
He also said proposals are being looked at to make it mandatory to fill in the public health passenger locator form at ports and airports.
Mr Ross said this would mean the gardaí can follow up and make telephone calls and do spot checks so it can be certain that this is enforced.
Minister Ross said there was a problem with some forms being missed and the reasons for this are being investigated.
He said for some reason, people were not filling in the forms and it could have been because they were being handed out at the point of departure rather than arrival.
The Minister also said airports are virtually closed and to say there are hundreds of thousands of people coming in unnoticed is not true.
He was responding to Sinn Féin's Darren O'Rourke who said the current system of checks and controls at ports and airports have proven "entirely inadequate".
Mr Ross also told the Dáil that the Government had committed to continue funding public transport, amid concern that services are in a serious financial position due to plummeting passenger numbers.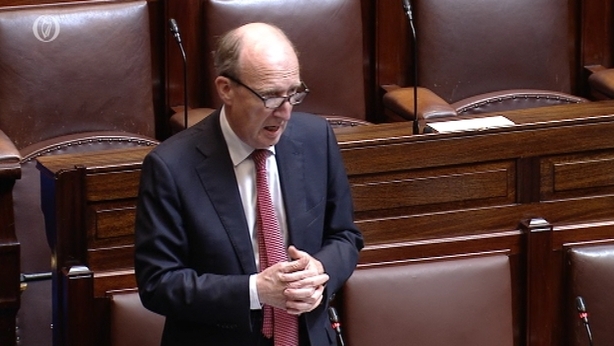 He said it was "inconceivable" that public transport services should not function property in the current crisis.
"The Government will provide the necessary additional funding to continue those services despite the drop in fare income," he said in the Dáil.
However he did not give any indication of what the cost might be.
Mr Ross said his Department will work closely with the National Transport Authority (NTA) and the Department of Public Expenditure and Reform (DPER) to "assess and quantify this additional funding requirement".
Fianna Fail's Marc McSharry said he hoped the DPER and the Department of Transport would come to a conclusion quickly so there would be an appropriate cash injection in public transportation.
He said private operators like rural link and taxi drivers would also require support.
Earlier today, the National Bus and Rail Union said public transport cannot work with social distancing if it goes back to pre-Covid-19 norms.
In the Dáil today, Richard Boyd Barrett from People Before Profit will call for urgent action to address what he claimed was "the failure of Bus Éireann to comply with public health guidelines and government safety protocols on their fleet, to protect bus drivers".
The TD said that "bus workers are very worried and demanding action before the return of significant numbers of passengers next Monday".
Mr Boyd Barrett will also highlight, on behalf of taxi drivers, the devastation of their industry affecting 20,000 taxi drivers and will call for a financial and other supports to ensure the health and safety of drivers.
Additional reporting: Aisling Kenny, Paul Cunningham and Mary Regan