Ten more people have died with Covid-19 in Ireland, bringing the total death toll here to 1,497.
This is the lowest daily rise in the number of virus-related deaths here since the end of March.
The Department of Health also confirmed that 159 more cases of the coronavirus have been diagnosed in the Republic, bringing the total number of cases here to 23,401.
Data from the Health Protection Surveillance Centre, correct as of midnight on 11 May (23,144 cases) reveals that 57% of cases are female and 43% are male.
The median age of confirmed cases is 48 years. A total of 3,050 cases have been hospitalised, and of these 389 were admitted to ICU.
There are 6,997 cases associated with healthcare workers.
Dublin accounts for the most cases at 11,242 (49%) followed by Kildare with 1,344 cases (6%) and Cork with 1,238 cases (5%).
Dr Ronan Glynn, deputy chief medical officer of the Department of Health, said: "84% of people diagnosed to date have recovered".
We need your consent to load this rte-player contentWe use rte-player to manage extra content that can set cookies on your device and collect data about your activity. Please review their details and accept them to load the content.Manage Preferences
He also revealed: "We have been provided with additional data today regarding cases with underlying health conditions. Of 15,450 cases, where information is available, 53% had at least one underlying condition.
"The most common underlying conditions reported are chronic heart disease (15%), chronic respiratory disease (11%) and diabetes (6%)."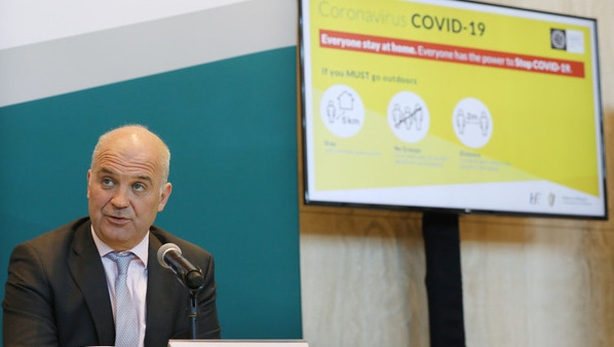 Chief medical officer Dr Tony Holohan said there was "a lot of work under way" to drive down the amount of time between the moment of referral for a Covid-19 test to getting results and then contact tracing.
"We want to minimise that time and there is room for improvement with that." He did not think delays in testing and contact tracing would "limit us in terms of easing restrictions".
He urged people to respond to symptoms (such as shortness of breath, fever, cough) as soon as possible by calling their GP so the public health system can get to a diagnosis as soon as possible.
Asked if the National Public Health Emergency Team (NPHET) would be recommending that phase one of the easing of restrictions roadmap goes ahead next Monday, 18 May, Dr Holohan said he was "hopeful" but a decision on that would be taken closer to the time.
They are taking a "cautious" approach to lifting restrictions as they want to recommend a set of measures that are not going to make a significant contribution to the risk of re-infection.
But lifting restrictions, even at the early stages, will involve an increase of risk, said Dr Holohan. A formal assessment will be made tomorrow on whether to begin phase one of lifting restrictions on Monday.
"I would urge everyone to become familiar with the behaviours that we all need to maintain, including respiratory etiquette, physical distancing and handwashing. As we begin to think about easing restrictions these behaviours will become even more important."
Asked about reports of kawasaki disease in children from places such as New York, Dr Holohan said he understands that "a small number of cases have been investigated here and parents can be reassured that our system will be alert to it. There are no confirmed cases yet".
He said he could not see NPHET changing its advice "in the near future" about non-essential travel abroad.
Two more people have died with Covid-19 in Northern Ireland, taking the official death toll there to 449.
There are also 60 new confirmed cases in the North, bringing the total there to 4,253.