Almost 59,000 students are receiving the results of their Leaving Certificate examinations, a 3% increase on numbers sitting the exam compared to last year.
This year's outcomes are broadly in line with previous ones and the trend of more students opting for Higher Level papers has continued.
This year's results are being published a day earlier than usual, as part of a move to speed up the processing of Leaving Cert appeals in order to facilitate college entry.
This follows a High Court ruling last year in the case of one student, which judged the existing appeals process to be highly unfair to students and not fit for purpose.
The acceleration means that students who have applied for third-level courses through the CAO will receive offers this Thursday afternoon, four days earlier than previous years.
Overall, the process of appealing results has been shortened by three weeks, with outcomes now to be sent to students by mid-September.
This year's results were available at schools throughout the country from 9am, while students could also go online from 10am to find out how they did.
This year, five students achieved eight H1s in the exam and 235 students achieved six or more H1s.
A total of 7,639 received at least one H1 in the results today.
We need your consent to load this rte-player contentWe use rte-player to manage extra content that can set cookies on your device and collect data about your activity. Please review their details and accept them to load the content.Manage Preferences
---
Read more 
---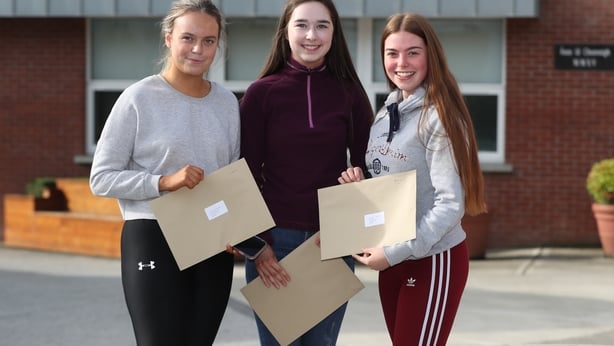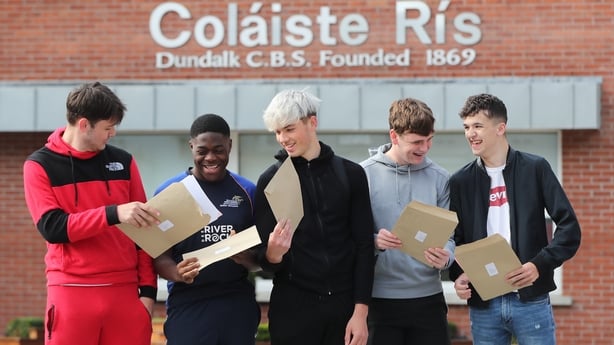 The State Examinations Commission is urging students to register on its newly expanded self-service online portal.
It said the facility had been developed to support faster and more efficient services to candidates, including faster communications in relation to the viewing of scripts and any appeal a student might wish to make.
Candidates receiving results today in Mathematics, Biology, Chemistry, Physics, and Politics and Society have had their papers marked using an online system.
Michael O'Grady, 19, from Mallow, Co Cork, a student at the Christian Brothers College, Cork, got eight H1s in his Leaving Certificate.
Speaking to RTÉ News, he said he was "pure surprised" when he opened the envelope and saw his results.
Mr O'Grady said he did not think "that he was going to do very poorly" but there was no way he said he expected the results he got.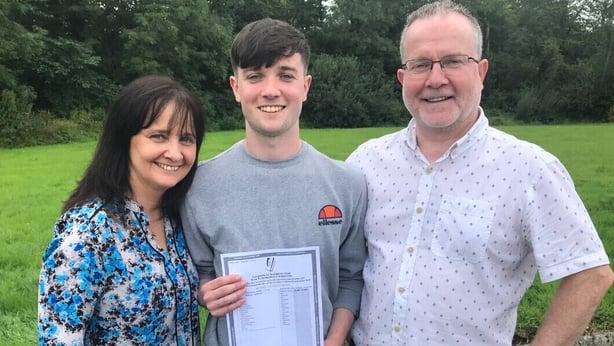 The student said that during his studies, he also took the time to do things he likes to do like playing music and swimming - both of which helped him take his mind off the study.
He advised students who are about to go into their Leaving Cert year, not to get too "bogged down" with their studies.
"Don't get too bogged down in the books - it's only one year, it's a lot of pressure, but don't lose track of everything else in your life as well."
We need your consent to load this rte-player contentWe use rte-player to manage extra content that can set cookies on your device and collect data about your activity. Please review their details and accept them to load the content.Manage Preferences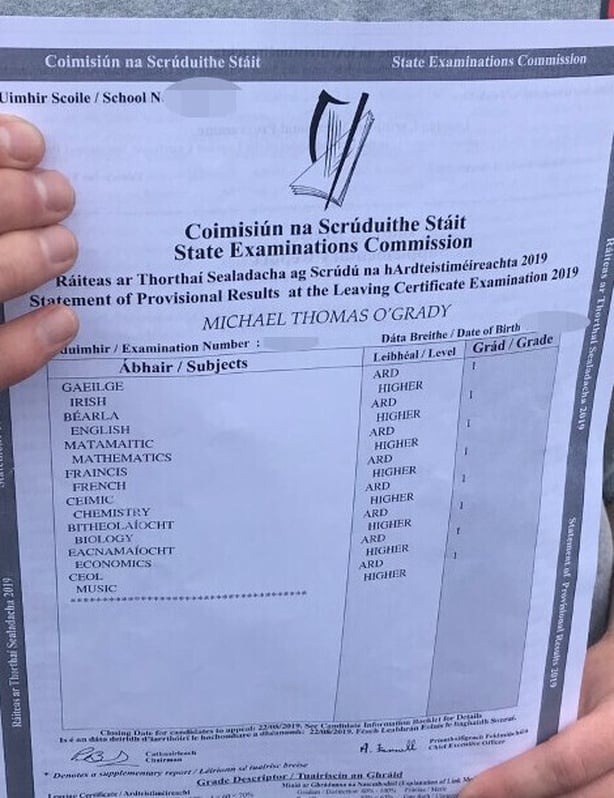 Young Offenders actress and Dancing with the Stars competitor Demi Isaac Oviawe was among students collecting their results at Davis College in Mallow.
The 18-year-old said she is really happy with her results and is hoping to do a PLC course in media. She said she would love to become a radio/television presenter.
She is currently finishing filming on the latest series of the hit show, has a radio gig for the summer and is looking forward to her role as Cork County Culture Ambassador for next month's Culture Night.
She says she is not going out tonight but looking forward instead to celebrating at her Debs which is taking place this Saturday.
Changes this year
An online marking system has been piloted at Junior Cycle, but this is the first time that Leaving Cert students will have had scripts scanned and marked by examiners on computers.
This year also saw the introduction of a special provision for students who suffer a close family bereavement during or just prior to the exams.
Alternative Leaving Cert exams were held in July in Athlone to facilitate students who found themselves in this position.
The SEC said that fewer than 40 students availed of the new provision.
The number of students sitting exams in non-curricular EU languages rose again this year, with 1,700 students sitting papers in their native tongues, even though these languages are not taught in Irish schools.
They included 780 students who sat an exam in Polish and 340 students who were examined in Romanian.
The ongoing trend towards sitting Higher Level papers is most pronounced in core subjects. In Maths, one third of candidates now opt for the Higher Level paper.
Most subjects have seen a rise in the number of candidates sitting exams. This is not surprising given the 3% rise in the overall number sitting the exams this year.
However, some subjects, including French, Art, Biology, and Business have seen a decline in numbers.
One subject that is in marked decline is Latin. Just 54 students were examined in that subject this year, compared to 80 in 2017. Of the small number who sat the exam this year, almost 20% achieved a H1.
Minister for Education Joe McHugh said there had been enormous changes in higher level papers, particularly in relation to Maths.
Speaking on RTÉ's Morning Ireland in response to whether he thinks the marks system is being skewed by allowing students who get under 40% to still receive points, the minister said there is a move away from the concept of failure to try to incentivise students.
Career Guidance expert Brian Mooney said results time can be stressful but said students should remember there are huge opportunities.
Speaking on RTÉ's Today with Miriam, he said: "The CAO system is there, the further education system is there and the further education system offers thousands of places every year into faculties where the points may be 500 for CAO and yet with a good PLC award next year, you'll get in with no reference to your Leaving Cert results.
"And obviously we've the development in the last number of years for apprenticeships in bio-pharmaceuticals, in finance, in taxation, insurance, in food...we are expanding hugely the opportunities for young people."
Additional reporting Jennie O'Sullivan