Housing charities say they are experiencing a stark increase in the number of older people presenting as homeless.
The Simon Community said figures from the Department of Housing show a 30% increase in the number of those aged over 65 living in emergency accommodation in Dublin in the last year, while the number of those aged between 45 and 64 increased by 26% over the same period.
Declan, 59, has been living in emergency accommodation for six months. He said being homeless is hard on older bodies. "You're not as strong as you were. You're slowing down and you're getting weaker. You've no privacy here, I'm in a room with two other men."
Shane, 57, never expected to be homeless at this stage of his life. He said he ended up in emergency accommodation after a fire in his house.
"I was a truck driver for many years, I lived all over different parts of the world and I never had any problem getting accommodation."
Shane said he is now struggling to exit homelessness as landlords can be reluctant to accept tenants on the Housing Assistance Payment.
We need your consent to load this rte-player contentWe use rte-player to manage extra content that can set cookies on your device and collect data about your activity. Please review their details and accept them to load the content.Manage Preferences

"It's supply and demand. You get a couple of hundred people going after one flat. It's more of a lottery than anything else," he said.
Senior manager of emergency services at the Simon Community Gemma Ryan said the people who come to them often lose their homes following complex issues like family breakdown, mental health issues or addiction, but now she has noticed a change.
"A lot of older people, it's not mental health, it's not addiction. They've literally just fallen on hard times. It's a housing issue."
Ms Ryan gave the example of a recent client who was given notice to quit their rental property while undergoing a long-term hospital stay. "And when they were discharged from hospital, there was nowhere for them to go, so they were referred to our services."
There are unique challenges facing older people in the emergency accommodation system.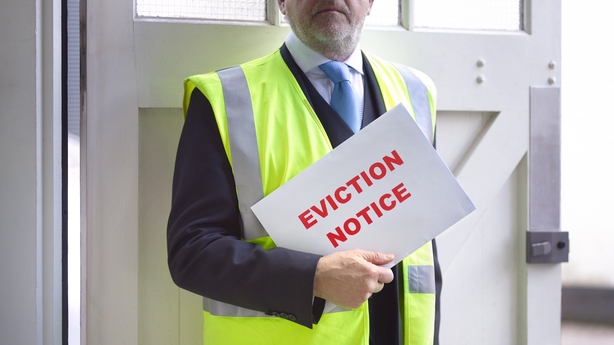 "They're old buildings, so there are steps, they're not wheelchair accessible," said Ms Ryan. "A lot of the accommodation will be shared accommodation, so you might have to ask somebody who's older to share with someone in their 20s, which is not ideal."
While the homeless reports from the Department of Housing document the number of older people living in emergency accommodation, it does not capture figures for older people who find themselves on the brink of homelessness.
The Simon Community said it has seen a marked increase in the number of older and elderly people receiving eviction notices due to an acceleration in landlords leaving the private rental market.
Nenneth, 60, who did not want to use her real name, found herself in this situation. Originally from the Philippines, she worked in a caring role in Ireland for 22 years and became an Irish citizen. Her accommodation was tied to her job, so when she became redundant, she also found herself searching for a home.
"At this age, and with health problems, it's not easy to find a place," she said. "Even if I had a job, the rent is too high. Our income, we're not working a white-collar job, so it's not possible for us to buy a place."
Eventually Nenneth found housing with ALONE, a charity which supports older people.
CEO Sean Moynihan said he is alarmed at the number of older people in housing need, and the problem will grow over the next few years.
"House ownership is dropping. The number of people renting in their 50s is four times what it is in their 60s," he said.
Mr Moynihan said it can be more difficult for older people to bounce back if they have to leave a rental property.
"Can you imagine getting notice to quit in your 70s? The reality is, you lose your house. You lose your community; you lose your doctor. If you're religious, you lose contact with your church, your friends, and your community. How do you pay the rent when you retire? There is no current solution to that."