A new garda facility that will be home to some of the force's main units has been officially opened in Dublin.
Up to 900 garda personnel will be based at Walter Scott House on Military Road in Dublin 8 once it is fully opened and operational.
It will be the new base for garda units relocating from Harcourt Square, including the Garda National Bureau of Criminal Investigation, the Garda National Drugs and Organised Crime Bureau and the Garda National Cyber Crime Bureau.
Garda Commissioner Drew Harris and Minister for Justice Helen McEntee attended the official opening ceremony this morning.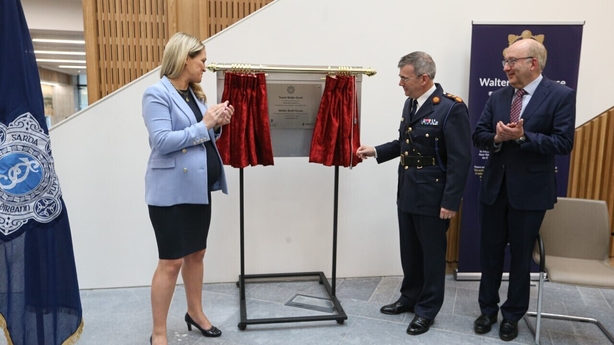 Speaking at the ceremony, Commissioner Harris said it was fitting that in the centenary year of An Garda Síochána, the force is gaining this state-of-the-art building, which will provide a high-quality working environment.
He said it was named after Walter Scott, who made a "lasting contribution" to An Garda Síochána.
Colonel Walter Scott was an Honorary Commissioner of the New York City Police who presented An Garda Síochána with a $1,000 gold bond in 1923, which would go on to sponsor the Scott Medal for valour - the highest accolade that can be bestowed upon a member of the force.
The OPW began building the facility on Military Road in February 2020 and it was handed over to An Garda Síochána earlier this month.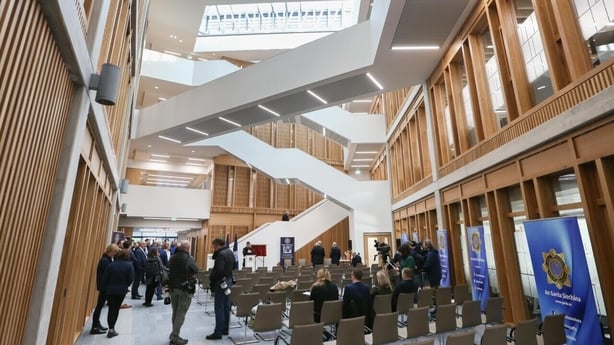 Minister McEntee said that as criminals become more advanced in how they conduct their business, gardaí need to be able to do the same, and this new building is an important aspect of that.
She also said she hopes legislation that will provide for the use of body cameras by gardaí would be brought forward in the coming weeks and that it is "still a priority".
However, she said she did not believe the end of 2023 was a realistic target for all members of the force to be equipped with body cameras.
The minister departed for maternity leave this evening.
She said Minister Heather Humphreys will be taking up the role for the next three weeks, and that she would like the Digital Recording Bill to be brought before Cabinet in that time.
The commissioner also made a presentation to Ms McEntee today in recognition of her support for gardaí, presenting her with a centenary coin and a bouquet of flowers.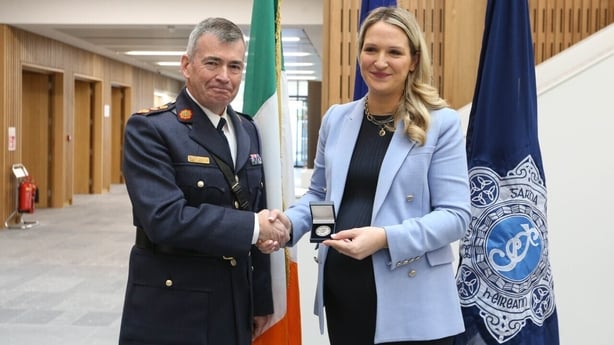 Commissioner Harris said there was very strong evidence that body-worn cameras reduce the severity of incidents and attacks on police.
He said they would also make it easier for complaints against gardaí to be resolved, "either proven or disproven".
He said body-worn cameras would be a "significant addition to the equipment we want our members to be in possession of", but that gardaí has to wait for the legislation before it can tender for the cameras.
Some groups had again called for the introduction of body cams following the incident in Ballyfermot in Dublin at the weekend, during which two gardaí were attacked.
Commissioner Harris said he has spoken to both those members, who he said are now resting and recuperating at home, but who are in "good spirits" and "looking forward to getting back to work despite the incident that happened".
The commissioner said that civil liberties issues raised in relation to body cams have been addressed by other European nations, and that there are "products there that we think would be very viable in terms of gardaí using them.
Asked about the introduction of mandatory sentencing for those who are found guilty of attacking gardaí, the Commissioner said "how things are disposed of in the courts, are for the courts" and it is "not for me to comment on the out workings of the court".
He said it is "the job of An Garda Síochána to present the vest evidence to the court and to illustrate the severity of the incidents our members are facing".
Asked about the recent protests in East Wall and whether there are concerns that far-right groups have infiltrated these demonstrations, or whether these protests could turn violent, Commissioner Harris said gardaí are observing "social media commentary in the background to some of this".
"There is commentary of concern being expressed across social media, certain groups and certain individuals. But we always have, and it's part of our role in national security, a monitoring position on individuals and groups that we feel would pose a threat either in terms of public order or violence".
"We are watching it carefully and we have no particular concerns at this moment of violence being planned.