Construction work has started on a south Dublin site to build almost 600 social and affordable homes.
The Shanganagh Castle project in Shankill is the State's largest public housing scheme in decades.
It is being delivered by the Land Development Agency and Dún Laoghaire-Rathdown County Council.
Work officially began last month and the first units are expected to be completed in 2024.
Land Development Agency Chief Executive John Coleman said the 597 homes would be "either let at affordable rents or sold at affordable prices".
He said the first 300 would be delivered by November 2024, while the remaining 300 would be completed in 2025.
Mr Coleman said this was the "largest direct-build public housing scheme in decades" and that it was the first time for "many, many years" that an affordable housing scheme would be made available to middle income households.
He said Dún Laoghaire-Rathdown County Council would have control of 200 social homes.
Speaking later to RTÉ's Drivetime, Mr Coleman said although established as long ago as 2018, the LDA has used the time since to get sites through planning and design, which he said does take some time.
He said: "Good progress was being made on the initial tranche of sites [the LDA] has through the state system, however, we do realise the urgent need to deliver."
Mr Coleman said the LDA was targeting 5,000 homes over the next four years "through this delivery channel" and that around 1,000 are secured through contracts that it has entered into so far and it is about to enter into another tranche of contracts off the back of that.
Taoiseach Micheál Martin and Minister for Housing Darragh O'Brien attended a sod turning ceremony on the site in Shankill.
The Taoiseach said the project was a "significant development" that would deliver a mix of social and affordable housing.
He said the Government is on target and "likely to exceed the target in Housing for All" for 2022, but that given supply chain disruption earlier this year due to the war in Ukraine, there was a need to double down to increase that again for 2023.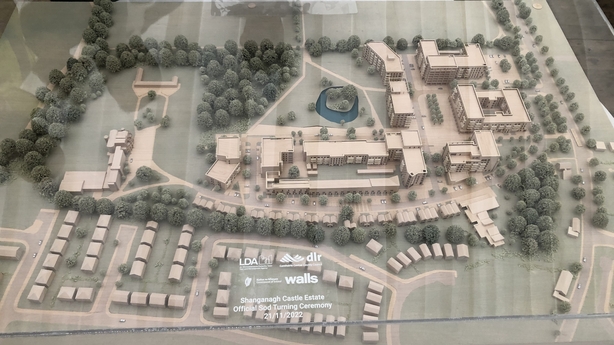 Minister O'Brien said the State-owned land at Shanganagh was sitting idle and is now being put to good use.
He said it was an "exemplar scheme" and is the type of scale he would want delivered, depending on what is appropriate to a particular area.
The minister said that his department had €4 billion to deliver housing this year, but did not confirm how much of that money has been spent so far.
However, Mr O'Brien said that there would be "no surrender" of any capital money allocated for housing this year, and that it would be used for the delivery of housing programmes.
He said he was confident that his department will spend all of the allocation by the end of this year, and that spending is often "back-ended" towards the end of the year.
Minister O'Brien said that €4.5 billion will be allocated for housing next year.