A farmer who planted fields of sunflowers on his land in north Co Dublin in aid of a local hospice says the response has been "magnificent" so far.
Michael Hoey from Ballyboughal is one of the farmers involved in the fundraising effort for St Francis Hospice, which has resulted in a beautiful expansive plot of sunflowers that is open to the public 24/7.
Visitors are welcome to pick their own blooms in return for a donation to the hospice.
"The response has been magnificent. Because it's the hospice, I think, not even from a fundraising point of view, but that people are coming wanting to find some sort of peace if they've lost loved ones who have gone through the hospice," Michael said.
"Speaking to different people who come, they find peace or solace there with the sunflowers because it is the flower of the hospice. There's some little thing that happens there for them. You'll see people there early in the morning or late at night."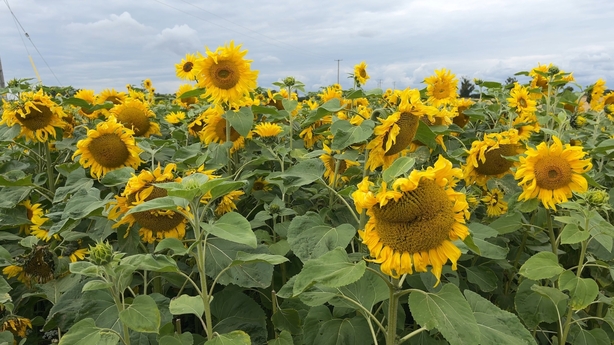 Fiona O'Shea, whose mother had been in St Francis Hospice in Raheny, explained: "Anything we can do to support the hospice, we do.
"My mum was in the hospice a couple of years ago, they were super, she loved it there. It's our second time coming, it's really beautiful."
The field is drawing in people of all ages, with seven-year-old Lucyleigh Acton stopping by after her drama lessons.
"I love the sunflowers, they're so good for the environment and if you pick them and put your money in the box, it's given to charity and helps people so much," she said.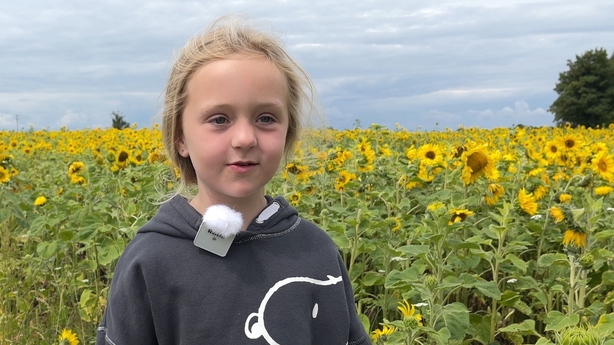 For Sofia Fonseca, also aged seven, it's a chance to pick up something special: "I think they're very yellow and bright. I'm going to bring some home to my mum."
A trio of Canadian cyclists, who were on their final day of a three-week cycle around Ireland, said they "had to stop" to take in the beauty of the sunflowers.
"We came around the corner and almost fell off our bikes, they were so beautiful," one of the cyclists, Eric said, adding that they thought it was a clever way to fundraise.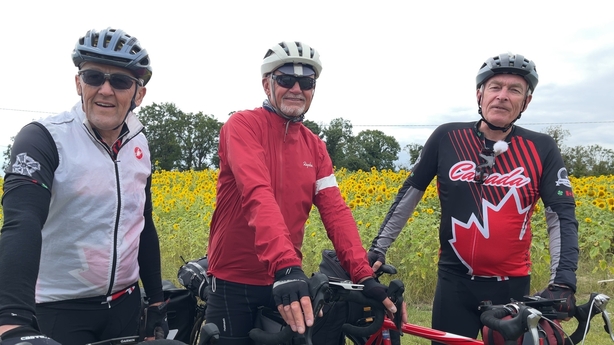 Sean Keating lives nearby in Donabate and described it as "unusual and fun" and recommended people "come out and see it, it's way better than looking at a picture. There are artists actually painting away and that's fun to watch as well, it's something you wouldn't see every day".
One of the artists, Grainne, said: "It's beautiful place to come and sit and have a go at painting or drawing, and then being in a position to make a donation towards St Francis Hospice. I didn't know it existed until someone saw it on social media, so we decided to make the best of a nice day and come out."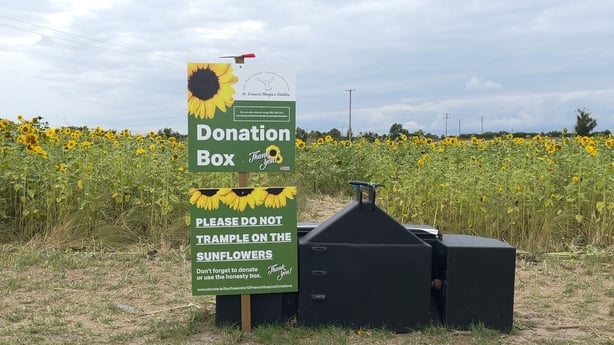 For farmer Michael, he gets a "buzz" out of doing something to help: "If we can make things better for some families... Irish charities are suffering this year, they have a tough job."