Dublin Airport operator, the daa, has said that the airport has been busy today, but so far the new system in place there is working efficiently.
New plans were put in place this week to help avoid a repeat of last weekend's chaotic scenes where 1,400 people missed their flights as a result of long queues and understaffed security checkpoints at the country's largest airport.
The daa said it does not envisage having to go to plan C - 'triaging' passengers - over the bank holiday weekend as more than 100,000 people pass through the airport today alone.
Kevin Cullinane, head of communications at daa, said there was a very busy first wave of departures this morning, but that things have calmed considerably and that the daa is "not anticipating any problems".
The airport is now preparing itself for the second pinch point of the day, from 3pm until 7pm.
There are 11 security lines, the maximum number, open in Terminal 1 and Terminal 2 to deal with demand.
The largest waiting time so far today has been 59 minutes in Terminal 1 and 40 minutes in Terminal 2, and it is now 15 minutes in both terminals.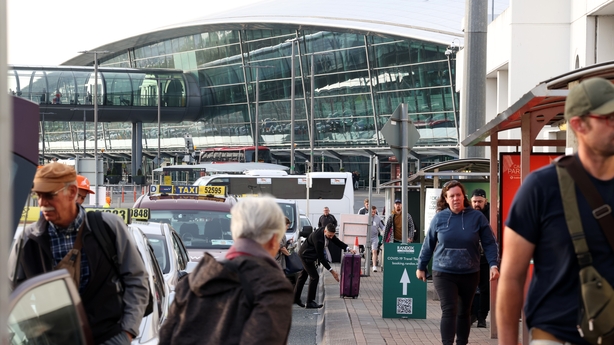 Mr Cullinane said passengers are heeding the advice to come to the airport two-and-a-half hours before short-haul flights and three-and-a-half hours before a long-haul flight.
He said this combined with more staff and better queue management is helping things move much more smoothly.
Mr Cullinane advised those passengers who have a bag to check-in to allow an extra hour to get through the airport and check ahead with their airline to find out what time they are opening desks.
He said that Ryanair desks were open from 2am and Aer Lingus check in desks were open at 3am.
Aer Lingus is also allowing people to drop off bags the night before their flight.
More than 100,500 passengers will pass through Dublin Airport this weekend with a rough 50/50 split of arrivals and departures.
A 'national embarrassment' - Sinn Féin
A Sinn Féin TD has described the situation at the airport as a "national embarrassment".
Speaking on RTÉ's Saturday with Katie Hannon, Sorca Clarke said the daa saw an opportunity to reduce costs during the pandemic by letting staff go.
She said the Government signed off on the severance packages and accused Minister Hildegarde Naughton of "sleepwalking" into an entirely avoidable situation.
"We shouldn't be celebrating mediocrity because no one is queuing outside for hours today," she said.
Speaking on the same programme, Gerry Brennan, Industrial Organiser for SIPTU, said the current problems are related to the decision by the daa to let hundreds of staff go during the pandemic.
He told Saturday with Katie Hannon that the daa raised the idea of a voluntary severance package shortly after the sector shut down at the start of the pandemic.
Mr Brennan said many of the potential issues were raised at this time and he told executives that they should not be looking at letting people go, but increasing staff levels.
The Minister of State with Responsibility for Overseas Development Aid and Diaspora said the daa still has many questions to answer.
Colm Brophy said it would be "regrettable' if a severance package was put in place simply to cut costs and bring in a new cost structure at the daa during the pandemic.
Social Democrats TD Gary Gannon said the daa is taking a race to the bottom approach to running a business and the customers were paying the price.