It was a nightclub, a meeting place - and much, much more.
Flikkers, based at the Hirschfeld Centre in Temple Bar in Dublin, ran from 1977 until 1987.
It was a safe space for members of the Irish LGBTQ community at a time when coming out was not always welcomed by employers, or even friends and family.
The Hirschfeld centre is no more, but the club has been recreated in the basement of Outhouse, on Capel Street in Dublin as part of a series of events to commemorate LGBTQ history, which are running as part of this year's Bealtaine Festival.
The Bealtaine Festival celebrates older people, and their art and creativity.
Artistic Director Tara Byrne said that often when older people are depicted in the media it is by a picture of "wrinkled hands" or similar images.
However, Bealtaine aims to show how diverse the older community actually is.
Alongside the exhibition at Outhouse, there will be discussions, film screenings and, of course, a Flashback Ball, where those who originally attended Flikkers may well be tempted to hit the dance floor again.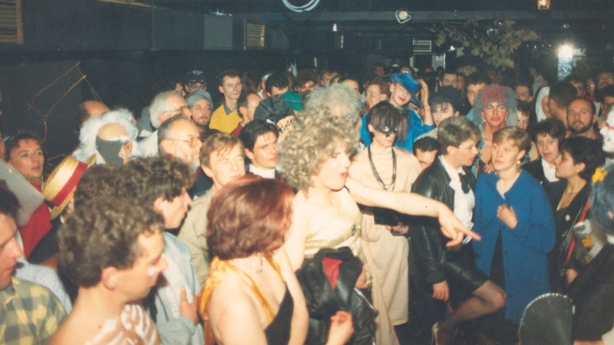 Francis Fay, who curated the exhibition at Outhouse, remembers Flikkers first time around and said it was very important that people who attended the disco felt safe and supported.
Attendees had to ring a doorbell and were then checked by a bouncer who would ask - "Do you know where you are?"
The disco grew in reputation and hosted Halloween Balls and other special events, as well as guest artists.
Flikkers drew customers from all over the city and the country, making it a true melting pot for LGBTQ people of all backgrounds and ages.
'Fabulous Flikkers' was curated and produced by Francis Fay and Tonie Walsh, with curatorial support from Monica Flynn.