Clamping fines in Dublin city are to increase from €80 to €125 next week.
The 56% rise comes into effect on 1 March following a decision by Minister for Transport Eamon Ryan.
The Green Party said it is a proportionate increase which will help discourage illegal parking.
But the Automobile Association said that while clamping is necessary, the higher fine comes at a bad time for hard pressed motorists.
Green Party Councillor for Dublin's North Inner City, Janet Horner, said the increase was long overdue and could make the city more accessible.
"The fine was set in 1998 so I I think a rise to 125 is a reasonably modest measure and it isn't really a significant increase when you consider when it was last set," Ms Horner said.
"Given the importance of clearing up our footpaths or cycle lanes or bus lanes, I think it is a very appropriate measure to be bringing in to help the city move a little bit more freely, to clear up our city streets in the way that I know so many people want to see Dublin really becoming a much more accessible pleasant city to walk around."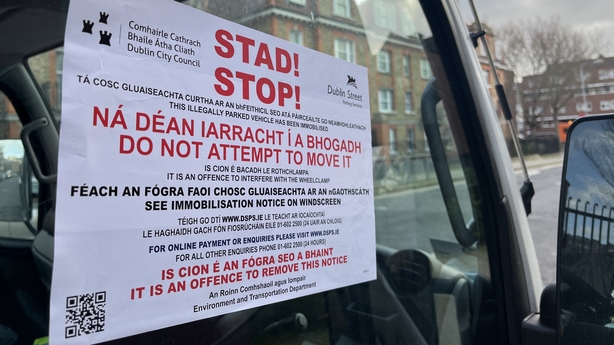 The AA said the rise was coming at a bad time for motorists who are already experiencing a "perfect storm" when it comes to rising costs of running a car.
"The increase in costs is another blow to the beleaguered motorist who is now facing increased charges and tolls, and of course the more pressing issue of record petrol prices," said the AA's head of communications Paddy Comyn.
However, he said clamping does have a role in traffic management in the capital.
"Clamping, when it is done fairly, is something of a necessary evil and it has served a purpose over the years in keeping manners on illegal parking," he said.
"Prior to its introduction there was something of a free-for-all in the capital in particular.
"This charge, of course, won't affect people who obey the rules and the park correctly, so for most motorists, it shouldn't be an issue."
We need your consent to load this rte-player contentWe use rte-player to manage extra content that can set cookies on your device and collect data about your activity. Please review their details and accept them to load the content.Manage Preferences
Dublin Town, which represents city centre businesses, said it believes a deterrent to illegal parking is required.
Its CEO Richard Guiney said clamping "assists in reducing congestion and freeing up car parking spaces for people".
"We believe that the service is necessary and the deterrent it provides to illegal and inconsiderate parking is something that is required," he said.
Last year, in 2021, 39,917 vehicles were clamped in Dublin city. Almost 2,863 appeals were made and 475 of those were upheld.
In 2020, 35,593 vehicles were clamped, with 2,450 being appealed and 444 of those appeals upheld.
Over the past two years, Clarendon Street – which is just off Dublin's Grafton Street – the South Circular Road and Chelmsford Road in Ranelagh were the top three locations for clamping in the city.
The Department of Transport said the increase was approved by the Minister for Transport following a request from Dublin City Council in July of 2020
It said the increase brings the fee in line with the maximum charge set by the National Transport Authority for private clamping and prevents any impression that parking in clamping zones on public roads is less serious.
It said the Department consulted with the broader local authority sector before introducing this increase and it will apply to any local authority using clamping as a means a parking enforcement on public roads.