Gardaí have said they will not tolerate antisocial behaviour in Dublin city following two consecutive nights of public order incidents.
Nineteen people were arrested and a number of main streets were sealed off by gardaí in riot gear last night.
The trouble flared as crowds were dispersed from areas around St Stephen's Green, Temple Bar and South William Street between 7pm and 9pm.
Assistant Commissioner for Dublin Anne-Marie Cagney said they took a defensive response to what was happening in the capital last night.
She said the incidents were caused by a cohort of people deliberately trying to cause trouble.
One person, who was not a member of a group or taking part in any public disorder incidents, was assaulted and taken to hospital.
Two gardaí were also injured and a garda patrol vehicle was damaged.
We need your consent to load this rte-player contentWe use rte-player to manage extra content that can set cookies on your device and collect data about your activity. Please review their details and accept them to load the content.Manage Preferences

Gardaí said that of the 19 people arrested, six received adult caution, and one person was released pending a summons for public order offences.
Ten others were charged with public order offences and will appear in court at a later date.
The two juveniles who were arrested were released and referred for the Juvenile Diversion Programme.
The public order unit dispersed a crowd at around 9pm on South Anne Street after gardaí came under fire from around 200 people, with multiple glass bottles thrown at them.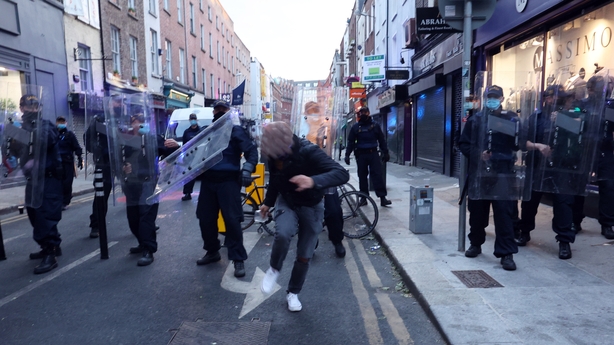 There were also reports of criminal damage, with a bin set on fire on South William Street.
Gardaí deployed shields as they sealed off the top of Dawson Street and a cordon of uniformed gardaí prevented access to Grafton Street.
At around 10.15pm, more glass bottles were thrown at gardaí in the Temple Bar area and the public order unit once again dispersed crowds.
10 people were arrested and some main streets in the capital were sealed off last night as Gardai dealt with public order incidents. Crowds cleared from South William Street, South Ann Street, Dawson Street, St Stephen's Green and Temple Bar @rtenews pic.twitter.com/51CfOtM0JQ

— Samantha Libreri (@SamanthaLibreri) June 5, 2021
Assistant Commissioner Cagney said the behaviour of some people in Dublin last night was unacceptable and that it was carried out by a cohort of people who are deliberately trying to cause trouble.
She said a group of like-minded individuals, predominately young men, are coming into the city and causing trouble.
Assistant Commissioner Cagney said gardaí from the public order unit deployed shields for their own protection after coming under fire in a number of areas.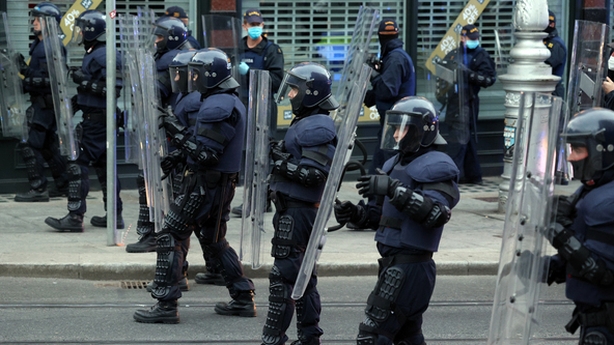 She said there were no immediate plans to close any areas today, but she said if gardaí feel it is necessary they may temporarily seal off spaces.
The Assistant Commissioner said the majority of people were behaving responsibly and that gardaí want to support communities in enjoying the amenities of Dublin and this outdoor summer.
She said there was a robust policing plan in place, which was on a par with the plan for St Patrick's Day, with significant resources deployed.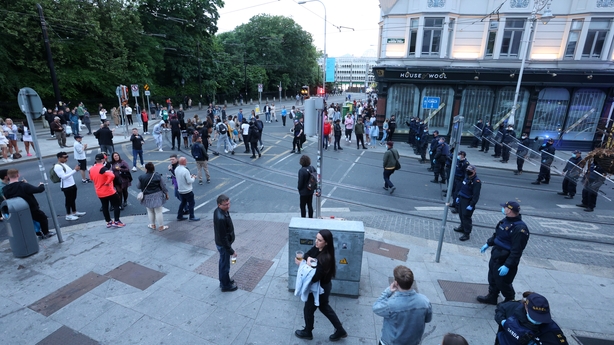 Extra public order personnel from outside the capital were brought into Dublin to help with policing the city centre last night.
Assistant Commissioner Cagney said the number of arrests for public order incidents this weekend was similar to those on a normal bank holiday weekend.
She said the majority of those arrested are aged between 18 and 25, with seven of them under 18.
Minister for State @1Hildegarde says "there are policing plans in place across the country" and adds that the vast majority of people are outdoors "enjoying themselves safely" #EconomicRecovery #TWIP #RTEPolitics #RTETWIP pic.twitter.com/PtmtkROKEh

— The Week in Politics (@rtetwip) June 6, 2021