Former Dublin GAA manager Jim Gavin has been presented with the Honorary Freedom of Dublin City at a ceremony in the Mansion House this evening.
Dublin's Lord Mayor and elected councillors made the tribute in recognition of Mr Gavin's success with the football team and his contribution to public life.
Mr Gavin steered Dublin to a historic five All-Ireland titles in-a-row last year.
He also served as a military pilot for the Irish Defence Forces for over 20 years, holding the senior rank of Commandant.
He also served as Chief of Military Aviation with the United Nations multi-national peacekeeping force in the Central African Republic and Chad.
He currently works with the charity Bóthar and with the Irish Aviation Authority.
Mr Gavin described the award as "humbling" and said it was a particular honour to be conferred with the award in the Mansion House's Round Room, where the first Dáil was convened.
He added that he was sharing the honour with "An Cumann Lúthchleas Gael Baile Átha Cliath, my colleagues in aviation, with Óglaigh na hÉireann and with my family and friends".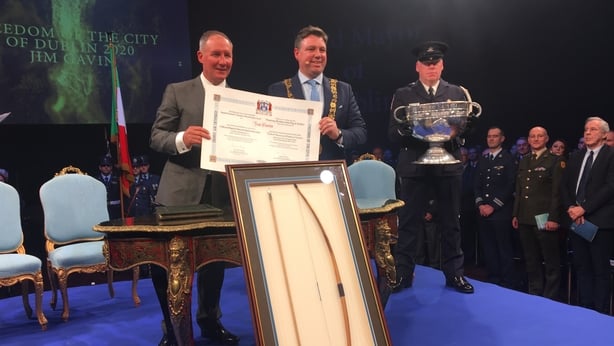 "Dublin is a great city full of a great and passionate people, with a noble history and a hopeful future. I am proud to be one of them."
The honorary freedom was conferred by Dublin's Lord Mayor Paul McAuliffe.
Mr Gavin was also presented with a model of a longbow. In the Middle Ages, freemen of Dublin were required to have a longbow and 12 arrows to help defend the city.
The bow had to be as big as the freeman himself and made out of yew, witch hazel or ash.
Mr Gavin, accompanied by his wife Jennifer and children Yasmin and Jude, became the 82nd person to receive the award, with the first being Isaac Butt in 1876.
Previous recipients have included former US President Bill Clinton, former Russian leader Mikhail Gorbachev and Nelson Mandela.
Another former Dublin GAA manager - Kevin Heffernan - received the honour in 2004.