The threat of legal action by Dublin city businesses has restricted the amount of traffic changes to College Green, according to the head of the city council.
Dublin City Council Chief Executive Owen Keegan told the Oireachtas Transport Committee that this threat of legal action had delayed the introduction of the pedestrian plaza that the council had planned to cope with the introduction of the Luas Cross City, which will be decided by An Bord Pleanála.
He said it was always recognised by the council that College Green would not be able to accommodate the same number of buses and taxis with the introduction of the Luas Cross City.
Mr Keegan said: "In order to address this issue the city council developed a separate proposal for a new civic plaza at College Green, which provides for the elimination of all traffic through College Green on an east-west axis.
"Under the proposal the current complex sequence of traffic signals would be replaced with a single pedestrian crossing from the front entrance of Trinity College across to the new plaza.
"The plaza proposal will allow taxis to use the high quality north-south public transport corridor."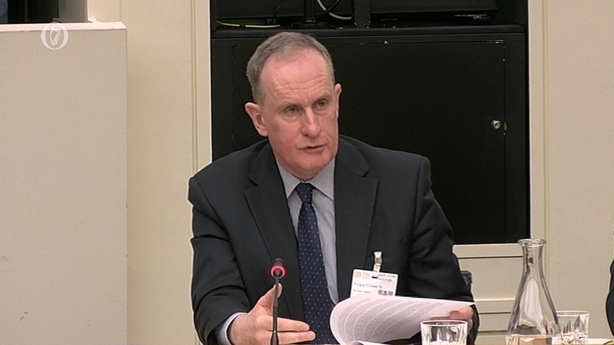 ---
Read more:
Ten more Dublin Bus routes moved from College Green
17 Dublin Bus routes to be diverted from College Green
---
The recurring issue of Dublin traffic.
WATCH: This report from 1969 on the issue of traffic congestion in Dublin https://t.co/h74ldYBAtc

— RTÉ Archives (@RTEArchives) February 21, 2018
Mr Keegan said bus journey times through College Green had increased by to 143% at peak times following the start of the Luas Cross City.
Since 17 routes were diverted from the area on 29 January the number of bus journeys had been reduced by 20%. Another ten routes will be diverted from 5 March to cater for increased Luas frequency and longer trams.
Referring to the upcoming An Bord Pleanála hearing expected in March, Mr Keegan added: "In deference to the separate statutory procedure for the civic plaza proposal and mindful of the threat of legal proceedings from a city centre business group, the city council and the National Transport Authority held off making any other traffic changes pending progress on the plaza application."
Dublin Bus CEO Ray Coyne said congestion in the city is not confined to College Green, with average commuter peak speed for buses now down to 14km/h. He said this had to be increased to 18km/h "at least".
He called for more bus capacity priority measures and said congestion is projected to cost the economy €2 billion per year by 2033.
"Despite the significant rollout of Quality Bus Corridors, private transport remains extremely competitive in terms of journey times to the city, and in many cases is faster than the bus," he said.
Failure to plan for economic growth
Earlier, the head of the State's transport infrastructure body, Transport Infrastructure Ireland (TII), expressed the view that city council's plaza plan will not succeed in getting permission from An Bord Pleanála.
Cormac O'Rourke said: "Dublin City Council and the NTA had a different plan for the whole College Green area. I don't think it will work".
Mr O'Rouke added that the plan was not part of TII's remit. He also warned that Ireland has consistently failed to plan for economic growth.
Mr O'Rourke told the committee that while he sympathised with commuters stuck in traffic or overcrowded trains, the current congestion is a symptom of economic success.
"I do believe that as a country we have consistently underestimated growth and have failed to plan for success," he said.
He said TII is looking again at the national transport model to see if it needs to be updated for the latest population projections.
Mr O'Rourke also warned that continued under-investment in road maintenance and pavement renewals over the last 20 years would cost €600 million in repairs every year.
"This is more than twice as expensive in real terms and in no way, represents value for money. I am grateful for the commitment from the department that this funding gap will be phased out by 2020," Mr O'Rourke said.
Separately, Chief Executive Officer of the National Transport Authority Anne Graham said ten Dublin Bus routes being diverted from the College Green area from 5 March will allow for a less congested area.
It follows route changes introduced in January aimed at alleviating congestion in College Green when the Luas Cross City began.
Speaking on RTÉ's Morning Ireland, Ms Graham said all traffic movements through the area, including taxis, will be considered because there is "demand for space".
She said the NTA would discuss any potential changes with the taxi industry before decisions were made.
We need your consent to load this rte-player contentWe use rte-player to manage extra content that can set cookies on your device and collect data about your activity. Please review their details and accept them to load the content.Manage Preferences
Ms Graham added that changes to the Dublin Bus routes should not cause congestion elsewhere but might result in a small increase in journey time.
She said a delay by a new Luas tram last week was caused by a taxi blocking the tram and by March three longer trams will be in operation.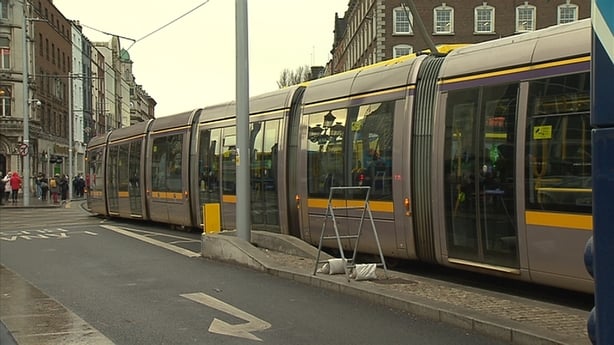 She said there are capacity issues on the Luas Green line that were being addressed, but added that demand for its service has increased significantly by 24%.
Ms Graham said the NTA was very judicious in its decisions to remove modes of transport or change routes and the impacts are carefully monitored.
Details of the new bus routes can be found on Dublin Bus website.
The Automobile Association has said Dublin Bus must accept the reality that its services cannot continue to use College Green.
AA Director of Consumer Affairs Conor Faughnan told the committee that buses will have to leave the area when the pedestrian plaza is built, something which he said was supported by a majority of the city's citizens.
"You cannot accommodate buses and trams across the pinch-point at Trinity College. The trams can't move so the buses will have to even if they don't like it.
"Pushing the taxis out will make little or no difference, but they will have to leave anyway when the pedestrianised plaza is introduced so they may as well get used to that idea now," he said.
He said in recent weeks AA Roadwatch has noticed that up to 40 buses can be stuck in a queue for access to College Street during peak rush with nowhere to go.
Additional reporting by Edel McAllister