Dublin city's traffic problems have a new complicating factor with the introduction of the 55-metre Luas tram for passenger services.
On the second day of its operation, Tram No 5027 failed to clear O'Connell Bridge northbound with the rear of the carriages jutting out and blocking traffic on the South Quays.
The tram, which has two extra carriages compared to existing trams, was itself blocked beforehand by a taxi parked in a yellow box.
The tram had left Bride's Glen at 7.47am for a trip to Parnell Street and back.
City traffic planners had warned that the new large Luas cannot stop on O'Connell Bridge without blocking traffic.
This was one of the reasons put forward for traffic restrictions on Bachelor's Walk on the North Quays.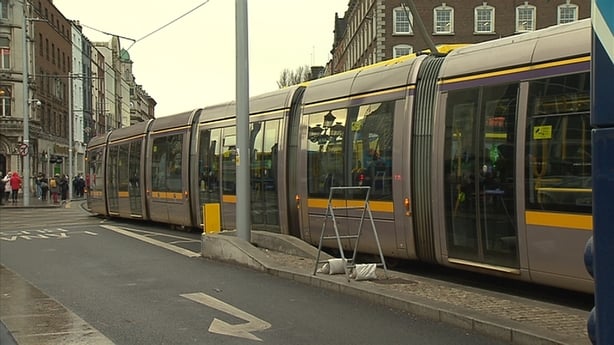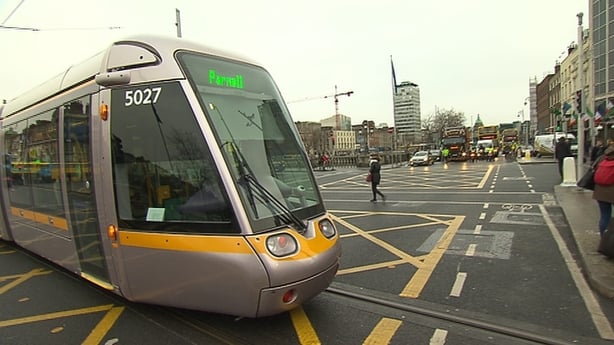 Luas operator Transdev is currently operating just one 55m tram each day, but there will be seven in service by April. 
Planned restrictions on College Green, such as a ban on all East West traffic including buses, are on hold pending a public hearing by An Bord Pleanála in March.
Meanwhile, Dublin City Council's Director of Traffic Brendan O'Brien said there is not enough space for Luas trams, buses, taxis, cyclists and pedestrians in College Green.
He said this is leading to knock-on effects and causing citywide congestion.
Mr O'Brien said the problems are going to get worse with the large trams unless further restrictions are introduced at College Green.
Some 20% of Dublin Bus routes have already been re-routed away from the area.
In a statement, Dublin Bus said it was "working with Dublin City Council and the National Transport Authority on solutions to alleviate delays being experienced by our customers travelling through the city centre".
It said any proposed solutions must involve all transport modes operating in the city centre.
The Chief Executive of the DublinTown group has said traffic needs to be better managed in order for the Luas to get across the city, saying traffic control issues at peak periods need to be examined.
Speaking on RTÉ's Six One, Richard Guiney said he expected there would be teething issues with the new tram, suggesting that future public transport services would need to operate underground.
He said public transport is the way forward for the city, but he said there has not been proper investment in such transport.
Mr Guiney said authorities could potentially look at a levy for those who wish to have a car parking space in the city centre.