Stephen Silver who was found guilty last month of the capital murder of a detective garda in Co Roscommon almost three years ago has been sentenced to a minimum of 40 years in prison.
Silver, 46, from Foxford in Co Mayo, denied murdering Detective Garda Colm Horkan in June 2020 but admitted manslaughter on the grounds of diminished responsibility.
The jurors heard Silver had a long history of mental illness and the main issue for them to decide on was his state of mind at the time of the killing.
They unanimously found him guilty of murdering a garda in the course of his duty, a charge which carries a mandatory minimum sentence of 40 years in prison.
Silver previously went on trial for murder last year but the jury in that trial could not agree on a verdict.
We need your consent to load this rte-player contentWe use rte-player to manage extra content that can set cookies on your device and collect data about your activity. Please review their details and accept them to load the content.Manage Preferences
It is expected he will appeal his conviction in this case.
His defence counsel, Maurice Coffey also said the lack of discretion the court has in sentencing may raise constitutional issues, which would be for another court to deal with.
---
'Thank God we got justice' - Horkan family's relief at sentencing
---
No forgiving 'this pointless act' - Sister of Garda Horkan
The court heard victim impact evidence from members of Garda Horkan's family.
In her statement, his sister Deirdre said there was no forgiving "this pointless act", and she hoped Silver would remember that each evening as the cell door was locked behind him.
She said her brother was a gentleman, the apple of everyone's eyes.
He was like a second father to her, she said and was the one everyone went to for advice. Losing him, destroyed her, she said.
We need your consent to load this comcast-player contentWe use comcast-player to manage extra content that can set cookies on your device and collect data about your activity. Please review their details and accept them to load the content.Manage Preferences
Garda Horkan's father, Marty said he had been left feeling very lonely and trauma counselling had not helped.
Hearing the brutal and graphic details of what had happened to his son had retraumatised him, he said and his day-to-day life would never be the same.
He said he was a very proud father when he heard stories about how his son had helped people in a quiet, unassuming way. Colm's loss was huge for the family, he said, but also for those he could have helped if he had lived.
His brother, Dermot, said they would never see his likes again but took some comfort in knowing he was with their mother and sister.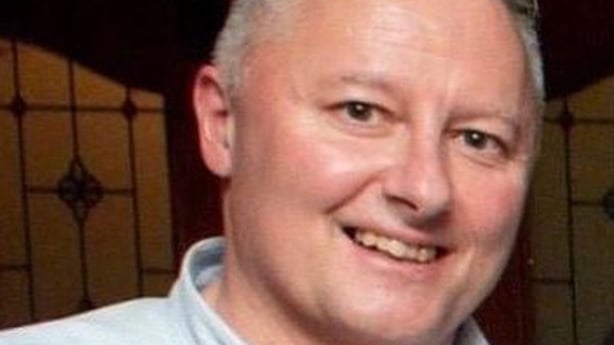 Garda Horkan's cousin, Bosco, said he had been left without his cousin and wonderful friend.
He said the community had lost the most incredible, caring, selfless human being.
He said his loss was immeasurable and he was still so sad and angry at the futility of his murder.
The Central Criminal Court also heard a letter of apology written by Silver.
In it, he said words could not convey how sorry he was for what happened that night.
He said not a day went by when he did not think about it and regret it.
He said he knew what it was like to lose a loved one. He had never meant for anyone to get hurt, he said.
He was mentally unwell and not in full control of his actions and the actions he took ended with Colm Horkan's death. For that, he said, he was sincerely sorry.
Gardaí were 'complete professionals', acting in 'calm and measured way' - Judge
Ms Justice Tara Burns said many tragic cases had come before her but it was not often she had seen a family as traumatised as the Horkan family were.
From the beginning she said it was clear that they were deeply scarred arising from the extraordinarily tragic circumstances of the night in question.
The judge said it was obvious that Colm was the heart and soul of their family and she hoped they would be able to move forward as a family and would be able to learn how to live with what had happened.
She paid tribute to the professionalism of the gardaí who had come upon the scene and who had interviewed Stephen Silver afterwards.
She said everyone went above and beyond and showed professionalism when it might have been expected that they would have lost their cool.
Everyone who watched the garda interviews with Silver witnessed shocking behaviour and heard terrible things being said.
She did not know how the gardaí had not needed to stop the interviews to calm themselves but they showed themselves to be complete professionals and acted in a calm and measured way.
The judge said it was difficult to know what to say in such a tragic case.
The only thing she could say that might have any resonance, she said was that it demonstrated how important it was for people with mental health difficulties to maintain the treatment regime ordered by doctors.
Stephen Silver had been involved with mental health services for a very significant period of time and received top class treatment from them for his established bipolar disorder.
He did not abide by their advice and stopped taking his medication, and that was something he would have to live with for the rest of his life.
She said it was a tragic case for him as well. His mother and his wife were in court and he too had come from a caring family. But if someone does not maintain their treatment regime she said, there is not much the family can do.
She said one could not help but feel sorry for everyone involved.
Judge Burns said she suspected there were not many people in Ireland who did not remember the shocking morning when news of Garda Horkan's death emerged.
Castlerea was a relatively quiet town and it was shocking and very tragic that a member of An Garda Síochána carrying out their duties, doing what was asked of them, would have their life taken in such circumstances.
She imposed the mandatory sentence of a minimum of 40 years in prison.
'On top of the world'
Outside court, Colm Horkan's father, Marty said he felt "on top of the world". He said justice had been done for Colm, describing him as a perfect gentleman.
Mr Horkan thanked the prosecution legal team, and the investigating team. He also thanked Ms Justice Tara Burns for her comments praising the professional way the gardaí had dealt with the investigation into the murder of a colleague.
He said her words were wonderful because people didn't "half appreciate what the gardaí do for us".
Mr Horkan thanked everyone from his hometown of Charlestown in Co Mayo and said the family had received letters of sympathy, cards and messages from all over Ireland. He said he wanted to say thank you to everyone for the support they had given the family through two trials.
He said the judge's words brought him great comfort along with the support shown by people all over the country for the gardaí who, he said, "look after us and mind us while we are sleeping at night".
He said it was great to be able to move forward even though it had been a tough three years.
Mr Horkan said he missed his son, who had lived with him, terribly. The nights were lonely without him he said. He said it had been a sad house but said at least the family could go forward from today.
Asked if he had anything to say to Stephen Silver, Mr Horkan said he didn't have much to say to him.
Although he said, he did feel sorry for Silver's mother. But he said it had taken two and-a-half years for Silver to apologise to the Horkan family and he believed he had been advised by his legal team to do that.
He said the imposition of the mandatory 40-year sentence meant Silver had got justice for what he had done.
Mr Horkan said he hoped Silver would have to serve every day of the sentence.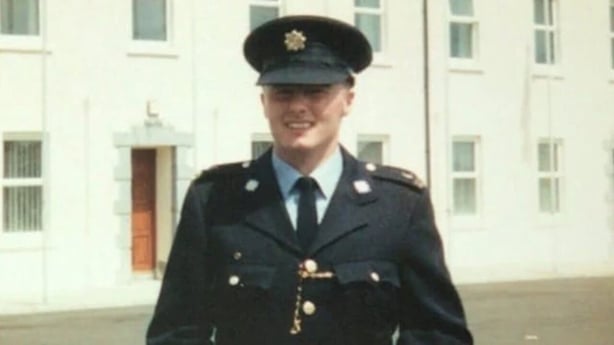 Just before midnight on 17 June 2020, Stephen Silver and his friend James Coyne were walking towards the centre of Castlerea.
A short time earlier the two men had been driving a motorbike erratically around a local housing estate and Silver had been heard shouting and roaring by neighbours who called gardaí.
Garda Horkan had been on duty since 2pm.
He was driving an unmarked car and had a garda issued firearm on him when he pulled up alongside the two men.
Silver spoke to him through the window before Garda Horkan got out of the car.
Silver claimed he did not recognise the driver as a garda because he was wearing a Tommy Hilfiger jacket.
The two men grappled and struggled for Garda Horkan's gun.
Silver admitted shooting Garda Horkan.
He said he struck him with the butt of the gun as he fell to the ground and shot him several times again.
Despite efforts by colleagues to revive him, Garda Horkan died from his injuries.
He had been shot 11 times.
The defence case was that Silver was suffering from a significant relapse of his long standing bipolar affective disorder when he shot the detective garda.
He had a history of mental illness going back 20 years and was admitted to hospital 17 times.
Psychiatrist Dr Brenda Wright said his behaviour in his subsequent interviews with gardaí was bizarre and inappropriate.
Her conclusion was that his mental capacity was affected by his condition and his responsibility for the killing was diminished.
Defence counsel Dominic McGinn said Garda Horkan's death was a terrible tragedy that should not have happened.
He said there was no rational basis or motivation for it and it did not make sense.
But Professor Harry Kennedy, giving evidence for the prosecution, said Silver's anger and confrontational behaviour were products not of his illness but of his personality.
He said Silver's actions were purposeful and he had the capacity to form intent.
He told the court he found "no positive evidence" that Silver had suffered a relapse of his mental illness at the time of the shooting.
Prosecuting counsel Michael Delaney said Silver had a "seething resentment" toward gardaí and the shooting of Garda Horkan was "a deliberate action done with the intent of murder" and with the knowledge that Mr Horkan was a garda acting in the course of his duty.
He said Silver had a capacity for performance and drama.
Silver gave evidence in his own defence.
He said the enormity of what he had done did not hit him until he was taken to the Central Mental Hospital after the killing.
He told the trial he felt terribly bad to have killed another human being and he was sorry for doing it.