A 46-year-old man has been found guilty of the capital murder of a detective garda in Co Roscommon almost three years ago.
Stephen Silver from Foxford in Co Mayo, who has a long history of mental illness, denied murdering Detective Garda Colm Horkan in June 2020, but admitted manslaughter.
The jury was told the main issue for them to decide on was Mr Silver's state of mind at the time of the killing.
The jury had a number of possible verdicts open to them - capital murder, murder or manslaughter on the basis of diminished responsibility or self-defence.
The jury began deliberating on Monday afternoon and spent almost nine hours deliberating before reaching a unanimous verdict of guilty of murdering a garda in the course of his duty.
Mr Silver previously went on trial for murder last year, but the jury in that trial could not agree on a verdict.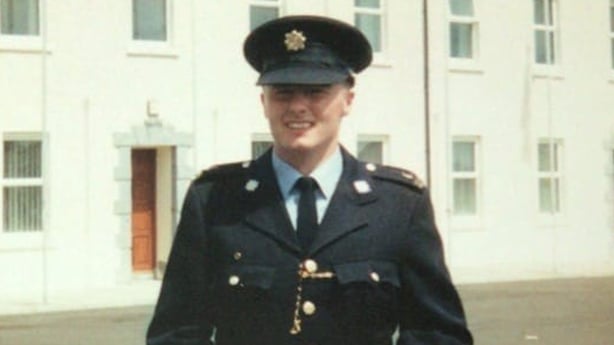 Shortly before midnight, on 17 June 2020, Silver and his friend James Coyne were walking towards the centre of Castlerea.
A short time earlier, the two men had been driving a motorbike erratically around a local housing estate and Silver had been heard shouting and roaring by neighbours who called gardaí.
Detective Garda Horkan had been on duty since 2pm. He was driving an unmarked car and had a garda issued firearm when he pulled up alongside the two men.
Silver spoke to him through the window before Garda Horkan got out of the car.
Silver claimed he did not recognise the driver as a garda because he was wearing a Tommy Hilfiger jacket.
The two men grappled and struggled for Garda Horkan's gun. Silver admitted shooting Garda Horkan.
He said he struck him with the butt of the gun as he fell to the ground and shot him several times again.
Despite efforts by colleagues to revive him, Garda Horkan died from his injuries. He had been shot 11 times.
The defence case was that Silver was suffering from a significant relapse of his long standing bipolar affective disorder when he shot the detective garda.
He had a history of mental illness going back 20 years and was admitted to hospital 17 times.
Psychiatrist Dr Brenda Wright said his behaviour in his subsequent interviews with gardaí was bizarre and inappropriate.
Her conclusion was that his mental capacity was affected by his condition and his responsibility for the killing was diminished.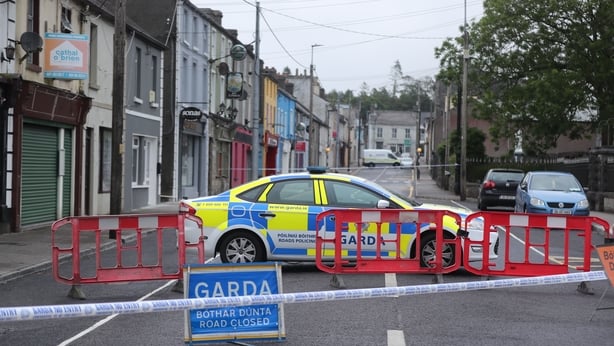 Defence counsel Dominic McGinn said Garda Horkan's death was a terrible tragedy that should not have happened.
He said there was no rational basis or motivation for it and it did not make sense.
But Professor Harry Kennedy, giving evidence for the prosecution, said Silver's anger and confrontational behaviour were products not of his illness but of his personality.
He said Silver's actions were purposeful and he had the capacity to form intent.
He told the court he found "no positive evidence" that Silver had suffered a relapse of his mental illness at the time of the shooting.
Prosecuting counsel Michael Delaney said Silver had a "seething resentment" toward gardaí and the shooting of Garda Horkan was "a deliberate action done with the intent of murder" and with the knowledge that Det Horkan was a garda acting in the course of his duty.
He said Silver had a capacity for performance and drama.
Silver gave evidence in his own defence.
He said the enormity of what he had done did not hit him until he was taken to the Central Mental Hospital after the killing.
He told the trial he felt terribly bad to have killed another human being and he was sorry for doing it.
Families in court for verdict
The verdict was greeted by sighs and a smattering of applause by members of Garda Horkan's family including his father, Marty.
The judge rose for a few minutes to allow discussions between lawyers about a date for a sentencing hearing.
Colleagues and friends of Detective Garda Horkan hugged family members and each other.
Silver's wife sobbed at the back of court and said loudly that her husband "was a sick man" when he killed the detective garda.
His sister Marian Bruen gave evidence during the trial and said her brother was very mentally unwell the night before the shooting and that she planned to have him admitted to a psychiatric hospital.
Silver will be sentenced on 19 April.
Marty Horkan fought back tears as he said the verdict was the one the family had wanted and the one his wonderful son deserved.
Outside the court, Garda Horkan's brother Brendan said the verdict gave the family a measure of closure.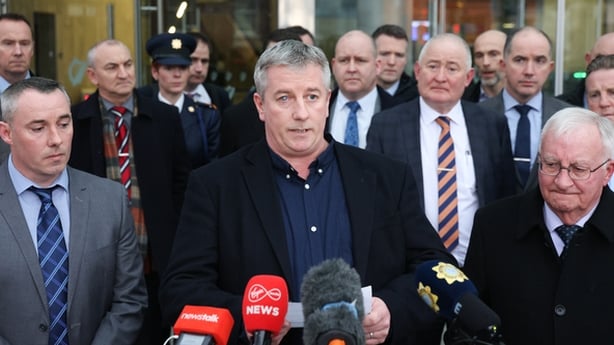 "Colm was the best of us, a gentleman through and through - he deserved this verdict today," he said.
He thanked all those involved in securing justice.
Mr Horkan said: "We were horrified and shocked to the core to learn of the circumstances which led to Colm's death as he went about his job policing the streets and keeping the general public protected and safe at all times.
"Colm was a fantastic son, brother, uncle and friend, and his memory remains etched in our minds every minute of every day and today's verdict, while giving us some closure, will never replace the man who was the glue in our family that bonded all together. We love him dearly."
Garda Commissioner Drew Harris said that Garda Horkan's death "reinforces to every member of An Garda Síochána the reality of the dangers and the uncertainty of the work that we face every day".
He paid tribute to the investigation team at Castlerea Garda Station which, supported by the wider garda organisation, investigated the murder.
"Finally, today we stand with and support Colm's father Marty, his siblings, wider family and friends and we remember his mother Dolores and twin sister Colette," Commissioner Harris said.
"Today, as every day, we remember our colleague Colm who made the ultimate sacrifice to protect the local community he served so well."
Minister for Justice Simon Harris has paid tribute to Garda Horkan, saying that he "exemplified the courage and dedication of An Garda Síochána".
In a statement, the minister said that Garda Horkan's murder was a reminder of the risks that gardaí make every day to protect communities.
"We also remember the 88 other gardaí who have lost their lives in the line of duty and their families today," he said.