Jailed secondary school teacher Enoch Burke walked free from Mountjoy Prison tonight after his release was ordered by the High Court.
Mr Justice Brian O'Moore issued the ruling this evening after a hearing earlier today.
The judge said the only threat to Mr Burke's continued freedom would be if he again breached a High Court order.
Mr Burke was jailed in early September after breaching a high court injunction directing him to stay away from Wilson's Hospital School in Co Westmeath.
He had been suspended on full pay by the school as part of a disciplinary process, following a row over a request from a student to be addressed by a new name and for "they/them" pronouns to be used.
The court granted the injunctions after Mr Burke continued to attend the school following his suspension.
He has refused to give undertakings to stay away from the school if he is released.
The High Court listed the matter this morning to explore if Mr Burke could be released from prison as the school will be closed for Christmas.
Mr Burke told Mr Justice O'Moore he could not participate in the process as to do so would be to agree that he was lawfully incarcerated.
He said the very basis for him to be in prison was wholly invalid.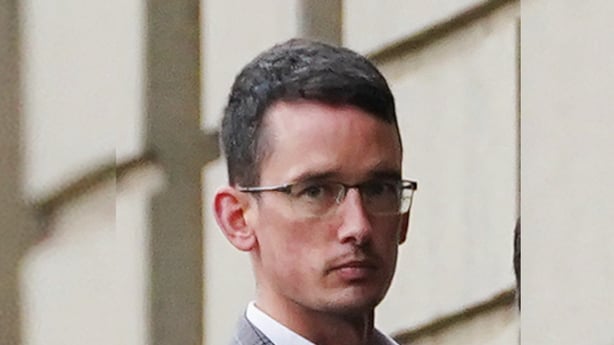 Mr Burke described his suspension from work as manifestly unlawful and said the High Court orders enforcing his suspension were also unlawful.
He said he believed the court and the lawyer for the school were working hand in hand.
Mr Burke insisted that everything went back to a demand by his then principal in May that he addressed a male student by they.
He said the principal expected he would accept "transgenderism", which was something against his conscience and religious beliefs, and everything that had happened since was in response to that demand.
Mr Burke said what he wanted from the court was not temporary release, but a just upholding of his constitutional rights.
School concerned for disruption to pupils
Lawyers for the school said their only concern was to prevent disruption to their pupils.
Barrister Rosemary Mallon said they would not have such a concern during the Christmas holidays, but their concern was what would happen on 5 January when the schools reopen.
She said there would need to be a mechanism that there would be no further disruption.
Under questioning from Judge O'Moore, she said that given the concerns in relation to 5 January, she could only ask that Mr Burke remain incarcerated.
Ms Mallon said the school had not recommenced the disciplinary process against Mr Burke because of the ongoing legal proceedings.
Mr Justice O'Moore said it was "intolerable" that taxpayers were paying Mr Burke's salary, as well as the costs of his incarceration in Mountjoy Prison, and it was difficult to avoid the conclusion that Mr Burke was exploiting his imprisonment for his own ends.
This would explain, the judge said, why he took such an unreal view of what the court's orders involved, why he resisted an early trial that could have set him free and why he rejected the proposal of the High Court that could have led to his immediate release.
He said the only plausible interpretation of Mr Burke's actions was that he saw some advantage in his continuing imprisonment.
Otherwise, the judge said, he would have avoided it, or taken the opportunity to bring it to an end.
Open-ended release
The judge said the court would not enable someone found in contempt of court to garner some advantage from that defiance.
He said because of this Mr Burke's release should be open-ended and not just for Christmas.
Mr Justice O'Moore noted that alternative measures, including financial sanctions, could be imposed on a person in contempt of court.
The judge said this was not unique and pointed to other cases where individuals had been released despite not purging their contempt.
He said the school could come back to court to seek Mr Burke's arrest and committal to prison again, as well as the sequestration of his assets or any other appropriate measure, if he did not comply with any court order.
The judge said Mr Burke had refused to purge his contempt, despite having had the opportunity to do so.
He said complying with the court's orders did not in any way compromise Mr Burke's religious beliefs or require him to do anything in violation of those beliefs.
Mr Justice O'Moore said the orders do not oblige Mr Burke to address anyone in a particular way.
He said no religious conviction was violated by having to stay at home or compromised by having to refrain from entering private school property.
Judge O'Moore described as "surprising" Mr Burke's reaction to a proposal in October to case manage the proceedings and allow the main case between himself and the school to be heard sooner rather than later.
Mr Burke strongly opposed this, he said, because he wants the main action to take place after the Court of Appeal has heard his challenges to some of the orders made by the court.
The judge said he had rejected this, but he said if both parties had co-operated with the case management, it was entirely possible that the main action would now be over, and depending on the outcome, Mr Burke would be at liberty.
Release not a 'Christmas gift'
Referring to Mr Burke's refusal to participate in this morning's hearing, the judge said that "staying in jail was a strange way of protesting that one should not be imprisoned in the first place".
Mr Justice O'Moore said that the fact that Mr Burke continued to refuse to comply with the court's order, did not automatically mean he was to stay in prison indefinitely.
He said releasing Mr Burke was not a "Christmas gift" as Mr Burke had alleged.
He said it was open to the court at any time to review a coercive order. He said a factor that must be considered is what useful purpose was to be served by having Mr Burke incarcerated now.
The judge said Mr Burke's continued imprisonment was not necessary at this time, certainly over Christmas.
The judge said Mr Burke's attitude towards his potential release was surprising, as he had not only refused to support such a development, but had actively disparaged the proposal.
He said Mr Burke has said he has no wish to leave prison except on his own terms, that he is vindicated by the Court of Appeal and leaves jail "justified" in his cause.
Refusal to purge contempt
Mr Justice O'Moore said there was a complete stand off between the parties.
The school had paused the disciplinary process. Mr Burke was on full pay and was likely to remain on it for the foreseeable future as the school showed no sign of reactivating the process.
In the meantime, he said Mr Burke was refusing to purge his contempt.
If the Court of Appeal did not find in his favour, it was possible that Mr Burke would ask the Supreme Court to intervene.
In the meantime, the judge said the taxpayers were burdened with paying Mr Burke's salary at the same time as paying for his upkeep in Mountjoy.
He said this was intolerable, especially when Mr Burke was refusing to countenance his immediate release, for reasons which made no sense.
The judge said Mr Burke's projection of his imprisonment as a punishment because he stood up for his religious beliefs was incorrect.
He said his jailing had been brought about by his own decision to attend the school, when he knew he had been ordered not to do so.
The judge said Mr Burke and his views about transgender people were now much better known than before he was sent to Mountjoy.
In early August, he was an ordinary history and german teacher in a Westmeath school, now he was a household name. He said Mr Burke's imprisonment had played a central part in this.