A 16-year-old boy has been found guilty of the murder of a 49-year-old woman on her way home from work in Dublin city centre last year.
The boy who cannot be named because of his age, pleaded not guilty to murder but guilty to the manslaughter of Urantsetseg Tserendorj on 29 January 2021.
The boy told gardaí that he had robbed Ms Tserendorj, and stabbed her near the CHQ building on the north side of the city centre on the evening of 20 January 2021.
She was confirmed dead in hospital nine days later.
The jurors were told the focus of the case was solely on the intention of the accused boy, who was 14 at the time.
His lawyers claimed there was no evidence that the boy intended to kill Ms Tserendorj, that he was intoxicated and his only intention was to steal from her.
However, the prosecution case was that he repeatedly lashed out at her with a knife in a callous, unprovoked and vicious act of thuggery intended to cause an injury.
Prosecuting counsel Sean Guerin said intention could be formed in an instant and if there was an intent to cause serious injury and death results, then a verdict of guilty to murder was deserved.
Defence counsel Michael O'Higgins said the case involved an intoxicated youth "pushing and shoving and flailing" with the victim rather than intending to cause her serious harm.
The court heard Ms Tserendorj, who was also known as Urna, was originally from Mongolia.
Her husband travelled to Ireland to work 15 years ago and she followed nine months later. They made Ireland their home and both worked as cleaners. They had a son and a daughter.
She left work at 9pm on 20 January 2021 and was walking home, heading along a walkway between George's Dock and Custom House Quay in the north inner city. The country was in a serious lockdown at the time and there were very few people on the streets.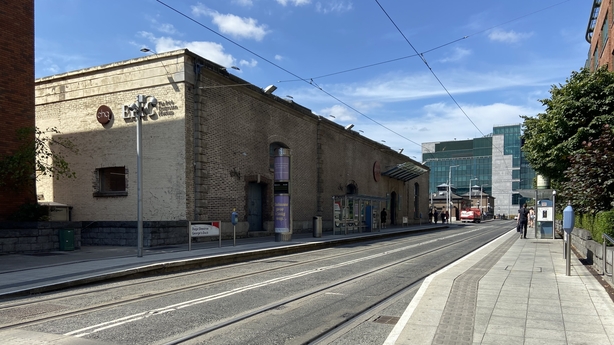 Ms Tserendorj was confronted by the accused boy asking for money. When she told him she did not have any, the teenager stabbed her in the neck, a wound that severed the artery supplying blood to her brain.
The jury was told that after 9.30pm Ms Tserendorj's husband received a phone call from her in which she was in distress and told him "I'm dying, please hurry". He met her at a taxi rank near Connolly Station. She was holding her neck and had a wound just under her ear, which was bleeding, but did not appear to be particularly big or significant.
Emergency services arrived and Urna became more distressed in the back of the ambulance. When she arrived at hospital she had a cardiac arrest and it became clear she had suffered a significant injury to the artery which supplies blood to the brain.
Despite efforts to revive her, her condition worsened and she was put on life support. Her death was confirmed on 29 January.
The court heard Ms Tserendorj's husband Ulambayer Surenkhor, also known as Umba told the court he was not allowed to go with his wife to hospital, because of Covid-19 restrictions and had to go home and wait. He was later contacted at home by members of An Garda Síochána who told him his wife's condition had worsened and brought him to the hospital.
A post-mortem examination revealed a neck wound below her right ear and her death was caused by a lack of oxygen to her brain.
The jury heard hours of CCTV footage were viewed and the accused was seen on a bicycle confronting Urna between George's Dock and Custom House Quay.
When gardaí attended the accused boy's home on 21 January 2021, he told them: "I did it, I stabbed that girl, I robbed her, it was me. I stabbed that woman at CHQ."
He told them he panicked and pulled a knife out of his pocket. He said he stabbed the woman in the neck and did not mean to do it.
The teenager went on trial for the first time earlier this year, but the jury in that trial failed to agree a verdict.
Evidence that the boy produced a knife again after attacking Ms Tserendorj while trying and failing to steal a phone from a second woman a short time later was ruled out at the previous trial, but admitted at this trial.
Mr Justice Hunt told the jurors that the prosecution had to prove its case beyond reasonable doubt and if they were not satisfied the accused intended to kill or cause serious harm, then the appropriate verdict was one of manslaughter.
The court heard evidence that the boy's mother and father each had a very serious addiction to heroin and he was raised by his grandmother.
He was born suffering from withdrawal symptoms and was treated in neonatal intensive care. His grandmother said she had brought him home from hospital and raised him as if he was her son. She was his mother to him, she said.
She said the boy had been abusing drugs from the age of 12 and had been stealing to pay for them.