An 18-year-old homeschooled Leaving Certificate student who was denied calculated grades by the Department of Education has won his challenge in the High Court.
The court has called the exclusion of Mayo student Elijah Burke from the calculated grades process arbitrary, unfair, unreasonable and contrary to law, and it has instructed the Department of Education to reverse it.
Mr Justice Charles Meenan said that an independent teacher should be appointed to take the place of Mr Burke's mother and award estimated marks "in each of the applicant's Leaving Certificate subjects".
He has been taught entirely by his mother Martina Burke who, because of her relationship to him, was deemed to have a conflict of interest when it comes to arriving at the teacher estimated marks that the calculated grades process is based on.
Mr Burke has said he is absolutely overjoyed by the decision, for himself and for all other "out of school" candidates.
He told RTÉ News that the past few months had been "very frustrating" and said he now hopes to go on to study at NUI Galway.
He said he has always really enjoyed homeschooling, adding: "I think it just fits my personality."
An 18-year-old home-schooled Leaving Certificate student who was denied calculated grades by the Department of Education has said he is 'delighted' after he won his challenge in the High Court | Read more: https://t.co/1ZxlRExA7u pic.twitter.com/cdzoHPY81f

— RTÉ News (@rtenews) August 19, 2020
Ms Burke said she was delighted that the court had upheld the constitutional right to home educate and of the family as the primary educators of the child.
She said the family was "absolutely thrilled" by the ruling, and that her son was "over the moon".
In the ruling, the judge said the opportunity to sit Leaving Certificate exams in November, which may or may not happen, was not a remedy.
He said Mr Burke's exclusion meant that his entry to third-level education would be delayed by a year "which would clearly be detrimental".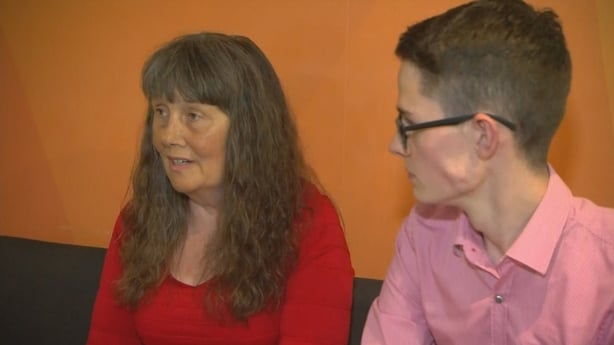 The calculated grades rules bar a teacher who is a close relative of a student from giving estimated marks to that student, because it would undermine the credibility of the process.
However, in a school setting, the scheme allows another teacher to step in to replace the close relative, and the conflicted teacher is allowed "to assist in the process, by handing over data or factual information".
There is no such provision for students like Mr Burke, who had no contact with any other registered teacher apart from his mother.
The judge said the contrast between these provisions was "very striking". He said 'out of school' learners "should have the benefit of a similar solution".
He concluded that this was "patent unfairness".
Lawyers for Mr Burke had argued that he should be considered for calculated grades, through the appointment of an independent teacher or teachers who would assess coursework that he had already completed.
The Department of Education had argued that it was not possible to include Mr Burke in the calculated grades process "due to the absence of satisfactory, credible evidence from an appropriate source on which to base the estimate".
It argued that to appoint an independent teacher to award an estimated mark would be making a "bespoke" individualised assessment, which would be outside of the calculated grades process.
However, the judge rejected this argument. In his ruling, he said a conclusion that the evidence was not satisfactory or credible could only be reached when such evidence had been looked at.
He said the department appeared to have reached that conclusion because the evidence was being furnished by Mr Burke's mother, who was a conflicted teacher.
"This may or may not be the case, but it can only be decided when such evidence is looked at," he said.
He said his decision was applicable not only to the applicant, but to any other students who find themselves in a similar situation.
Mr Burke has studied nine subjects at Leaving Certificate level. He is one of ten siblings, all educated at home by their mother.
All of his siblings have gone on to achieve first class degrees. Mr Burke hopes to go to NUI Galway to study Biomedical Science or History with Music.
Meanwhile, Mr Burke's solicitor, Eileen McCabe, said she is confident that he will be able to get a grade based on his work because he is an excellent, high achieving student with a body of work available for inspection.
Ms McCabe says today's finding essentially found the treatment of homeschooled students was completely unsatisfactory.
Speaking to RTÉ's Today with Sarah McInerney, Ms McCabe that the judgment will apply to all other homeschooled students who find themselves in a similar situation.
If there is a body of work available for inspection by an independent teacher, she said, then an estimated mark should be given.