Mixed martial arts fighter Conor McGregor has been convicted of assaulting a man in a Dublin pub and fined €1,000. He was given one month to pay the fine.
He appeared in court for a second time in relation to the assault at the Marble Arch pub on Belbulben Road in Drimnagh earlier this year.
The 31-year-old was charged with assaulting Desmond Keogh on 6 April.
Addressing Dublin District Court today, Mr McGregor said: "What I did was wrong. I would like to apologise to the injured party and I can assure you nothing of this nature will happen again regarding me."
We need your consent to load this rte-player contentWe use rte-player to manage extra content that can set cookies on your device and collect data about your activity. Please review their details and accept them to load the content.Manage Preferences
Earlier today, his solicitor Michael Staines indicated to the court that Mr McGregor intended to plead guilty to the offence.
In sentencing, Judge Treasa Kelly noted his early plea in the case and the fact he had shown remorse.
She said she was satisfied that compensation had been paid to the injured party and that this was not a matter for a custodial sentence.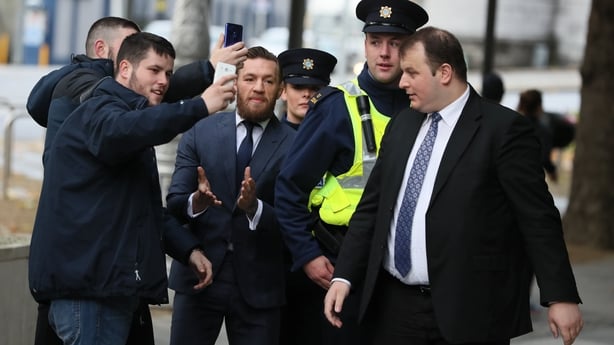 Earlier, State solicitor Stephanie Doyle told the court that the victim in this case did not wish to make a victim impact statement.
Conor McGregor arrives at the Dublin District Court this morning. He's due to appear in connection with an alleged assault in a Dublin pub last April. @rtenews pic.twitter.com/bcPCOtiPCq

— Laura Hogan (@LauraHoganTV) November 1, 2019
This afternoon, the court was shown CCTV footage of the incident.
Garda Jason O'Carroll told the court that Mr Keogh had been drinking in the Marble Arch pub on the afternoon of 6 April, he decided to leave and rang a taxi.
He said Mr Keogh remained at the bar to wait for his taxi as Mr McGregor and two men, believed to be his security staff, entered the pub.
The court heard that Mr McGregor was offering glasses of his own brand of whiskey, Proper 12, to other patrons in the pub.
Garda O'Carroll said that Mr Keogh was offered the whiskey and declined the glass on three occasions.
He said that on the CCTV footage Mr McGregor is seen making an approach to Mr Keogh but is stopped by the two men he is with and is ushered away.
The court heard Mr McGregor later turned to Mr Keogh and punched him to the left side of his face with a closed fist and Mr Keogh was looking away from Mr McGregor at the time.
Mr McGregor and Mr Keogh were not known to each other prior to this incident.
The court heard that Mr McGregor has 18 previous convictions, mostly for road traffic offences.
Today, his solicitor Michael Staines told the court that what happened was "totally and utterly wrong and inappropriate".
He said his client had apologised to the injured party and Mr Keogh had accepted that apology.
Mr Staines appealed to Judge Kelly for leniency, saying his client pleaded guilty at the first available opportunity.
"Mr McGregor shouldn't be treated any better than anyone else", he said, adding that "he shouldn't be treated any worse" either.
He said Mr McGregor is currently in training for a mixed martial arts fight in January and that his "whole career" could be in jeopardy if he has a conviction. He said he was asking the court for "one last chance".
Mr Staines confirmed to the court that compensation of an undisclosed sum has been paid to Mr Keogh.
In passing sentence, Judge Kelly said said that this was not an appropriate matter for a custodial sentence and in those circumstances she convicted Mr McGregor and ordered him to pay a fine of €1,000.
Mr McGregor left court today without making any comment to the waiting media.