Two 14-year-old boys have been found guilty of the murder of Ana Kriégel in Lucan just over a year ago. 
The jury found the first boy murdered her by causing severe and extensive injuries to her head and neck. He was also convicted of violently sexually assaulting her.
The second boy lured the schoolgirl from her home, knowing what was going to happen, watched the assaults and covered-up afterwards.
The boys were 13 at the time and had pleaded not guilty to all charges.
Ana Kriégel's innocence and longing for friendship made her vulnerable to those who wanted to take advantage of her.
Ana, 14, bounded out of her house in the early evening of 14 May last year, thinking she was going to meet a boy she liked.
By the time her concerned mother, Geraldine (below), went looking for her around 45 minutes later, she had already been murdered and the culprits were heading home.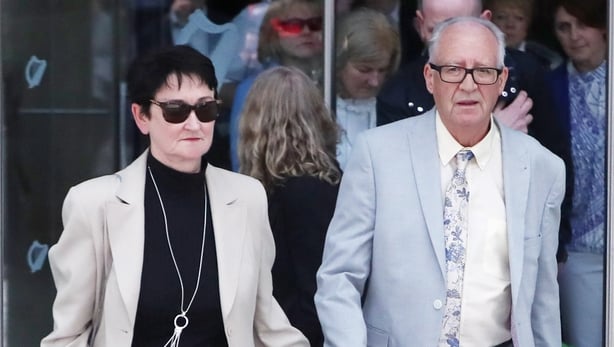 The second accused boy took Ana on a 3km journey from her home, through St Catherine's Park in Lucan, telling her his friend wanted to see her.
It took them around half an hour to get to Glenwood House, an abandoned building on the far side of the park.
The prosecution alleged Boy A was already inside the house or in the field surrounding it.
Three days later, Ana's naked body was found inside, in a dark, dirty room.
Forensic scientist John Hoade analysed the blood staining in the room and found Ana had been hit several times with a weapon while lying on the floor near the doorway.
He said she lay there for some time, before her body was moved towards the back of the room where it was found.
The jury was shown a stick, measuring around one metre long, as well as a large concrete block, which were both stained with Ana's blood. A very strong, highly adhesive length of builder's tape had been looped around her neck. 
The former State pathologist, Professor Marie Cassidy, told the court there were around 60 areas of injury to the 14-year-old's body.
There were four separate impacts to the right side and back of her head, and evidence of compression of her neck.
Prof Cassidy said either the injuries to her head or to her neck would have been sufficient to cause death.
---
Read more
Evidence gave brief glimpse of Ana, a 'unique' girl 'full of fun'
The 'overwhelming' forensic case against Boy A
Hours of garda interviews that revealed Boy B's devious lies
'Vast amount' of porn found on Boy A's phones
Psychologist's evidence Boy B was traumatised ruled out by judge
Judge refused request for jury to consider manslaughter
Two boys are guilty of murder - what happens next?
Watch: The route taken to Glenwood House
---
Both boys were allowed to remain outside court for her evidence, after applications by their lawyers.
Gardaí became concerned about inconsistencies in the stories of the two boys. The discrepancies were confirmed as they gathered CCTV footage.
Boy A denied ever being in the house. But forensic examinations established Ana's blood was in nine places on the boots he had been wearing, indicating that he either assaulted her or was very close by when she was attacked.
Her blood was also found on a backpack in his house and on some of the bag's contents, described by gardaí as his "murder kit". They included a home-made zombie mask, black gloves and a knee pad.
Boy A's DNA was identified in semen found on Ana's torn vest top. His DNA was also on a swab taken from her neck and part of the builder's tape. A mark on her black hoodie was made by a boot similar to one worn by him.
The prosecution told the jurors, there was no explanation for these facts, consistent with innocence. The jury agreed.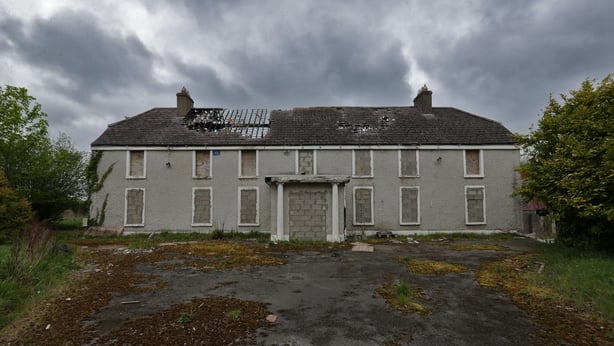 The jury found Boy B brought Ana to the house, knowing what his friend was going to do. He provided the tape found around her neck and participated in the cover-up afterwards.
In eight interviews, lasting almost 17 hours during two arrests, the boy changed his story at least nine times as gardaí confronted him with evidence.
Each time he had to put himself closer to the room where the murder happened, as the lies were "peeled away".
Eventually, the boy admitted seeing Boy A choking and stripping Ana before, he said, he freaked out and ran away. But gardaí believed the final story he gave them, was still short of the truth.
He gave slightly different versions to a friend, and earlier this year, to a psychologist.
Mr Justice Paul McDermott told the jurors this case was unusual and urged them to examine the upsetting and disquieting evidence clinically.
The trial lasted seven weeks and heard from more than 60 witnesses, eight of them also young teenagers.