Limerick woman Ruth Morrissey who has cervical cancer, has told the High Court she trusted her doctor to monitor her, but he did not spot her cancer had come back for three-and-a half years.
Ms Morrissey, 37, was first diagnosed with cervical cancer in 2014 and successfully treated.
She was told in February 2018 that it had come back and that her prognosis was terminal.
She was not told until May 2018, that a CervicalCheck audit of previous smears, showed that two slides taken in 2009 and 2012 had been reported incorrectly.
Her doctor had been given this information two years previously.
Ms Morrissey claims if she had known earlier about the results of the audit she would have demanded better surveillance of her condition to try to prevent a recurrence of her cancer.
Ms Morrissey was back in the witness box this morning to be questioned by lawyers for the Health Service Executive about whether she had requested scans or imaging to be carried out in the time before the recurrence was diagnosed.
She said she had asked her consultant, Dr Matthew Hewitt about the possibility of such imaging being carried out on three occasions between 2014 and 2018.
She became emotional as she said she had put her trust in Dr Hewitt to monitor her, and he should have spotted the recurrence.
She told the court Dr Hewitt did not see it for three-and-a-half years, but another doctor had discovered the cancerous mass after a five minute examination in February 2018.
Ms Morrissey said she had asked Dr Hewitt about scans on a few occasions.
Under-cross examination from Senior Counsel Patrick Hanratty for the HSE, she accepted that it had not become an issue between herself and Dr Hewitt, because she trusted that he was giving her what was required in terms of follow up.
Mr Hanratty said if Ms Morrissey had been repeatedly requesting a scan, Dr Hewitt would have given her one to allay her anxiety.
But Ms Morrissey said that was not what she picked up from him, and she asked why he had not ordered such a scan when he had known since 2016 about the audit showing the incorrect smears.
The court heard Dr Hewitt saw Ms Morrissey in September 2017, but she had no symptoms at that stage.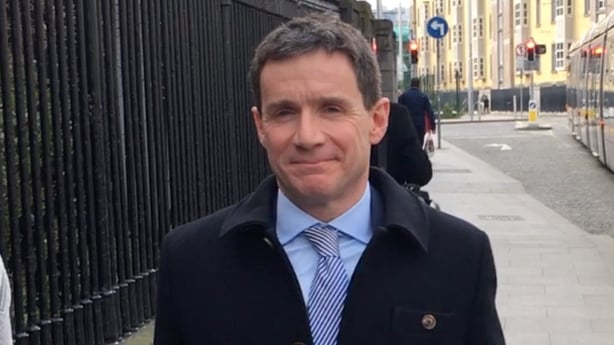 She told her own lawyers that he had not given her an internal vaginal or rectal examination at that stage or on any other occasion in the follow up visits.
In his evidence, Dr Hewitt said he did not recall Ms Morrissey asking him about scans, but said he would not be surprised if she had, as he was frequently asked about this by patients.
He told the court imaging was not routinely used as a follow up for patients like Ms Morrissey who had no symptoms.
He said there was no evidence MRI or CT scans were of any benefit in such cases.
He told the court this was for a number of reasons; it could give false positive results, which could lead to patients having potentially invasive, unnecessary procedures and could lead to patients being exposed to hefty doses of radiation in CT scans.
He said he disagreed that rectal examinations should be part of such routine follow up visits.
He said he had not departed in any way from international medical guidelines in the way he followed up Ms Morrissey.
Dr Hewitt said he had intended to tell Ms Morrissey about the Cervical Check audit showing the misreporting of previous smear tests but the court heard he forgot to do so.
He said he received a letter about Ms Morrissey's previous tests in June 2016.
He told the court he had received a number of such letters.
He said it was an audit of a screening programme where there were a significant number of false negative and false positive results.
There was no instruction to directly inform the patient and he did not feel it necessary to tell his patients.
However, he said the changed his mind and it was his intention to tell Ms Morrissey at her next expected visit in July.
But he said at that visit he was focused on the patient and did not look back over his notes.
He did not tell her about the audit at that visit or any subsequent routine visits.
The court has heard he told her about the smear tests at a very difficult meeting in May 2018, after Ms Morrissey's cancer had returned.
This followed the High Court settlement made in the case of fellow Limerick woman, Vicky Phelan.
Dr Hewitt told the court Mrs Morrissey did not meet the criteria for a high risk of the recurrence of her cancer due to factors such as the size of her tumour.
He said he would have examined Mrs Morrissey thoroughly at every visit to try to detect if there had been any recurrence of the cancer in the same place as it previously appeared. He said if the cancer comes back in the side wall of the pelvis, it is much more difficult to cure.
Lawyers for Mrs Morrissey asked Dr Hewitt if he had anything to say to Mrs Morrissey. He said he acknowledged that it was "awful and terrible" that she was having a recurrence.
He said he thought that was "terrible". Senior Counsel Jeremy Maher told the doctor he would still be here in two years, whereas Mrs Morrissey would not be and asked him if he accepted he had a part to play with this.
Dr Hewitt said he was involved in her treatment but he denied he had missed the recurrence of her cancer. He said he followed standard guidelines for her follow up.
He said it was not clear when the recurrence began to develop and he could not assume that if she had been scanned and treated in 2016 that her prognosis would be different and that she would be facing the probablilty of life instead of the probability of death.
Dr Hewitt accepted the information contained in the letter from Cervical Check in 2016 about misreported smear tests was important for Mrs Morrissey. He said he felt uncomfortable having this information about patients and not telling them, in the absence of clear guidance.
He said he intended to tell her but subsequently forgot.
Dr Hewitt agreed he was instructed by the HSE to tell his patients about the audit letters in May 2018 and agreed that Mrs Morrissey came to his office in Cork. He said he had not offered to go to Limerick to visit Mrs Morrissey who was at that stage in her second cycle of chemotherapy to treat her recurrence.
Dr Hewitt said if Mrs Morrissey had requested him to go to Limerick or do a teleconference he would have done that.
He said he had seen 25-30 patients over a two to three week period. He denied that if it were not for the publicity surrounding the case of Vicky Phelan, Mrs Morrissey would never have learned about the audit from him.
In his notes of the meeting, the court heard Dr Hewitt said that if the precancerous changes in the 2009 slide had been detected at the time there was a significant chance Ruth Morrissey may not have developed the cancer.