The National Public Health Emergency Team has recommended the wearing of masks for primary school children from third class upwards. The move will be reviewed in mid-February.
It has recommended that children aged nine and over wear masks on public transport, as well as in retail and other public settings where the rule currently applies for those aged 13 and over.
NPHET is also proposing that children avoid community gatherings for at least the next two weeks, including communions, nativity performances and other comparable seasonal events.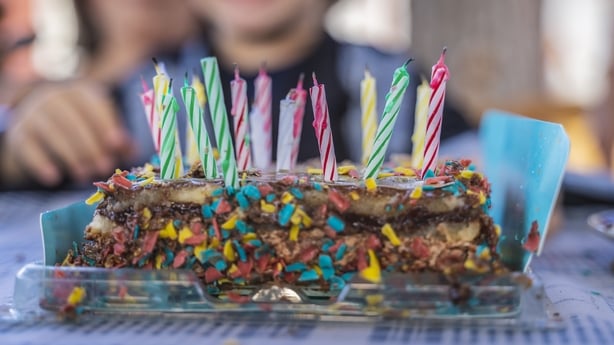 It has also proposed that indoor birthday parties, sleepovers and play dates are avoided, however small numbers could attend such events outdoors.
The move comes after the European Medicines Agency earlier approved the use of Pfizer-BioNTech's Covid-19 vaccine for children between the ages of five and 11.
NPHET has also recommended the extension of the Covid pass to all settings where there is high risk of
transmission, through close contact or other activities, not yet covered by the current regime.
The recommendations will be considered by Government next week.
This evening, the Department of Health was notified of a further 4,764 cases of Covid-19 this evening.
The number of people being treated for the virus in hospital now stands at 598, a reduction of 13 since yesterday.
Of those in hospital, 126 people are being treated in intensive care, which is down six since yesterday.
Chief Medical Officer Dr Tony Holohan said Covid-19 incidence remains "concerningly high", with 62,401 cases reported in the last 14 days.
"We need to continue to make every effort we can to drive down incidence of disease and break the chains of transmission.
"Covid-19 spreads when an infected person is in close proximity to other people. The best way we can stop Covid spreading to the people we meet is by meeting fewer people and avoiding crowds."
In Northern Ireland, there were 1,549 new infections and five further Covid-related deaths reported today.
One NPHET member had earlier said avoiding lockdown would be the right way to go but that the situation had to be watched very closely.
Speaking on RTÉ's Morning Ireland, President of the Royal College of Physicians in Ireland Professor Mary Horgan said the incidence of infection among primary school children has been high over the last few months and that this is probably because the group is unvaccinated and do not use masks, although she acknowledged it is difficult for younger children to wear masks.
Prof Horgan said she hoped another lockdown can be avoided, adding there are "loads of tools" that need to be effectively used in order to achieve this.
"Avoid lockdown at all costs would be the right way to go at this point in time, but it's always a bit uncertain and unpredictable," she said.
The situation is hard for the public as they continue to step up to the plate, she said, and the demand for testing is frustrating, particularly as so many people are experiencing respiratory diseases that have symptoms that mimic Covid-19.
---
Read more:
'Big concern' over level of health staff out due to Covid - HSE
Restrictions may be needed but should be 'avoided' - Tánaiste
Latest coronavirus stories
---
Meanwhile, the Vice-President of the Irish Hospital Consultants Association said that in order to make schools as low risk as possible for infection of Covid-19, everything must be done - including vaccination and the wearing of masks for the short-term.
Speaking on RTÉ's Six One News, Dr Gabrielle Colleran said that although many people do not the like the concept of children wearing masks, the rates of spread are currently so high that the practice should be considered for a few weeks in order to keep schools open.
Immunovirologist Professor Liam Fanning told RTÉ's Prime Time that masks in primary schools was "quite a good move" and "will cut down on transmission".
He said that under 12s accounted for nearly 22% percent of infections in a two week period.
Separately, Minister for Health Stephen Donnelly has said those with underlying conditions will be able to start getting their booster vaccines from next week. Walk-in clinics will be open nationwide.
He told the annual conference of the Private Hospitals Association, that as of Tuesday this week, 630,000 boosters had been administered.
The booster programme for those in long-term care and the over 80s has been substantially completed.
The minister also said that half of healthcare workers and half of the over 70s have now had their booster vaccines and he reiterated that healthcare workers can go to their pharmacies to receive their boosters.
He told the conference that regarding critical care, bed capacity would be increased to 340 beds by the end of 2022, an increase of 34%. Further bed capacity would be rolled out in a number of hospitals including Beaumont, St James's, The Mater and Cork University Hospital.